Here's your Rewards Canada update! Your near daily dose of loyalty program, credit card and travel news, bonuses, deals and more.
We review the MBNA Rewards Platinum Plus Mastercard
Receiving a slight revamp in 2021 the MBNA Rewards Platinum Plus® Mastercard® remains one of the best no annual fee travel rewards credit cards in Canada. The card has consistently ranked high in Rewards Canada's Top Travel Credit Card rankings and is a very good option for someone looking for a no annual fee Mastercard. Read our newly completed review of the card here!
Image via MBNA
---
New Amex Offer for Hayu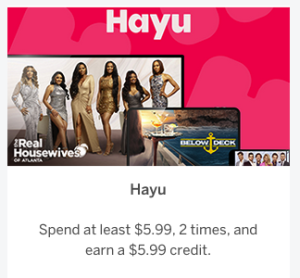 One new Amex Offers offer came out today for Hayu:
Register your eligible Card by 23/04/2023. Earn a one-time $5.99 statement credit when you charge 2 separate qualifying purchases of at least $5.99 each to your registered Card at www.hayu.com by 06/06/2023 for a monthly Hayu subscription in Canada. You can cancel your subscription at any time. Other terms apply.
I received this offer on my Platinum Card and it is also available for Scotiabank issued American Express cards (Click here to register your Scotia card)
Simply log in to your Amex account or go onto the Amex app to see if these offers have been sent to you and to register for them.  You can find this and many more offers in our Guide to American Express Canada 'Amex Offers'
Image via American Express
---
Want to learn more? Have a question? Join our Facebook group to ask the Rewards Canada community!
Be sure to subscribe to the Rewards Canada News email newsletter so that you don't miss out on any loyalty program news and offers! You can subscribe to the newsletter here
---
Posts since our last update:
---
Deals:
Aer Lingus: Fly from Toronto to Ireland or Europe from $490 Return! Book by Jan 25 for travel until Mar 3, 23 Click here for more details & to book this offer.
Scotiabank: Make money while you wait. Earn up to 4.60% interest on your MomentumPLUS Savings Accounts for 5 months. Plus earn a $350* welcome bonus with the Scotiabank Ultimate Package!
---
Canadian Bonus Offers
Air Canada Aeroplan
– Earn up to 6,000 Bonus Aeroplan Points when you fly on Air Canada from Canada to select sun destinations in the U.S., Caribbean and Mexico. Register and book by Jan 31 for travel until Jun 30, 23. More…
– Earn up to 2,000 Bonus Aeroplan points when you rent with Avis in North America. Book by Feb 14 for rentals until Mar 31, 23. More…
– Earn up to 1,500 Bonus Aeroplan points when you rent with Budget in North America. Book by Feb 14 for rentals until Mar 31, 23. More…
Marriott Bonvoy
– Montreal Earn up to 8,000 Bonus Bonvoy Points for stays of+ nights including Friday, Saturday or Sunday at the Humaniti Hotel Montreal, Autograph Collection. Book now for stays until Mar 31, 23 More…
---
Other Bonus Offers
Jumeirah One
– Triple One Points participating Jumeirah Hotels and Resorts in Dubai, Bahrain, Bali & the Maldives. Book by Feb 28 for for stays until Apr 30, 22. More…
Marriott Bonvoy
– National Harbor 1,000 Bonus Bonvoy Points PER NIGHT for stays at the Gaylord National Resort & Convention Center. Book now for stays until Mar 1, 23 More…
– Singapore 4,000 Bonus Bonvoy Points for stays at the Sheraton Towers Singapore. Book now for stays until Mar 1, 23 More…
Stash Hotel Rewards
– Red Lodge Triple Stash Rewards Points for stays at The Pollard Hotel Red Lodge, MT. Valid for stays until May 15, 23. More…
United MileagePlus
– MilePlay – Various Bonus Miles offers for flying with United. Bonus is targeted and varies by member. Valid for travel until Mar 10, 23. More…
—