Porter Airlines has announced a redesign to their VIPorter frequent flyer program to coincide with the launch of their new jets and new routes. The program sees expanded membership levels and extra benefits for those members who achieve status. And speaking of achieving status, you only need $2,000 of qualifying spend to reach the first level.
New Earn Rates
The revamped VIPorter program now offers a minimum of five VIPorter points for every dollar spent with Porter, including on airfares, checked bags, flight changes and seat selection. The earn rates jumps to six points per dollar for Passport and Venture status members and seven points per dollar for those at the Ascent and First levels.
First Flight Bonus
When you join VIPorter you can earn 500 bonus points when you complete your first flight with Porter.
VIPorter Membership Tiers
VIPorter's elite status program is now called Avid Traveller and been expanded to five tier levels from the previous three.  They have also added new benefits such as qualifying spend carry over, upgrade certificates and parental leave.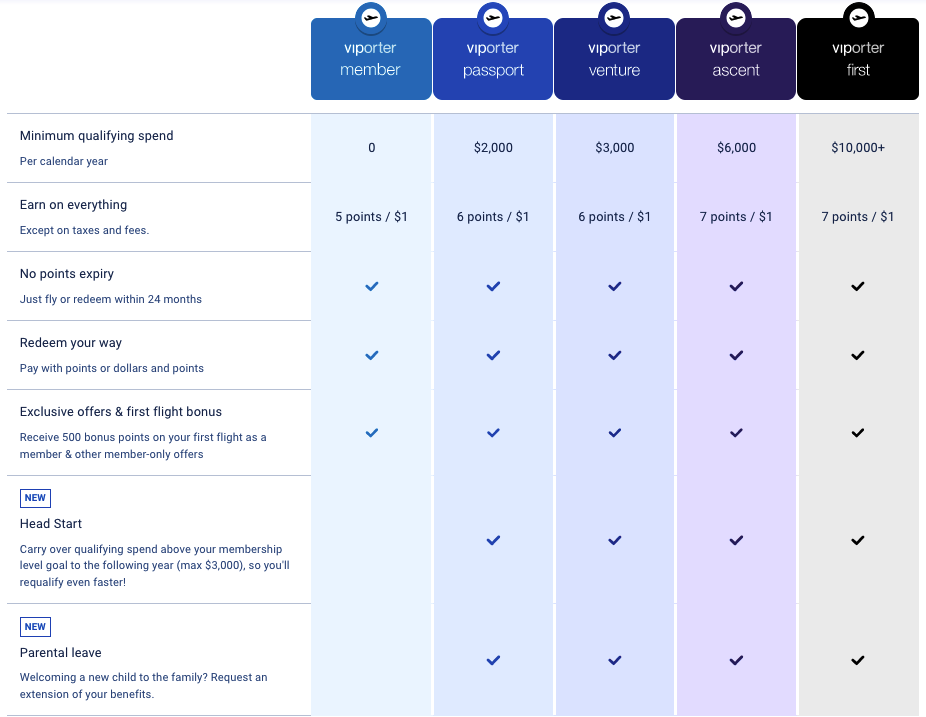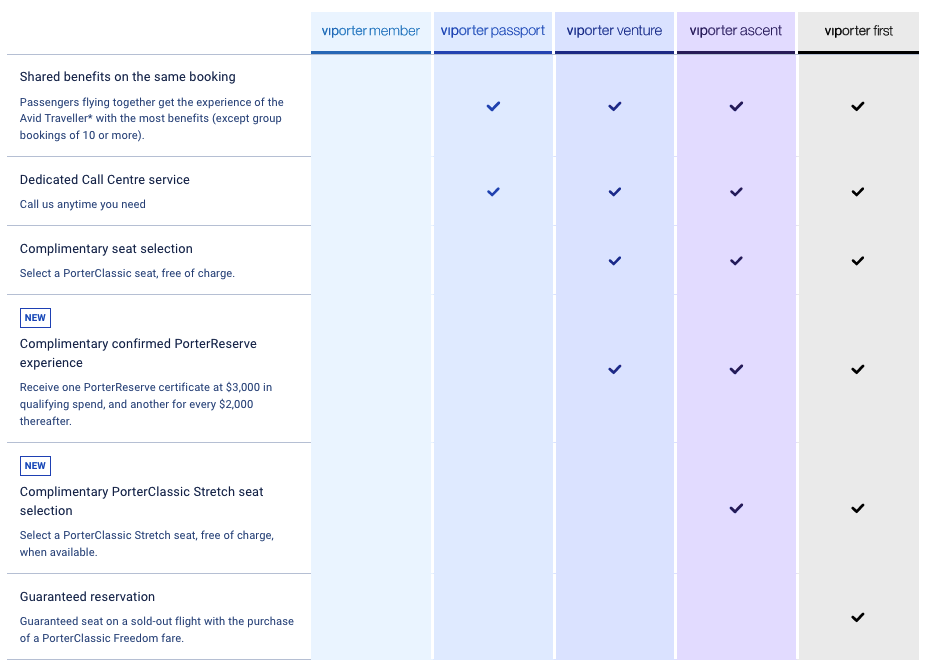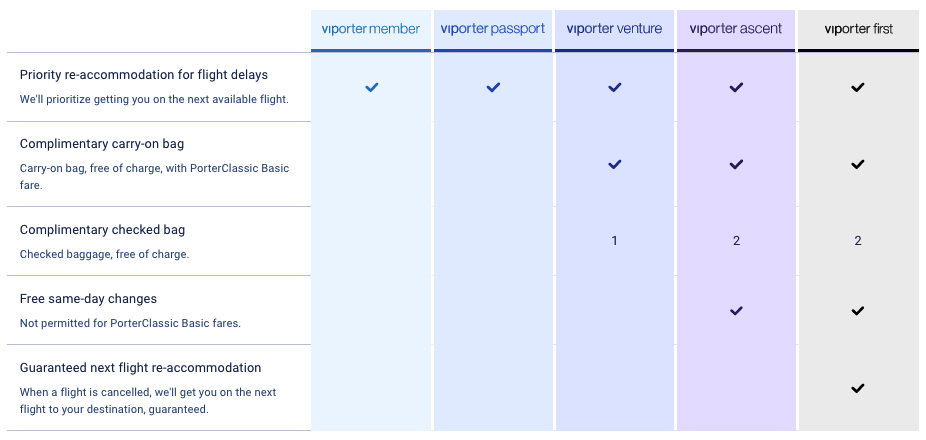 New Porter Reserve Certificates
Part of the new Porter experience the comes with the launch of their E-Jets is the addition of an all-inclusive economy class experience call Porter Reserve. Porter Reserve  Porter Reserve provides dedicated airport check-in, early boarding, enhanced legroom, fresh meals on longer flights, Porter's signature beer, wine and premium snacks, cocktails, two checked bags and the ability to change flights without a fee.
VIPorter's Avid Traveller elite members will now receive a certificate they can use to upgrade their Porter flights to Porter Reserve. One certificate is awarded when members reach $3,000 in qualifying spend (equal to the VIPorter Venture level) followed by one more certificate for every additional $2,000 in qualifying spend during that same calendar year.
Head Start qualifying spend carry over
The new VIPorter program will now provide Avid Traveller elite members with an annual qualifying spend carry over. Any qualifying spend you have over and above the amount required for your current membership will be carried over to the next year up to a maximum of $3,000. For example, if you have Ascent status and spend $9,000 with Porter, $3,000 will automatically move over to the next year automatically giving you Venture elite status and then you would only need $3,000 more spend to re-qualify for Ascent.
Parental Leave
VIPorter will now provide extension of your membership level should you be taking time off from travelling for parental leave. Members simply need to request the extension.
Redeeming points
The process for redeeming points remains the same in the new VIPorter program. You can redeem your points in part or in full for any flight on Porter's network. Short haul flights start at 5,000 points one way and long haul flights start at 8,500 points one way. There are no capacity limits in the VIPorter program and you can redeem points as long as a seat is available. Of course the amount points required increases the more full and/or more expensive a flight is.
Partner redemptions in the future
It also appears that Porter is ready to enter the big leagues of frequent flyer programs and enter into partnership with other airlines. There is this one line in today's press release that alludes to this:
"VIPorter plans to introduce the ability to earn and redeem points on other services and airline partners as the airline grows."
This will be interesting to see who they will add. Currently Porter has interline/code share partnerships with Air Transat, SATA Azores Airlines, Icelandair, JetBlue and Qatar Airways. The last two make the most sense in terms of FFP partnerships and I will go out on a limb here and say that JetBlue will most likely be their first frequent flyer partner. Porter flies to JetBlue cities in the U.S. and JetBlue flies to Vancouver so logically it presents an easy tie up between VIPorter and TrueBlue.
Wrapping it up
Porter Airlines is undergoing a huge transformation in 2023 with the introduction of jet service and new routes from coast to coast. With such a big expansion the airline also saw the need to expand and transform their frequent flyer program. They want to compete on all levels with the likes of Air Canada and WestJet so it was imperative they updated their loyalty program and that they have done.
Images via Porter Airlines