Here's your Rewards Canada update! Your near daily dose of loyalty program, credit card and travel news, bonuses, deals and more.
WorldHotels expands into Canada with nine locations
British Columbia based Prestige Hotels has had nine of their 15 hotels join WorldHotels. These are the first WorldHotels locations in Canada and fall into the brand's Luxury, Elite and Crafted Collections. If I recall correctly some of these hotels were previously part of Best Western so moving to WorldHotels makes sense since the latter was bought by BW several years ago. They are fully participating in the WorldHotels Rewards program which tends to run the same promotions as BW and in fact run now  also have the up the 20,000 bonus points offer for stays until February 5. Plus they also have their own Status Match No Catch offer so you can match your status from other hotel programs to WorldHotels. You can find both of these offers on our WorldHotels Rewards Bonus points page.
These are the nine hotels that have joined WorldHotels:
Prestige Oceanfront Resort Sooke, Luxury Collection
Prestige Harbourfront Resort Salmon Arm, Luxury Collection
Prestige Treasure Cove Resort Prince George, Elite Collection
Prestige Lakeside Resort Nelson, Elite Collection
Prestige Beach House Kelowna, Crafted Collection
Prestige Radium Hot Springs Resort, Crafted Collection
Prestige Cranbrook Rocky Mountain Resort, Crafted Collection
Prestige Kamloops Hotel, Crafted Collection
Prestige Mountain Resort Rossland, Crafted Collection
Prestige Hotels will also continue to run their Prestige Rewards program separately so you can choose which program to use for these stays. And right now they are offering 1,000 bonus points per night in their program when you book their three nights for the price of two winter offer. Check out that offer here.
Click here to learn more about WorldHotels expansion into Canada.
Image via Prestige Hotels
—
Porter Airlines Ottawa expansion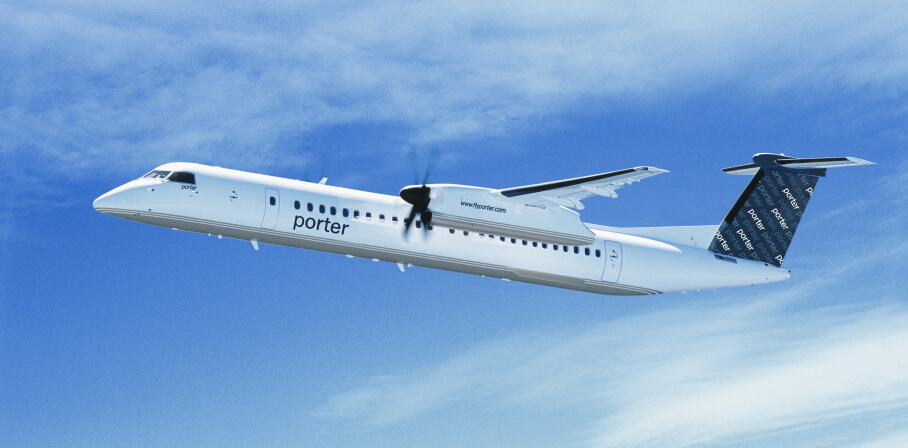 Porter Airlines is continuing its big expansion! Today they announced four new non-stop routes out of Ottawa to Boston, Newark, Quebec City and Thunder Bay. The new daily routes will launch late in March and will all be operated with their Dash 8-400 aircraft. Click here to learn more
Image via Porter Airlines
—
Be sure to subscribe to the Rewards Canada News email newsletter so that you don't miss out on any loyalty program news and offers! You can subscribe to the newsletter here
---
Posts since our last update:
---
Deals:
Fairmont Hotels: Save up to 30% on stays at Fairmont Hotels in Canada, United States, Mexico, Barbados, Bermuda, Bahamas. Book by Mar 31, 23 for stays until Apr 30, 23. Click here for more details & to book this offer.
Scotiabank: Make money while you wait. Earn up to 4.60% interest on your MomentumPLUS Savings Accounts for 5 months. Plus earn a $350* welcome bonus with the Scotiabank Ultimate Package!

HSBC: Get up to 4.75%* total annual interest rate on new deposits ± on your HSBC High Rate Savings Account from October 17, 2022 to January 27, 2023.
---
Canadian Bonus Offers
Air Canada Aeroplan
– 2,500 Bonus Aeroplan points on Air Canada Vacations packages at select Zoëtry, Secrets, Breathless, Dreams, Sunscape, or Now resorts . Book by Dec 31 for travel Apr 1 – Jun 30, 23. More…
Marriott Bonvoy
– Toronto Earn up to 5,000 Bonus Bonvoy Points for stays Monday – Friday at the Fairfield Inn & Suites Toronto Airport. Book now for stays until Jan 14, 23. More…

Petro-Points
– Earn 50,000 Bonus Petro-Points when you book an Air Canada Vacations package with itravel2000. com. Book by Dec 31, 22 for travel until Dec 31, 23. More…
---
Other Bonus Offers
ALL Accor Live Limitless
– Australia 800 Bonus ALL Rewards points for stays at participating Mövenpick hotels in Melbourne and Hobart. Register and book by Jan 31 for stays Jan 1 – Feb 28, 23. More…
– New Zealand 800 Bonus ALL Rewards points for stays at participating Mövenpick hotels in Auckland and Wellington. Register and book by Jan 31 for stays Jan 1 – Feb 28, 23. More…
Best Western Rewards
– Receive a $50 Best Western Bonus Card for every $200 Best Western Travel/Gift Card you purchase. The bonus card is awarded on purchases of up to 5 gift cards. Purchase cards by Dec 31, 22.  More…
Hyatt World of Hyatt
– Chengdu OFFER DATES CHANGED 500 Bonus World of Hyatt points per night for stays at the UrCove Qingchengshan Hot Spring Resort Chengdu City Valid for stays Dec 27 – Mar 30, 23 More…
– Izmir 500 Bonus World of Hyatt points per night for stays at the Hyatt Regency İzmir İstinyePark. Valid for stays until Feb 27, 23 More…
– Kelso 500 Bonus World of Hyatt points per night for stays at the SCHLOSS Roxburghe Kelso. Valid for stays until Feb 27, 23 More…
– Mexico City 500 Bonus World of Hyatt points per night for stays at the Andaz Mexico City Condesa. Valid for stays until Feb 27, 23 More…
– Riviera Maya OFFER DATES CHANGED 500 Bonus World of Hyatt points per night for stays at the Hyatt Zilara Riviera Maya. Valid for stays until Feb 27, 23 More…
– Nyingchi 500 Bonus World of Hyatt points per night for stays at the UrCove Nyingchi. Book now for stays until Dec 29, 22 – Mar 30, 23 More…
– San Carlos OFFER DATES CHANGED 500 Bonus World of Hyatt points per night for stays at Hyatt Place San Carlos Valid for stays until Mar 30, 23 More…
– Shanghai 500 Bonus World of Hyatt points per night for stays at the UrCove Shanghai Jinqiao Center. Valid for stays until Feb 27, 23 More…
– Shenzhen OFFER DATES CHANGED 500 Bonus World of Hyatt points per night for stays at the UrCove Shenzhen Luohu. Valid for stays Dec 27 – Mar 30, 23 More…
– Trivandrum OFFER DATES CHANGED 500 Bonus World of Hyatt points per night for stays at the Hyatt Regency Trivandrum Valid for stays until Feb 27, 23 More…
—