Here's your Rewards Canada update! Your near daily dose of loyalty program, credit card and travel news, bonuses, deals and more.
Loyalty Lesson: Credit Card Spending Caps Explained
We recently posted a Loyalty Lesson that delved into the perplexing 5x points earn rate on the National Bank of Canada World Elite Mastercard. More so, it was a look at the spending cap for the card's 5x points earn rate and really how convoluted it is. That made us think that we should put together a guide on credit card spending caps as they are quite prevalent in the Canadian market across many of the issuers – not just to National Bank.
Many of the banks also bury the details of spending caps in the foot notes or terms and conditions of their cards making them hard to find. So you can use this guide as quick reference to see what limitations, if any, you may encounter when getting a card.
Continue on here to the main Rewards Canada the read the entire Loyatly Lesson
—
Additional 5x points Cobalt Multipliers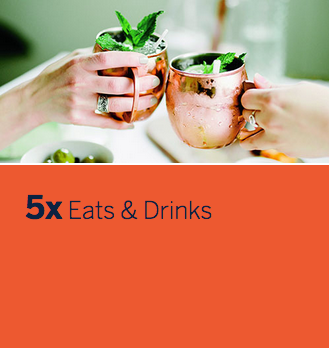 Three more confirmed American Express Cobalt Card locations for you! Thanks to Jeff for letting us know that Oak Restaurant in Aruba is 5x points and tells us "I highly recommend it. Just don't go without a reservation." And then James continues to provide locations in the GTA area and they Dave & Buster's as well as Pho Saigon St. Both of these are 5x points as well.
Check out the list American Express Cobalt Card Confirmed Multiplier Locations here
—
New Plaza Premium Lounge in Orlando
A few months one of readers commented on a DragonPass post that they were disappointed in the change from Priorty Pass to DragonPass on their credit card as they longer had a lounge to visit in Orlando International Airport (MCO). Well that should change very quickly as Plaza Premium has now opened up a lounge at MCO! It is on Plaza Premium's website but does not show up on the DragonPass websites just yet. Given their partnership however I would have to wager a strong guess that this lounge will be (or even already is) accessible to DragonPass members. Orlando is a very popular destination for Canadians and accessing this lounge will be great….. for those flying Lynx or Sunwing. The lounge is in Terminal C which currently only houses Lynx and Sunwing from the Canadian carriers that fly to MCO.
Learn more about the new lounge here.
Image via Plaza Premium
---
Be sure to subscribe to the Rewards Canada News email newsletter so that you don't miss out on any loyalty program news and offers! You can subscribe to the newsletter here
---
Posts since our last update:
---
Deals:
Air France: Toronto or Montreal to Cape Town from $1,409. Click here to book this offer
Scotiabank: Make money while you wait. Earn up to 4.60% interest on your MomentumPLUS Savings Accounts for 5 months. Plus earn a $350* welcome bonus with the Scotiabank Ultimate Package!
Receive $5.00 free with the code AMPLI5 when you join Ampli by Avion Rewards
---
Canadian Bonus Offers
N/A
---
Other Bonus Offers
Copa ConnectMiles
– Receive up to a 50% when you buy 5,000 or more ConnectMiles. Valid until Jan 13, 23. More…
Emirates Skywards
– Receive a 20% Bonus when you buy 5,000 or more Emirates Skywards miles. Valid until Dec 25, 22. More…
Etihad Guest
– Receive up to a 45% Bonus when you buy Etihad Guest Miles Valid until Dec 21, 22. More…
Finnair Plus
– Receive up to a 100% bonus when you buy Finnair Plus points. Valud until Dec 22, 22. More…
Iberia Plus
– 25% Avios Discount when you redeem for award tickets on select Iberia Regional Air Nostrum flights in Spain. Book byt Dec 31 for travel until Dec 31, 23. More…
Marriott Bonvoy
– Riverhead 3,000 bonus Bonvoy Points per stay at The Residence Inn Long Island East End. Book now for stays until Jan 24, 23. More…
Preferred Hotel Group I Prefer
– Worldwide 10,000 bonus I Prefer Points when you book VIP stay at any one of 12 Preferred Hotel Group Hotels Worldwide. Book by Feb 6, 23. More…
Wyndham Rewards
– Receive a 35% bonus when you buy 3,000 or more Wyndham Rewards Points. Valid until Dec 31, 22 More…
—