The Rogers Connections Mastercard is now available for new applications. We first let you know about the card about a week ago and what we posted is pretty much what the card is and offers. We did learn two new aspects of the card today with its release and that is its welcome bonus and insurance coverage.
This card is the fourth on offer from the communications giant's financial arm Rogers Bank. The first three cards have been in market for quite some time now. Those cards are the very popular Rogers World Elite Mastercard as well as the Fido Mastercard. With the introduction of this card they have stopped accepting applications for the Rogers Platinum Mastercard
So let's take a look at this new card
Welcome Bonus
The welcome bonus being offered on the card is 10% cash back on purchases for the first 3 months up to $1,000 in spending. That works out to a $100 cash back bonus
Earn Rates
The earn rates are as follows:
2.0 points for every dollar ($1.00) of Net Purchases made with your Account in United States dollars (which is equal to a
Rewards value of 2.00%).
1.0 point for every dollar ($1.00) of all other Net Purchases made with your Account (which is equal to a Rewards value of 1.00%)
For the most part that makes this card a 1% cash back card. The 2% return on U.S. purchases is a nice boost that helps somewhat offset the foreign transaction fee of 2.5%. If you choose to redeem for eligible Rogers purchases that is boosted to a 1.3% and 2.6% return.
Redemption
In terms of redeeming, you can redeem 1 point towards 1 cent as cash back with a minimum redemption of $10 required.If you choose to redeem for Rogers products or services you will receive 30% extra value.
You may redeem your Rewards towards Eligible Purchases at a regular redemption rate of 1 point per $0.01. You may also redeem Rewards for Eligible Rogers Purchases, in which case your Rewards will be valued at 130% of their redemption value compared to redeeming for a regular Eligible Purchase. As an example, 10,000 points can be redeemed for an Eligible Purchase of $100 or an Eligible Rogers Purchase of $130.
Benefits
There is one benefit on the card and that is annual benefit for those who have a cell phone plan with Rogers. The card will provide 5 days (US or International) of Roam Like Home per year. US Roam Like Home currently costs $12 per day while International is $15 per day. That means this benefit provides up to $75 in value.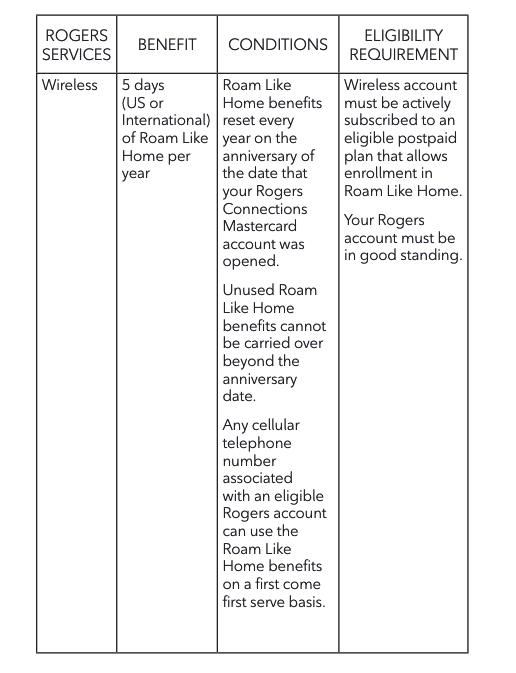 Insurance
We learned today with launch of the card there is no insurance coverage. No travel insurance. No mobile device insurance. Nothing.
Annual Fee
The card will have no annual fee in the first year and then it is $29 per year after that. This makes it the first card from Rogers to have an annual fee. That being said, this card is targeted to Rogers Wireless customers with the Roam Like Home benefit and by being a customer you can have the annual fee rebated:
We will rebate your annual fee for your Rogers ConnectionsTM Mastercard® account if, at the time your annual fee is charged, you have used your Rogers Connections Mastercard to pay at least ten (10) Rogers Communications Canada Inc. monthly bills in full since your Rogers Connections Mastercard account was opened or since your last annual fee was charged (as applicable).
Wrapping it up
This card fits a very niche market and that's Rogers Wireless customers who are looking to save on their Roam Like Home charges and to be able to extract extra value in their points for Rogers purchases. The lack of insurance coverage is surprising – even no mobile device insurance considering the card is being targeted to Rogers Wireless customers. And no travel insurance even though it is exuding travel vibes with increased earn on US purchases and the Roam Like Home benefit. In reality this card looks to become a secondary card to those who have any other premium card out in the market.
Images via Rogers