As discussed several months ago, Alaska Airlines announced they were going to introduce a new award chart for partner airline awards in late December. The wording at that time also alluded to partner airline award pricing moving towards dynamic pricing. Today, Alaska Airlines finally published that new partner airline award chart.
The New Award Charts
From a planning perspective it makes it easier to understand as Mileage Plan had separate award charts for each partner and now they have one with mileage starting points. Key words there are 'starting point'. So much like the recently re-published Air France KLM Flying Blue Reward charts which show the minimum amount of miles required, Alaska Airlines Mileage Plan new charts do the same. They provide the minimum mileage starting point for those in the U.S. and thankfully Canada. I am of the belief that the  'Starting From' wording simply covers the variety of award charts they had previously compounded into one chart. However that will change once Alaska implements dynamic pricing and the 'Starting From' will have the same meaning as the AF KLM charts.
North American Awards: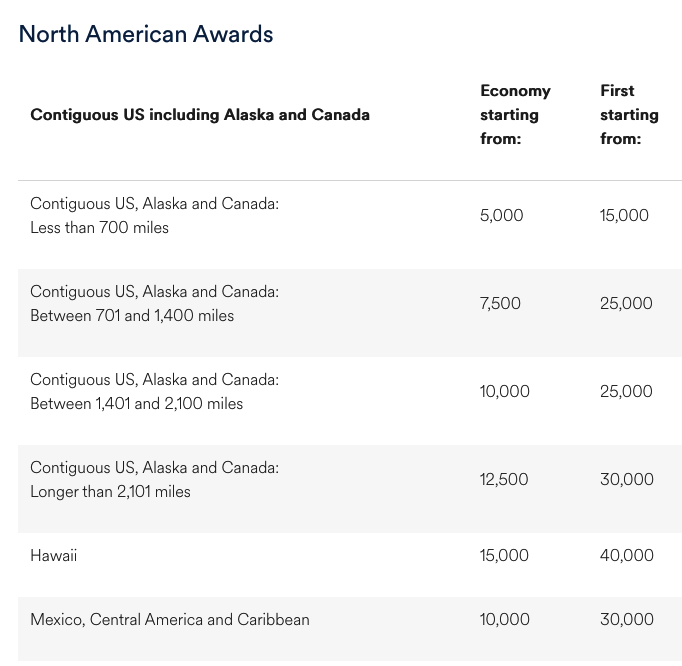 International Awards: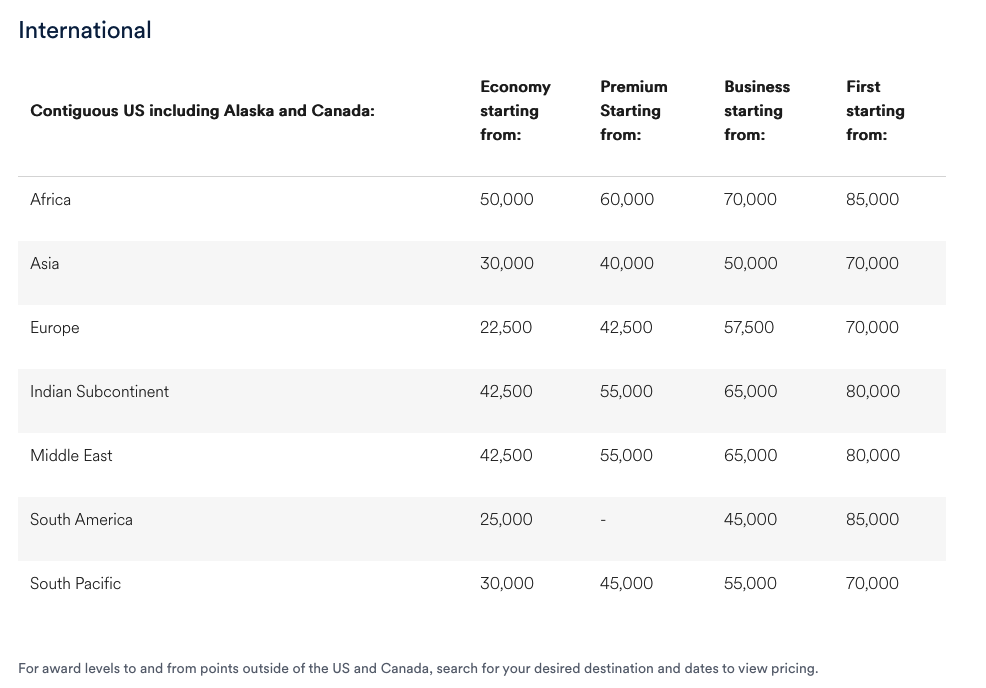 First Glance
The first look at the charts provides good news as the minimum mileage starting points have not changed for the majority of the partner awards. There is no devaluation in that regard. And currently it does appear most award flights are still pricing at the published amounts and not being priced dynamically. For example Vancouver to Tokyo in Business Class remains at 60,000 miles for JAL:

With the new chart however we do see that it states Asia starts at 50,000 miles for business class and that is still the case for Cathay Pacific flights between Vancouver and Hong Kong:

Ultimately though we could see those JAL flights drop down to 50,000 miles once Alaska moves implements their dynamic models. The opposite will be true as well as those 50K Cathay Pacific flights could come at a higher award price in the near future. Only time will tell how 'dynamic' the pricing will become with the program.
For the time being, the wording "Starting from" simply covers the redemption requirements from the variety of award charts they previously offered such at the 50K on Cathay and 60K on JAL for travel to Asia.
You may have noticed that the new charts are only good for travel within or to/from the contiguous U.S., Alaska and Canada. There is no mention of award travel wholly within other regions – such as Europe to Africa. These were previously published by Alaska but now they simply state: "For award levels to and from points outside of the US and Canada, search for your desired destination and dates to view pricing." At this point that leaves the program with the option to  charging whatever they want on those routes. I'm sure they won't do anything crazy or at least I hope they don't but for the time being you'll have to conduct searches to see how many miles it will cost you to fly from Paris to Cairo or any other routing outside of the U.S. and Canada.

Wrapping it up
We now know there is no base line devaluation with the launch of the new Alaska Airlines award charts however this is only the first step in the changes to the program. The have already stated "partner award levels may vary depending on multiple factors including route, distance, or demand." so we can only assume the next step will be dynamic pricing fluctuations with their partner awards.