Air France KLM have introduced a new interactive reward map and are once again publishing a reward chart. Both these tools make it easier for the Flying Blue members to find out how many miles they will need at a minimum to redeem for reward flights. A few years ago Flying Blue moved to a dynamic pricing model for their flights so they stopped publishing a reward chart but they do have a set minimum mileage level for travel within or between zones and that's what these new features help you to find.
Not only do they provide these new tools but as we had mentioned in our interview with ? from Air France KLM the airline was going to add free stopovers on Air France and KLM reward flights and those are now available for booking.
Interactive Map
The new interactive reward map provides several options to see reward flight minimum mileage requirements. You can choose to search by route and fare class. For example, here is Montreal to Oslo in business class: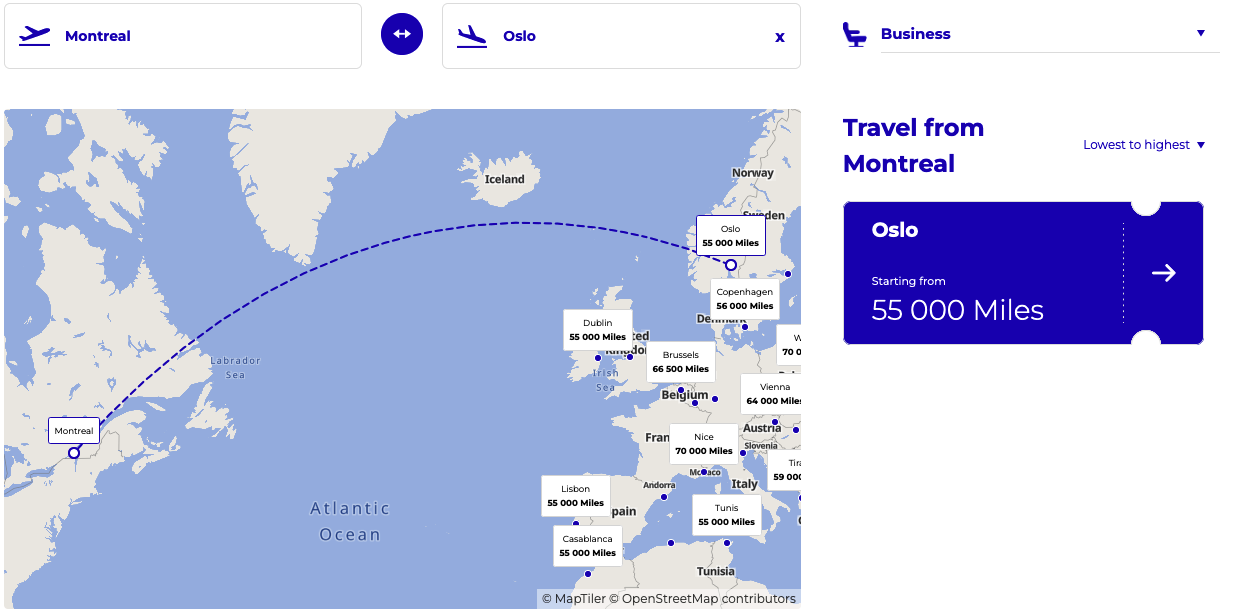 Or you can input how many miles you have and your departure city to see where your miles can take you. Here's a look at business out of Montreal with 75,000 miles inputted as the mileage amount: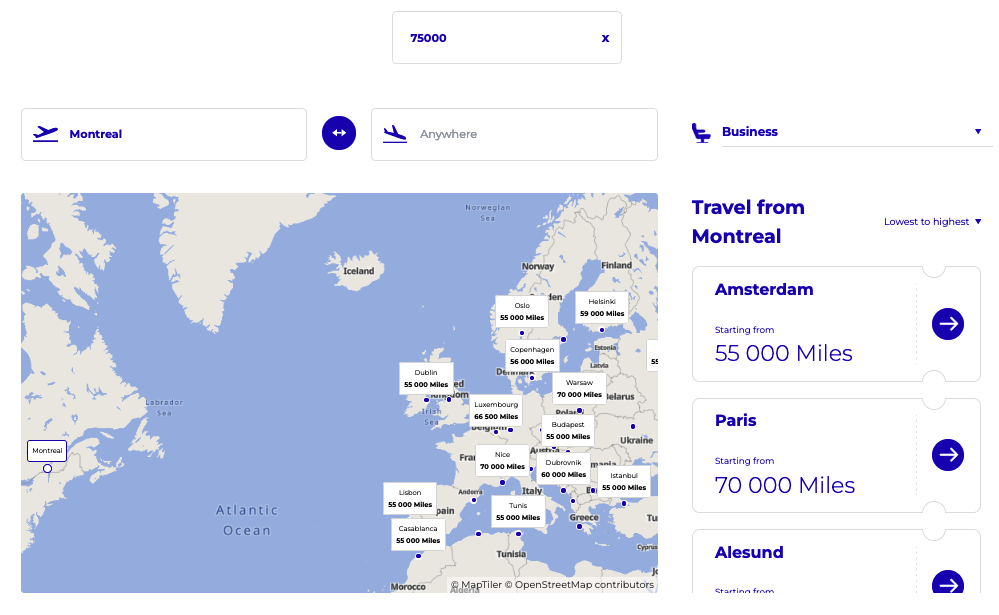 This new map is really cool feature from Flying Blue that makes a great starting point for your reward flight planning with the program.
Now I did find one anomaly with the map with Malta… I had no idea the Mediterranean Island had moved to Montana 😉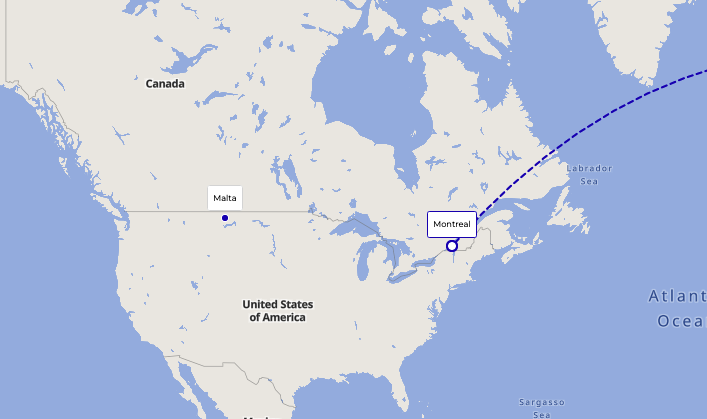 Reward Chart
In addition to the new map feature, Flying Blue is once again publishing a reward chart. The key thing to note about the charts is that these are the minimum mileage requirements since the program does run with dynamic pricing.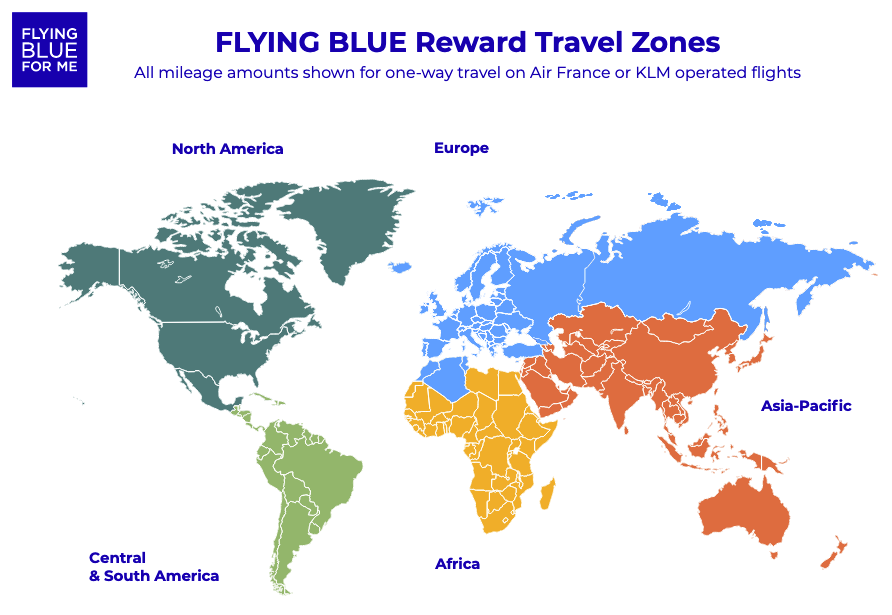 and the one way minimum mileage requirements: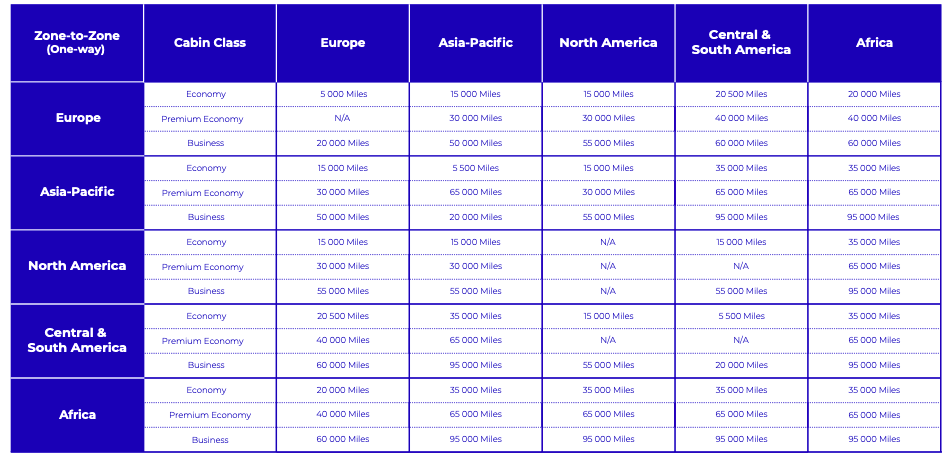 For old timers like me I love seeing reward charts – very easy to understand and it makes it easy to see the minimum miles you will require.
Along with the chart AF KLM also provide some examples of what routes you can redeem for in each zone: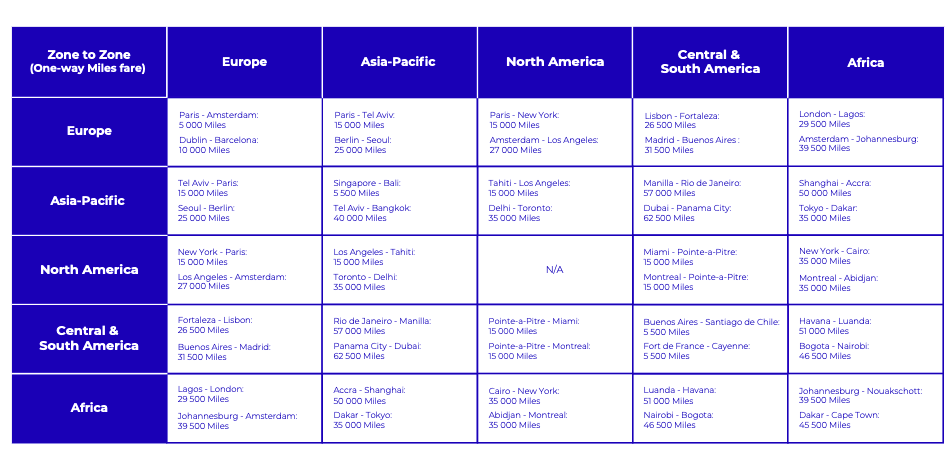 We've discussed the lowered 15,000 miles for travel to Europe from Montreal and Toronto quite frequently here on Rewards Canada but I had no idea that you can also fly Los Angeles to Tahiti for that amount as well!
Free Stopovers
You can now book the previously announced free stopovers on Flying Blue rewards tickets flown on Air France or KLM. That pretty much means a free stopover in Amsterdam or Paris on flights out of Canada. These stopovers are available on all reward tickets – even those that are only 15,000 miles! They can utilized on both one way or round trip rewards. The only caveat right now for booking the stopovers is that you have to call Flying Blue to book you reward tickets as the option is not yet available for online bookings.
Wrapping it up
In our interview with them we were told that the airline wants to make Flying Blue into a global lifestyle program. With the lowering of economy class reward minimums, a new credit card in Canada, the improvement to the conversion rate from Accor Hotels and now these tools to make the program easier to understand, I would say they are making inroads to becoming that global lifestyle program.
Outside of flying with Air France KLM or their partner airlines such as WestJet the best way to earn Flying Blue miles in Canada is with the Air France KLM Flying Blue World Elite Mastercard or any Membership Rewards earning American Express cards – namely the American Express Cobalt Card.