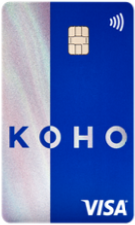 The Koho Premium Prepaid Visa
is one of only a select few prepaid credit cards that offers rewards
for your everyday spending on the card. This card is virtually open to
anyone since there are no credit checks necessary as you have to fund it
prior to using it. Technically what you are opening a savings account
with Koho that comes with a reloadable prepaid Visa card. They also
offer non-premium version called the Koho Reloadable Prepaid Visa.
The Koho Premium Prepaid Visa
is the top end card from People's Trust Company which is the parent
company of Koho. The card is prepaid which means you don't have to have
good credit to have it in your wallet. You simply fund it before using
and you can only spend as much as you have loaded onto the card. The
card does carry a monthly fee but it also provides the best reward earn
rates of the two of cards offered in the Koho program. Not only that you
can earn additional cash back when you refer people to Koho and here's a
biggie – it comes with no Foreign Transaction fees so if you use the
card to shop online outside of Canada or travel outside of Canada you
won't be dinged with that 2 to 3% extra most cards charge on non C$
purchases.