Here's your Rewards Canada update! Your near daily dose of loyalty program, credit card and travel news, bonuses, deals and more.
Four new Amex Offers
Four new Amex Offers were sent out today to American Express cardmembers. Those offers are as follows:
Make a qualifying purchase of at least $60 using your registered Card in-store at participating The Canadian Brewhouse location(s) by 08/04/2023 and earn a $15 statement credit. Limit of 2 credits. Terms apply.
Spend at least $400 in qualifying purchases using your registered Card at participating Oxford Properties Gift Cards guest services location(s) or through oxfordgiftcardplus.ca by 09/03/2023 and earn a one-time $40 statement credit. Registration cap applies. Terms apply.
Spend at least $39 in qualifying digital subscription purchases using your registered Card at www.washingtonpost.com/AMEXCanada by 08/05/2023 and earn a one-time $10 statement credit. Terms apply.
Make a qualifying purchase of at least $1,000 using your registered Card in-store at participating The Chesterfield Shop location(s) by 30/04/2023 and earn a one-time $200 statement credit. Terms apply.
I received the first three offers on my Platinum Card while other are reporrting receiving The Chesterfield Shop offer. All of the offers except the Washington Post offer are also available for Scotiabank issued American Express cards (Click here to register your Scotia card)
Simply log in to your Amex account or go onto the Amex app to see if these offers have been sent to you and to register for them.  You can find this and many more offers in our Guide to American Express Canada 'Amex Offers'
Image via American Express 
—
Important note about CIBC Shopping with Points promotion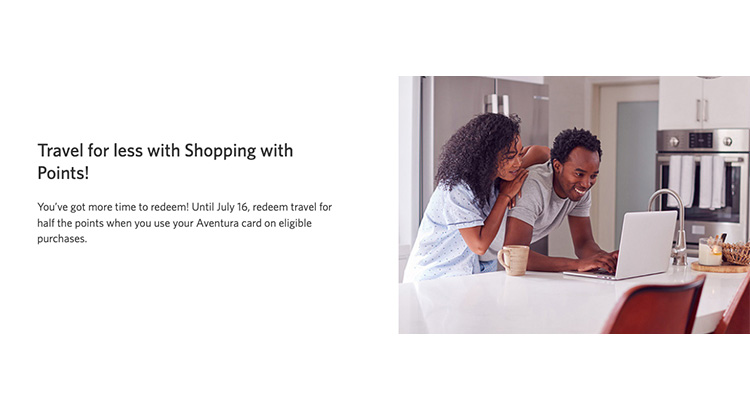 Wanted to pass along a note from one of our readers about the CIBC Shopping with Points promo that you should be aware of. This is the promo that allows cardholders to redeem for any travel purchase for 50% off the regular points amount. This is what Ebony let us know:
I used this promo for a travel purchase recently but when later that travel was refunded, you receive a credit on your card for the amount you paid. You DO NOT get your points back. You lose a lot of value. Glad I had not used points against a large purchase.
This is actually a trick used by some, usually known as the refundable hotel trick, where people want to redeem their points for cash but get more value out of them than doing the actual statement credit option. However, for others like our reader Ebony, it can translate to a loss of value since they would hope to use those points with the Aventura Airline Reward Chart where you can get more than the 1.25 cents in value that is seen with this promo. So this is definitely something to be aware of.
Image via CIBC
—
Want to learn more? Have a question? Join our Facebook group to ask the Rewards Canada community!
Be sure to subscribe to the Rewards Canada News email newsletter so that you don't miss out on any loyalty program news and offers! You can subscribe to the newsletter here
---
Posts since our last update:
---
Deals:
Fairmont Hotels: Save up to 30% on stays at Fairmont Hotels in Canada, United States, Mexico, Barbados, Bermuda, Bahamas. Book by Mar 31, 23 for stays until Apr 30, 23. Click here for more details & to book this offer
Scotiabank: Make money while you wait. Earn up to 4.60% interest on your MomentumPLUS Savings Accounts for 5 months. Plus earn a $350* welcome bonus with the Scotiabank Ultimate Package!

HSBC: Get up to 5.05%* total annual interest rate on new deposits ± on your HSBC High Rate Savings Account from October 17, 2022 to January 27, 2023.
---
Canadian Bonus Offers
N/A
---
Other Bonus Offers
Iberia Plus
– Double Avios for stays at participating Melia Hotels Worldwide. Book now for stays until Feb 28, 23. More…
– Triple Avios for stays at participating NH Hotels, NH Collection, nhow and Tivoli hotels in Europe and the Americas. Book now for stays until Feb 28, 23. More…
Marriott Bonvoy
– Chandler 2,000 Bonus Bonvoy Points for stays of 2 or more nights at the Marriott Phoenix Chandler. Book now for stays Feb 24, 23 More…
– Fort Lauderdale 5,000 Bonus Bonvoy Points per stay at the Fort Lauderdale Marriott North. Book now for stays Feb 28, 23. More…
– Lebanon 2,500 Bonus Bonvoy Points per stay at the Residence Inn Hanover Lebanon. Valid for stays until Feb 3, 23. More…
—