Another week and another two-night business trip to Toronto! For this trip I decided to book the Westin Harbour Castle, as the location was close to where I needed to be for my work.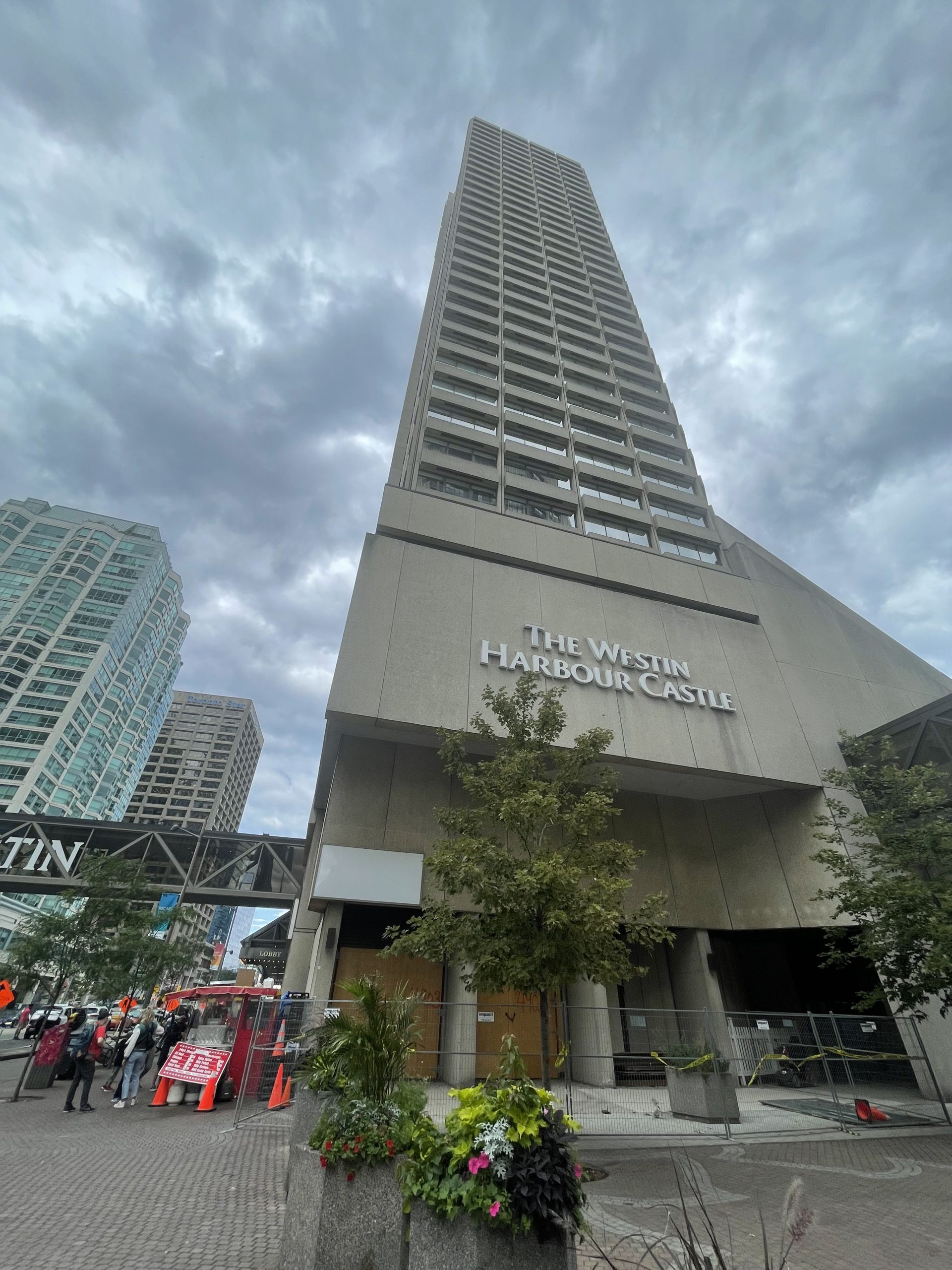 Pre-arrival
As a Titanium Marriott member, I was able to upgrade to a suite for this stay.  You can get up to 10 suite night upgrades with Marriott if you hit 75 nights yearly. Once I requested my upgrade, I received an email notification of the upgrade a few days prior to my stay.
Arrival
From Pearson Airport, the hotel was roughly a 20 minute car ride. I arrived in the evening, around 8PM. The hotel lobby and restaurant was busy. There were a lot of events happening in Toronto the week of my stay.
Check-in Process
The check-in process went smooth. I was greeted by the check-in agent, who was very friendly. She provided me with my room details, confirmed that I was upgraded to a suite, and thanks me for being a Titanium elite member. As part of being a member, I received welcome bonus points and a $ 10-a-day food and drink voucher to use at the restaurant or cafe.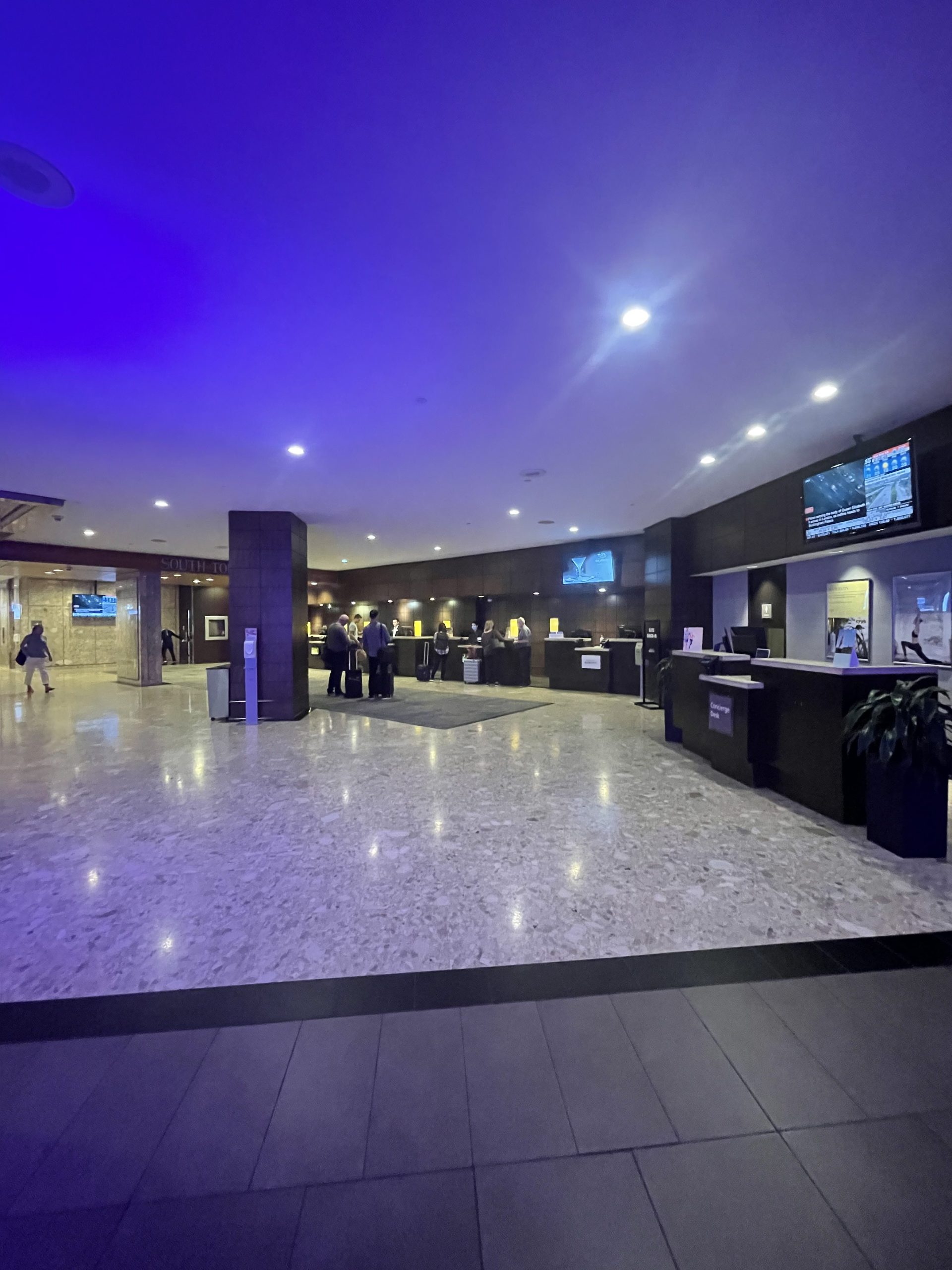 The Junior Suite (and my little incident)

My room card envelope had room 2744 on it and I proceeded to the floor, where my room was located. I saw 2743/2744 with the main door already open. I thought to myself that it was probably extra security for these two rooms. I didn't close the main entrance door as I wasn't sure if it was meant to be open or not. I entered room 2744, there was a good-sized living room with a dining table, couches, and a large TV The washroom was by the door. I looked around and something was missing a bedroom. I looked around and saw one door, but this door was locked. I checked the Marriott app to chat with the hotel service and was informed room 2743 is part of the suite.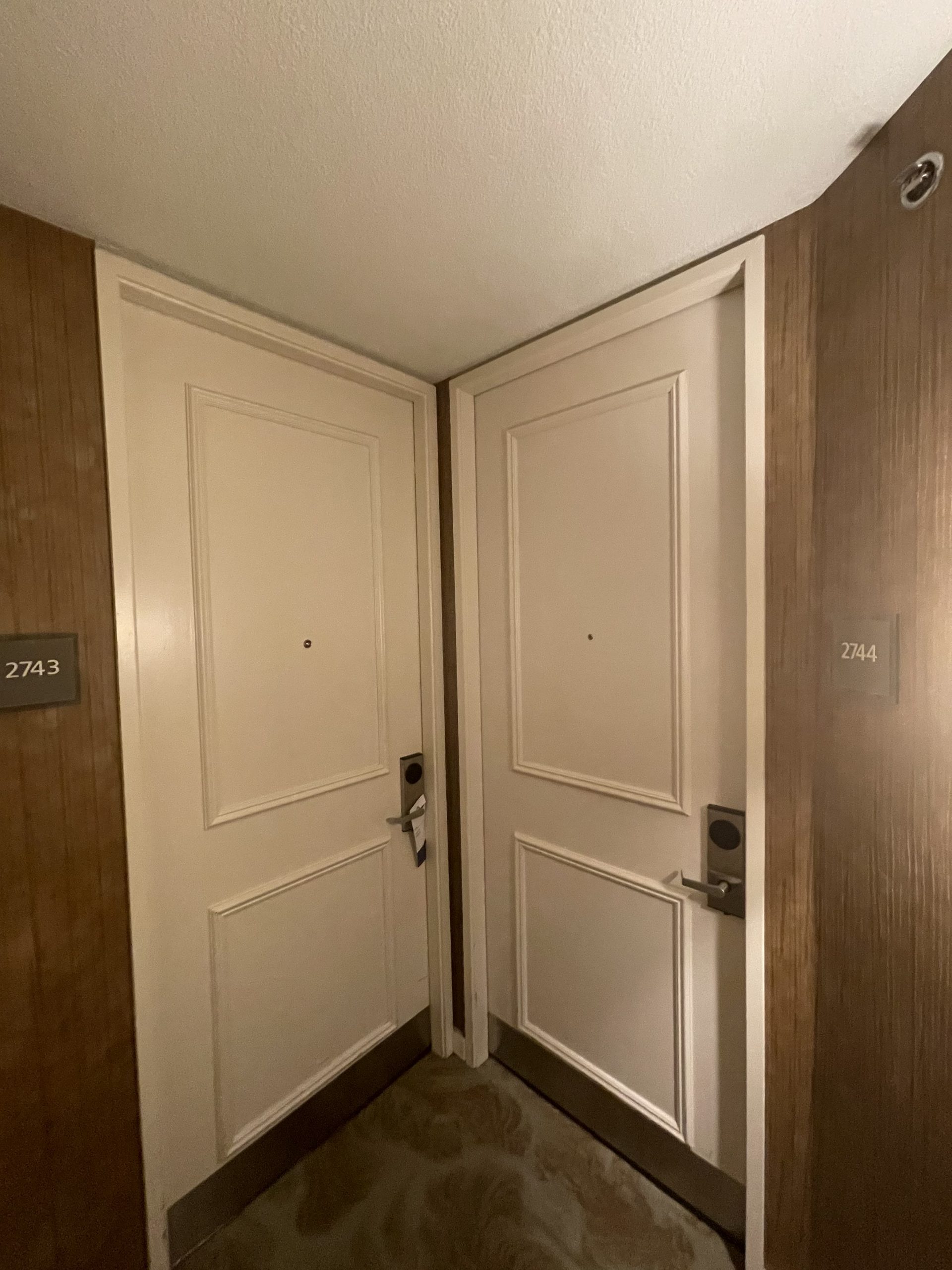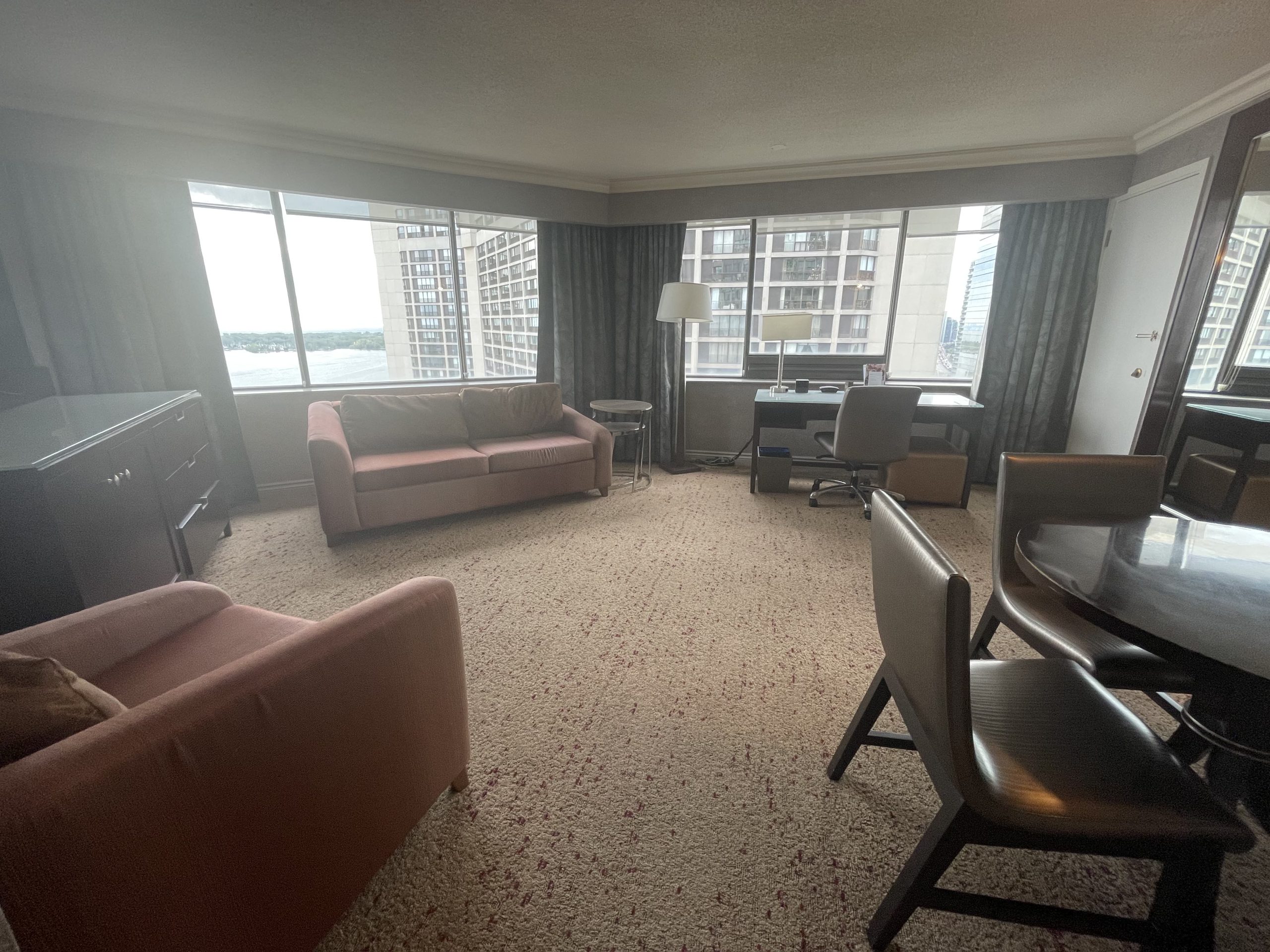 I proceeded to open door 2744, there was a man behind the main door that was left open trying to sleep. When I spoke to him, he said he was an employee and walked away. Right away, I contacted security. They rushed up to look for the man, who turned out to be a man struggling with homelessness that had sneaked into the hotel.
The bedroom has a king-size bed with a small couch by the window and a big screen TV with a desk counter for you to do any work. I found the room to be outdated, however the hotel will be undergoing renovations to modernize their rooms. Overall this bedroom suite is very odd as you need a key to access your room and living room because they're in separate rooms. I did not spend time in the living room, as it was a hassle to go back and forth.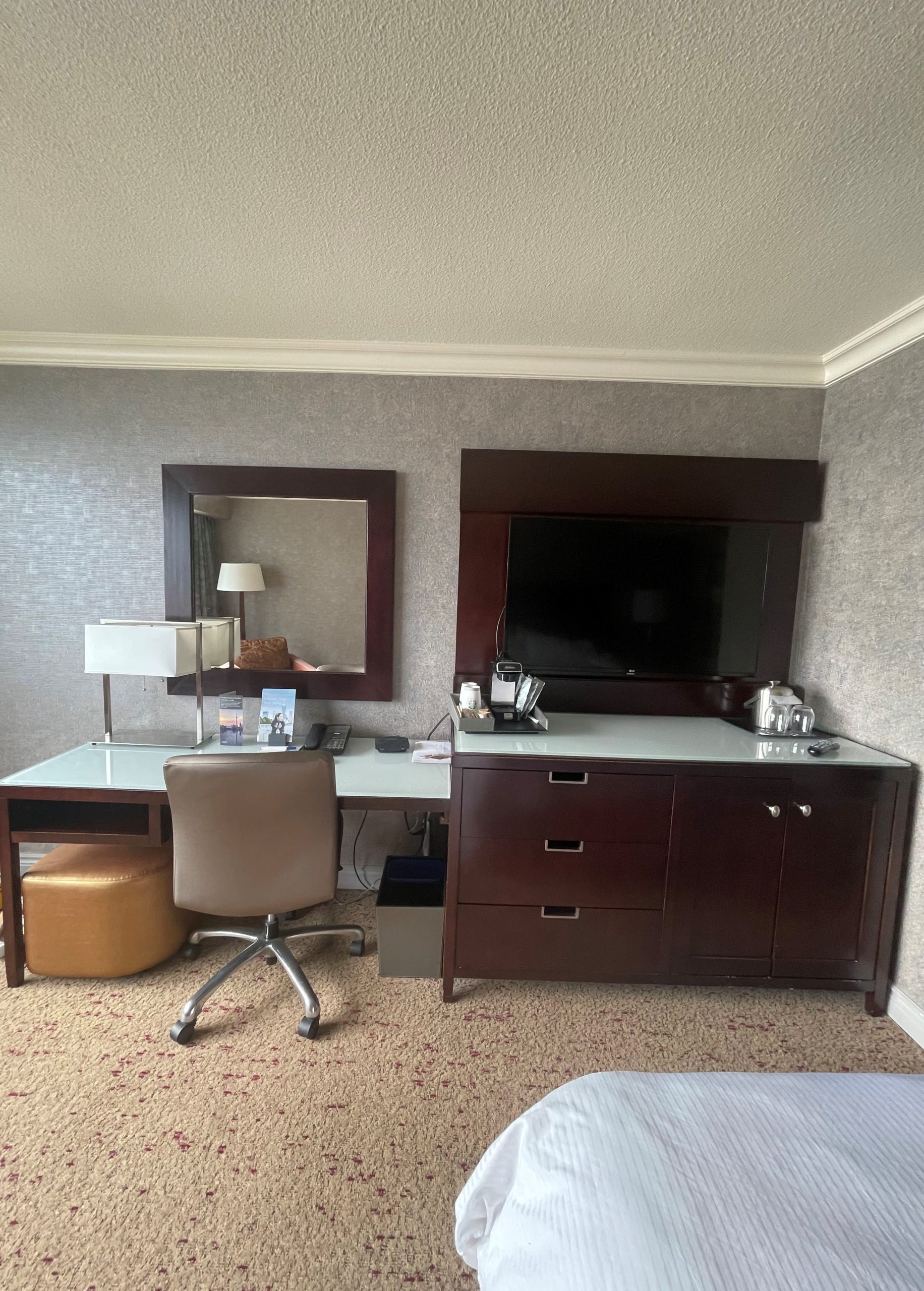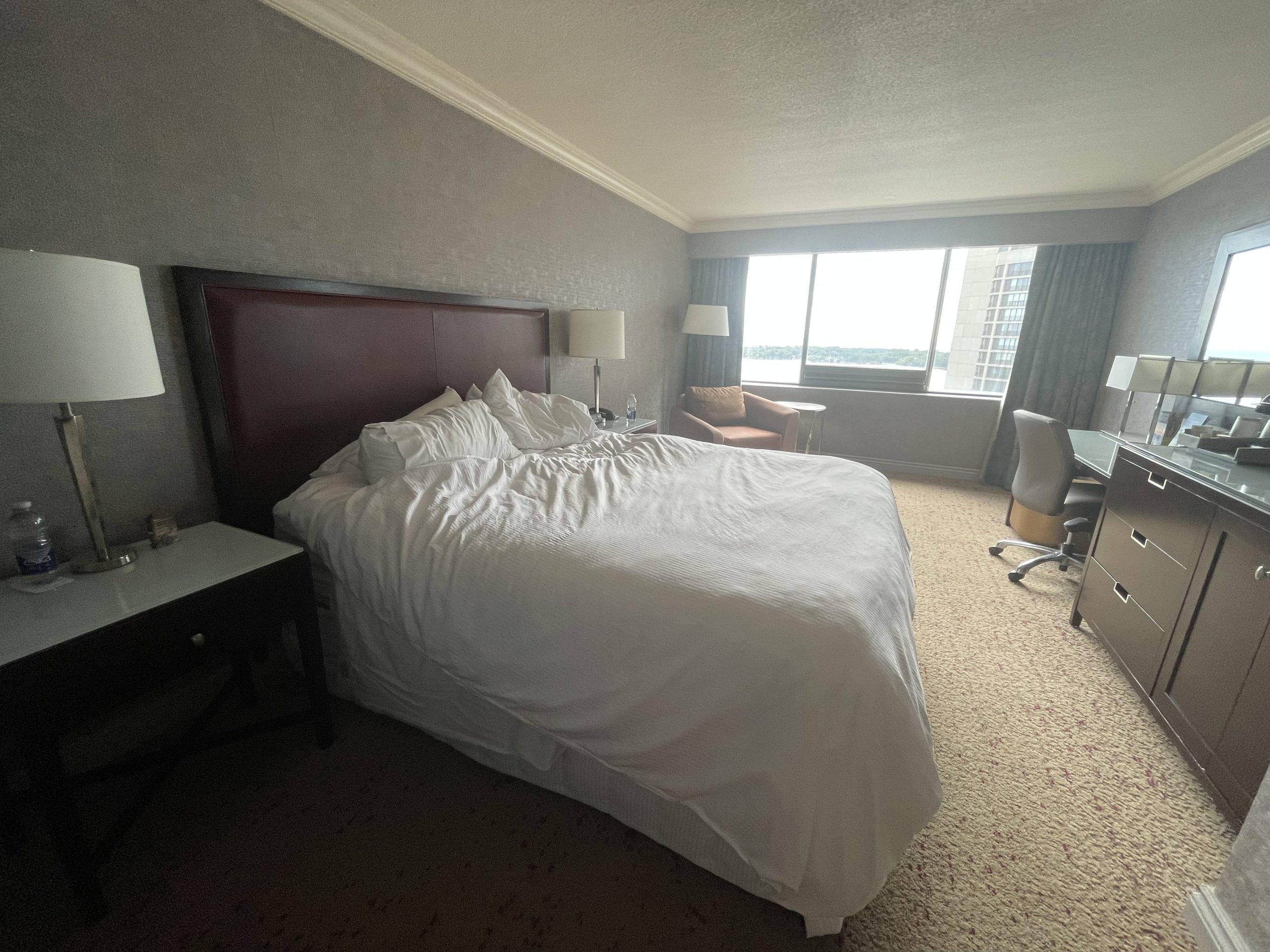 Amenities
The hotel has two towers. The amenities are located in the second tower. These amenities include a mini theatre, weight room, swimming pool, tennis court, and a second gym with cardio machines. The second gym closed at 10:00 PM for key fob access. To get access after hours, you have to call security to let you into the second gym area. As someone that works-out often, the gyms here would meet your needs in cardio and weights.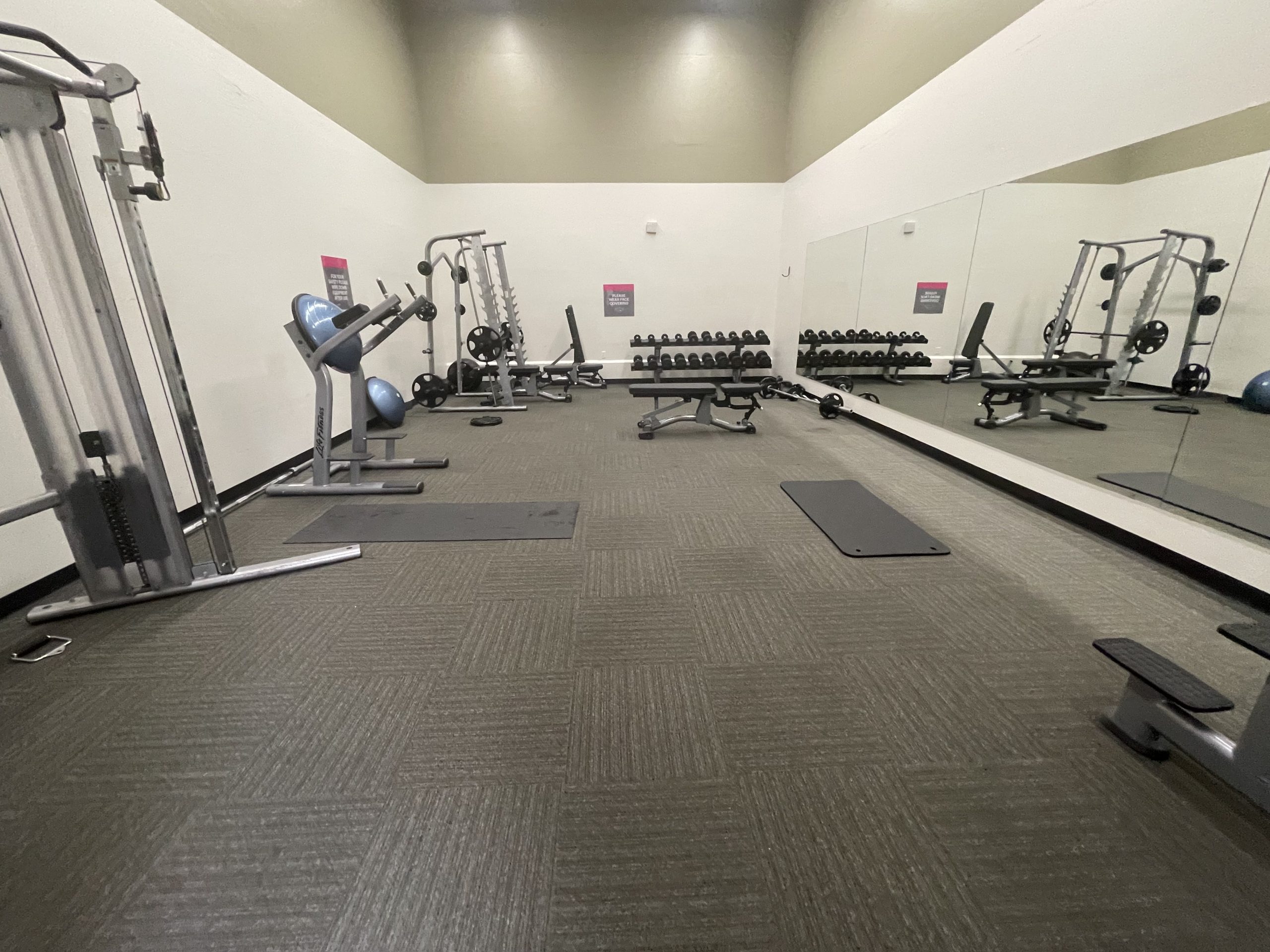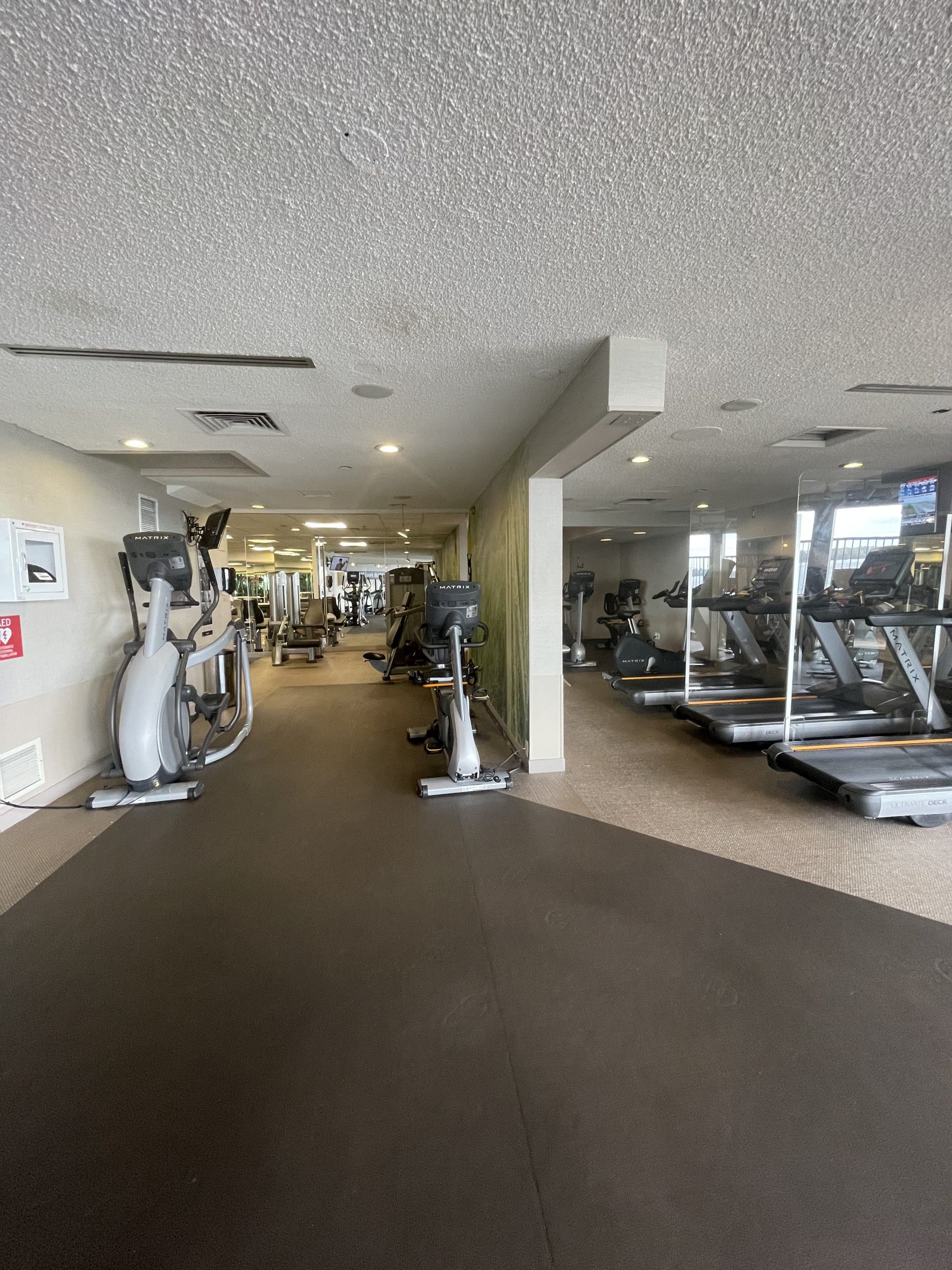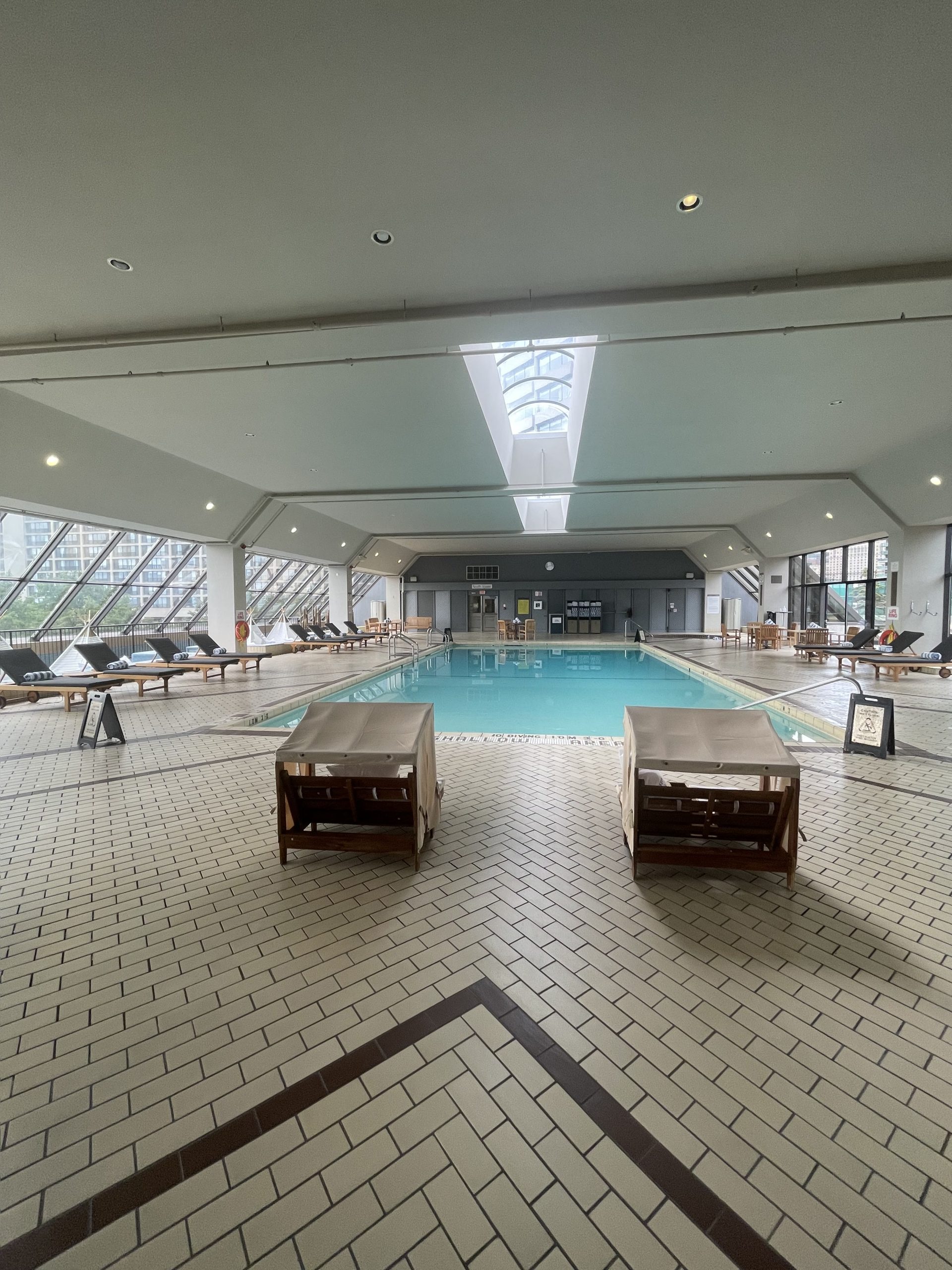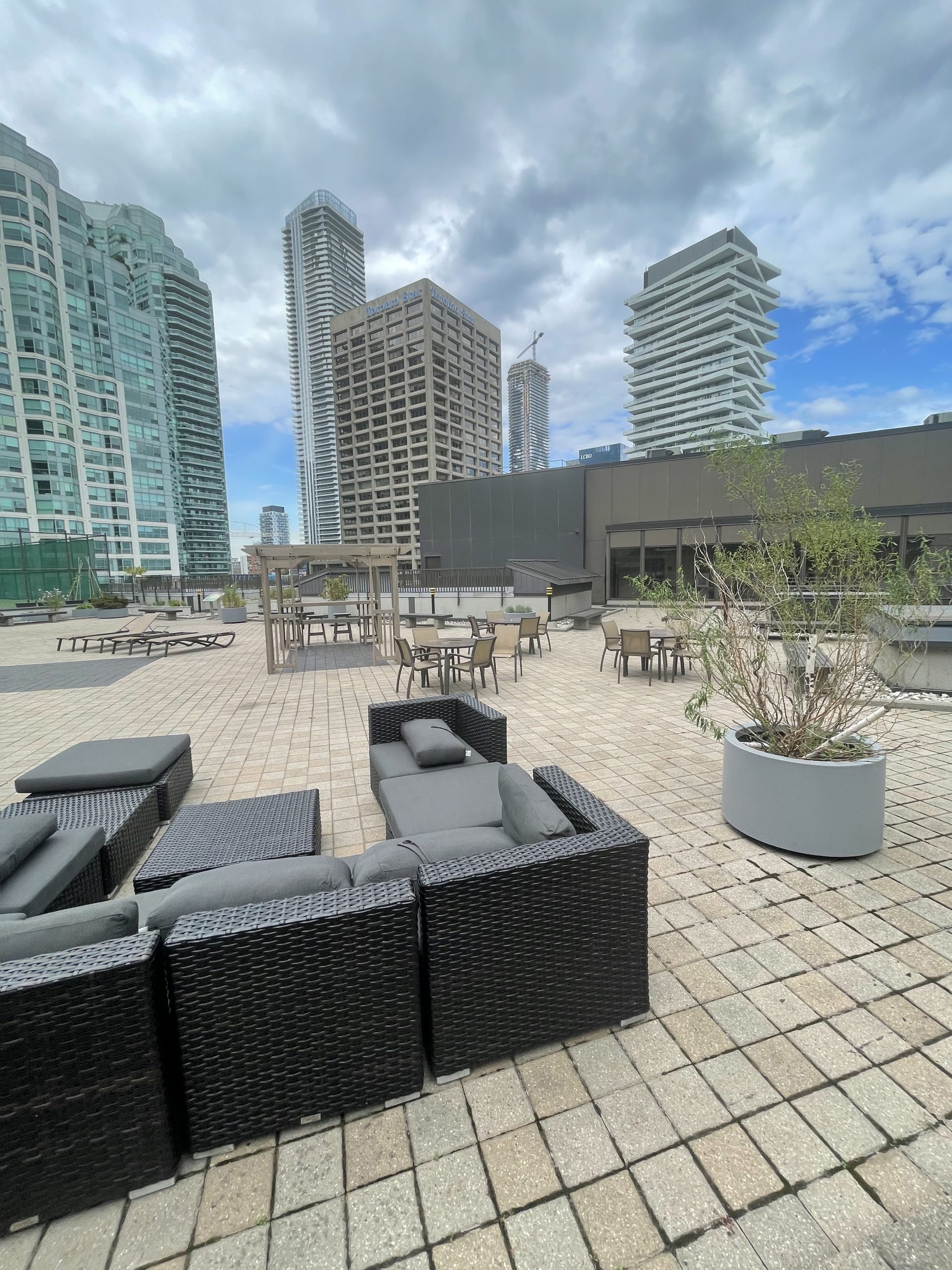 Wrapping it up
The hotel is in a great location by the harbour and ferry, but it is definitely due for an update. As well the hotel management did not follow up on the incident I had with the uninvited guest to the floor, but overall the service here was excellent. With that all being said I most likely wouldn't return to this hotel. In my opinion I find there are better options in this area to choose from.
Award night details:
Points required for a free night: 30,000 to 42,000 points
Marriott Bonvoy does not publish award night charts anymore as they have moved to dynamic pricing. The Westin Harbour Castle, Marriott Toronto typically runs between 30,000 and 42,000 points per night. This means you can easily use the free night award from the Marriott Bonvoy™ American Express®* Card or the Marriott Bonvoy™ Business American Express® Card  The certificate covers up to 35,000 points and you can top off with up to 15,000 points so you could stay here on any night with it.
Earn more on your upcoming Marriott stays:
Earn 1,000 Bonus Bonvoy Points + 1 bonus elite night for every eligible paid night you complete at Marriott Hotels Worldwide. Register and book by Apr 9 for stays Feb 7 – Apr 23, 23. Click here to register for this offer and to book your stays (Registration is required)
Talk to us!
Have you stayed at  The Westin Harbour Castle, Toronto? What are your thoughts of the hotel? Or are you planning to and looking forward to it? Let us know below!