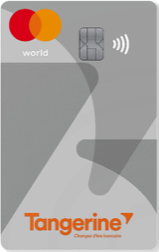 Tangerine Bank doubled the size of their credit card offerings today as they have released the Tangerine World Mastercard®. It is the first premium card in Tangerine's card portfolio after their pretty popular Tangerine Money-Back credit card. If you are familiar with or have the Money-Back credit card you'll be familiar with this card as it isn't too far off that first card.
This new card offers the same earn rates as its entry level compatriot but adds in some extra benefits including CDW Insurance (Car Rental collision), Mobile Device Insurance and Mastercard Airport Experiences which is a complimentary airport lounge and benefits program. It also adds in Purchase Assurance and Extended Warranty which is a standard feature on pretty much all premium cards in many entry level cards in the market. What makes this new card stand out is that it provides all these new benefits with no annual fee. The card does have a annual minimum income requirement of $60,000 personal or $100,000 household.
Just like the Money-Back version of the card, the Tangerine World Mastercard has launched with the same limited time welcome offer that provides 4% cash back in two
categories that you select (three categories if you choose to deposit
the cash back into a Tangerine savings account) for three months. After
that period the rate returns to the standard 2% in your selected
categories and 0.5% on all other spending.
These are the spending categories you can choose from to earn the higher cash back rates:
Here are the details of the new features on this card:
The CDW insurance covers car rentals of up to 31 days
The Mobile Device Insurance covers up to $1,000 if your device is stolen, lost or accidentally damaged or fails
The Mastercard Airport Experiences provides the annual membership (think Priority Pass, see our Guide to Business Class lounge access) where you will have to pay US$32 per visit to access the airport lounges in the programs. It also provides exclusive dining, retail and spa offers – and this includes complimentary massages.


You can get complimentary massages with the Mastercard Airport Experiences

Purchase Assurance provides 90 days of coverage if an item you buy on the card is lost, stolen or damaged.
Extended Warranty doubles the manufacturer warranty on products you purchase to a maximum of 1 year
It is nice to see Tangerine expand its portfolio of cards and add a card that provides more benefits. Those of you who have the Tangerine Money-Back Credit Card and meet the income requirements of this new card should move up to it as it is the same earn and you still pay no annual fee but get those additional benefits. And for those who have had their eye on the Money-Back Credit Card but held off because of the lack of benefits, well now you may have to reconsider with the Tangerine World Mastercard.
The card details below show the latest offers on this card and may not be representative of the discussion above: