WestJet Rewards will be losing their first ever
airline partner next year. American Airlines and WestJet will part ways
at the end of July 2018. The partnership has been around since June of
2012 but with the announcement last week that WestJet and Delta are
looking at forming a Joint Venture it is no wonder the partnership with
AA will come to an end.
Check out this IHG Rewards Club bonus – it is meant for Miles & More members but you can choose to earn IHG Rewards Club points instead. If you aren't a member you'll earn 3,000 bonus IHG Rewards Club Points (or 1,000 Mile & More miles if you choose) on your next stay. If you are already a member you just need to register for the offer and you can score 1,500 bonus IHG Rewards Club points (or 500 Miles & More miles) Find out more here
CORRECTION – Thanks to Nunavut Wolf for pointing out that earning is going up not down!
Aeroplan earn rates for flying on First Air changed at the beginning
of December just like they did for Canadian North. Once again the amount of miles earned is going down in most fare classes. Is Aeroplan prepping their non Star Alliance airlines that will likely remain partners with them post 2020 to help their revenues?
Changing course here since we totally read it wrong, so apologies to our readers and to Aeroplan. Kudos for increasing the earn rates on First Air instead of lowering them as was seen with Canadian North! (Source Aeroplan)
– Continue to earn 100% of the miles in booking class Y.

– Earn 100% of the miles in booking class C, M . For travel until November 30, 2017, earn 75%.

– Continue to earn 75% of the miles in booking class B.

– Earn 75% in booking class H. For travel until November 30, 2017 earn 50%.

– Earn 75% in booking class N. For travel until November 30, 2017 earn 25%.

– Earn 50% of the miles in booking class G. For travel until November 30, 2017 earn 25%.

– Continue to earn 25% of the miles you fly in booking class Q.

– Earn 25% in new booking class A.
We don't mention new routes that start outside of Canada very often
unless they will have some bearing for us in terms of rewards and one
route announced this week that should be of interest to a lot of Star
Alliance collectors is United Airlines' new
San Francisco to Tahiti route. This route will launch in October of
2018 and be winter seasonal to start but it now allows for the
possibilty of using Aeroplan, MileagePlus and other Star Alliance miles
to get to Tahiti! The route is only 3x weekly so there will be lots of
competition for those award seats but if you do snag them, especially in
business class, you'll enjoy the comfort on United's 787-8 aircraft!
Just a reminder to check out our American Express Cobalt Card Confirmed Multiplier Locations as the list is growing on a near daily basis. Click here to find which locations you'll earn 5 to 10x points at!
We're going to keep this reminder going in each update until Christmas:
Check out the Give A Mile Flight Hero campaign! The
charity can really use donations of miles to help provide flights to
those who otherwise would be unable to travel to visit terminally ill or
critically sick family and friends. Rewards Canada has pledged to raise
100,000 miles and we are half way there! We are putting the call out to
all of our fans, readers and even new visitors, if you can give please
do so. It can be as little as 1,000 miles! You can find out more and donate here.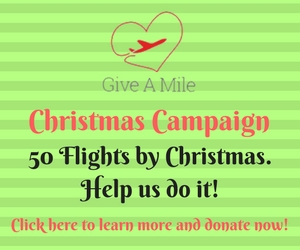 Posts since our last update:
Travel Deals
Remember to visit Rewards Canada's Travel Booking site to book travel directly with many of your favourite airlines, hotels and more!
Canadian Bonus Offers
N/A
Other Bonus Offers
Alitalia MilleMiglia
– 4,000 Bonus MilleMiglia Miles when you join the MilleMiglia program and fly on Alitalia within 3 months of joining. More… Register by Dec 31, 17
British Airways Executive Club
– Triple Avios when you subscribe to The Economist. More… Until Jan 31, 18
Le Club AccorHotels
– Earn up to 800 Bonus Le Club AccorHotels Points for stays at participating Accor Hotels in Turkey. More… Book by Feb 5 for stays until Mar 3, 18
Miles & More
– Earn up to 1,000 Bonus Miles & More Miles or 3,000 Bonus IHG Rewards Club Points for your next stay at an IHG Hotels. More… Register and book by Dec 31, 17 for stays until Mar 31,18
Shangri-La Golden Circle
– 25% to 50% Bonus MIles when you convert Golden Circle points to Airline miles. More… Until Dec 31, 17
Singapore Airlines KrisFlyer
– Triple KrisFlyer Miles for stays of 2 or more nights at Fairmont Hotels Worldwide. More… Book by Jan 31 for stays until Feb 28, 18
Follow Rewards Canada: