A few weeks back I was in Edmonton for my daughter's volleyball tournament. The volleyball team had selected the Best Western Cedar Park Inn as the team hotel for the tournament. As a parent I didn't have to stay there but the team did get special rates and parents were responsible for getting their kids to and from the volleyball venue so it only made sense to stay in the same hotel as the team.
The hotel itself is going through a major renovation as the hotel is moving up to the Best Western Plus level however some rooms have still not been renovated and those were the ones we received. The rooms did have updated beds and furnishings but still felt like something out of the 70s!
Don't you just love the brick walls and the open stainless steel medicine cabinet! Even though it felt old and not like most of the hotels that the Rewards Canada family stays at I figured that most of the time I'll be at the volleyball tournament and really only sleep in the room. Isn't that what a lot of people say? As long as it has a bed and you can sleep it doesn't matter right? I used to say that long ago but have found that even if you are not spending much time in a room, the nicer, cozier and more appealing it is the better it makes that stay no matter how short the time is in the room.
As Best Western Rewards Diamond member I received two water bottles and two biscotti snacks at check-in. Didn't try the biscotti as they were some odd combination of flavours and even the front desk agent warned against trying them!
The bed was OK but possibly the worst feature of the room is that there seemed to be absolutely no sound proofing from the outside, super loud trucks and cars that would roar off the line when lights turned green kept me awake for a good part of the first night! Not sure if the renovations are addressing this but if you are planning a stay at this hotel try to ask for a room away from the streets (somewhat hard since there are major roads on three sides of the hotel) My daughter said her room while not against the highway was still loud with the highway noise and also had a constant dripping noise from somewhere not in their room!
While awake, I can say the Wi Fi was good but that was because the hotel is Shaw Open Wi-Fi in addition to their own Wi-Fi. I didn't try BW's own Wi-Fi as the Shaw Open was excellent.
The bathroom and doors for the room really showed their age with patches from where holes must have been fixed, the tub was yellowing etc. Like I said, I was in a non-renovated room so I can't speak to what the hotel will look like when its done but if you are staying here soon I would push for one of the new rooms.
We received complimentary buffet breakfast that wasn't anything to write home about. Cold bacon at 6:30am, when breakfast starts at 6:30am doesn't make sense. The kids on the volleyball team did enjoy making their own waffles however! When I just looked at the website for the hotel they discontinued the free breakfast as of March 1st.
A lot of the parents along with us also had issues with the hotel charging us for our stay even though we paid for it through the team. The hotel was only supposed to run a pre-authorization of $100 on our cards but ended up charging the full amount of the stay. Our charge was refunded quite quickly but I know some parents still haven't received the full refund three weeks later.
Overall, I cannot recommend this hotel. To me it would seem there are much better options around. Even with renovated rooms, the noise level in the hotel is high and doesn't make for a comfortable stay.
We have stayed at other Best Western's before that are immaculate and provide a great experience so this stay was somewhat disheartening. However this is a BW issue they see around the globe. As all hotels are independently owned and operated there is a lot of variance in the level of comfort, service and attention in each location. One hotel is amazing and the next is sub-par. I know BW is trying to address this with their basic, Plus and Premier level of hotels so hopefully places that are being reno'd like the BW Cedar Park Inn can make their guests experience's more enjoyable.
Suffice to say the team has chosen a newer and higher up Best Western for the next Edmonton tournament in April! I'll be sure to post a review of that stay as well!
Best Western Cedar Park Inn Edmonton
Points required for a free night: 16,000 Best Western Rewards Points
Links:
—-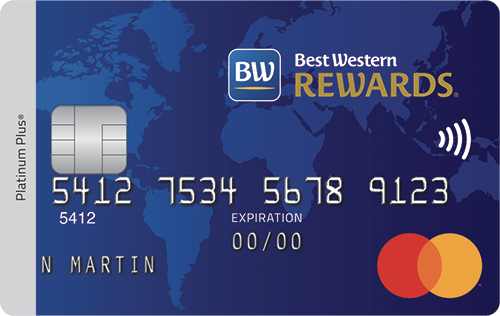 mbna Best Western Mastercard®
• Earn 1 Best Western Rewards® point for every $1 in eligible purchases‡
• Earn 5 Best Western Rewards® points for every $1 in eligible purchases at Best Western properties‡
• Earn 20,000 Best Western Rewards® points†† on your first purchase – enough for a free night stay
• You will be awarded "Gold Status" upon first use of your
credit card and "Diamond Status" when you spend $10,000 in eligible
purchases within one year◊◊
• No limit to the Best Western Rewards® points that can be earned using the credit card in a year
• Use your Best Western Rewards® points in many ways – hotel stays, dining, gift cards and more.
• You could get a 1.99% promotional annual interest rate† (AIR) on balance transfers✪ for the first 10 full months
Apply now for the Best Western Mastercard® Credit Card