Today seems to be a big news day for airline frequent flyer programs! Air Canada with Emirates, JetBlue changes south of the border and then there is this news from British Airways! The airline is offering lower and in some cases, a lot lower surcharges on Executive Club reward tickets. As pointed out by Gilbert at GSTP, the British Airways program has introduced a Reward Flight Saver option that is seeing a significant drop in the fees and taxes being charge on their reward flights.
The new Reward Flight Saver option will require additional Avios but from the examples that Gilbert provided, that increase seems to be more than outweighed by the cash savings on the fees and taxes side. It kind of reminds me of the new Aeroplan program – they completely did away with charging surcharges but did increase the amount of points required on many flights  but again the savings outweighed that increase.
How to Find Reward Flight Savers
Find the money saving Reward Flight Saver option is pretty simple. Just look for the symbol that BA has introduced:


Toronto to London Heathrow Reward Flight Saver Example
As you can see in this round trip economy class example for Toronto to London Heathrow. The amount of Avios is 50,000 for off peak which is quite a bit higher than as little as 26,000 Avios needed for a non Reward Flight Saver Off Peak reward but the fees are only $200 instead of $880: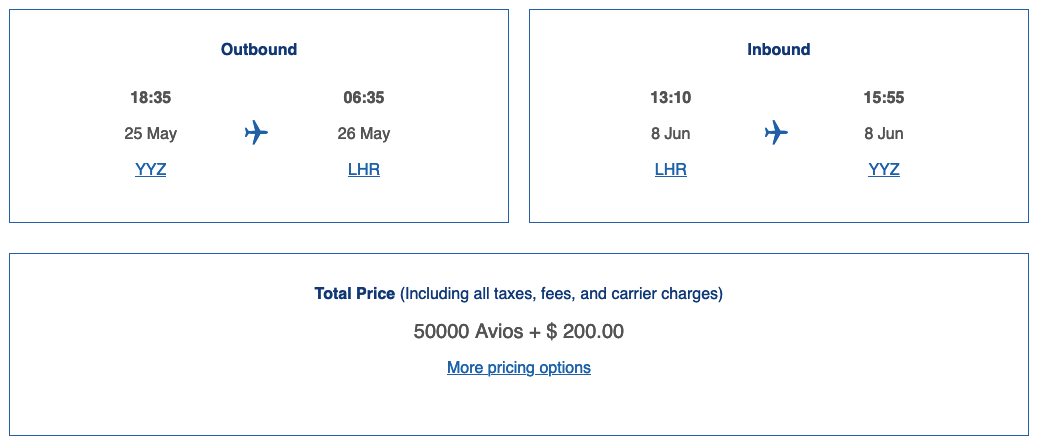 Let's compare that to Aeroplan for those same dates: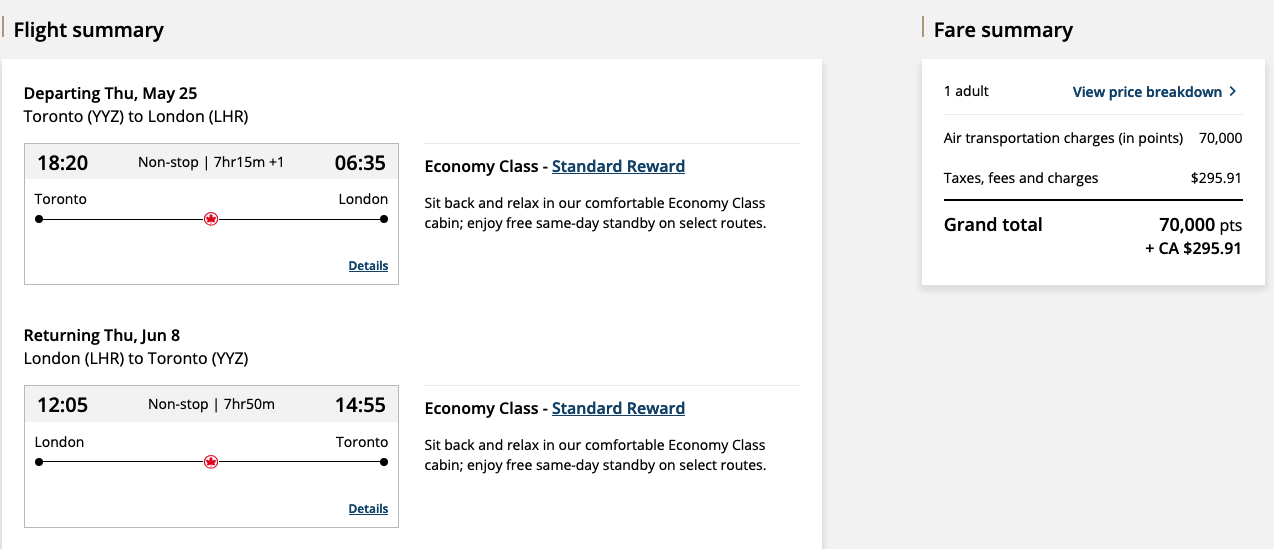 I never thought I would see the day where British Airways comes in lower on the mileage AND the fees required! 50,000 Avios vs. 70,000 Aeroplan Points and BA are $95.91 cheaper in fees.
Business Class sees lower fees as well but those come with the a significant increase in Avios, but the increase seems pretty reasonable compared to the savings in fees!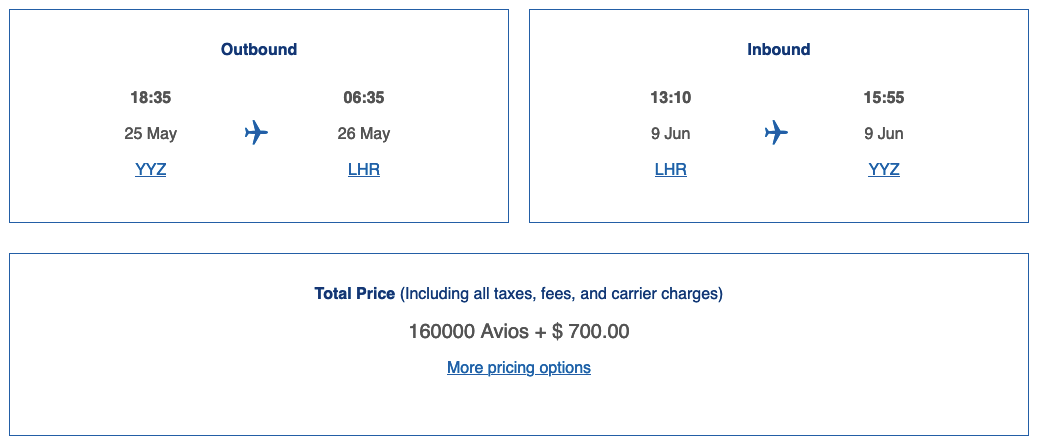 And compare this to the best Aeroplan option on those same dates – I don't think I even need to say anything about this: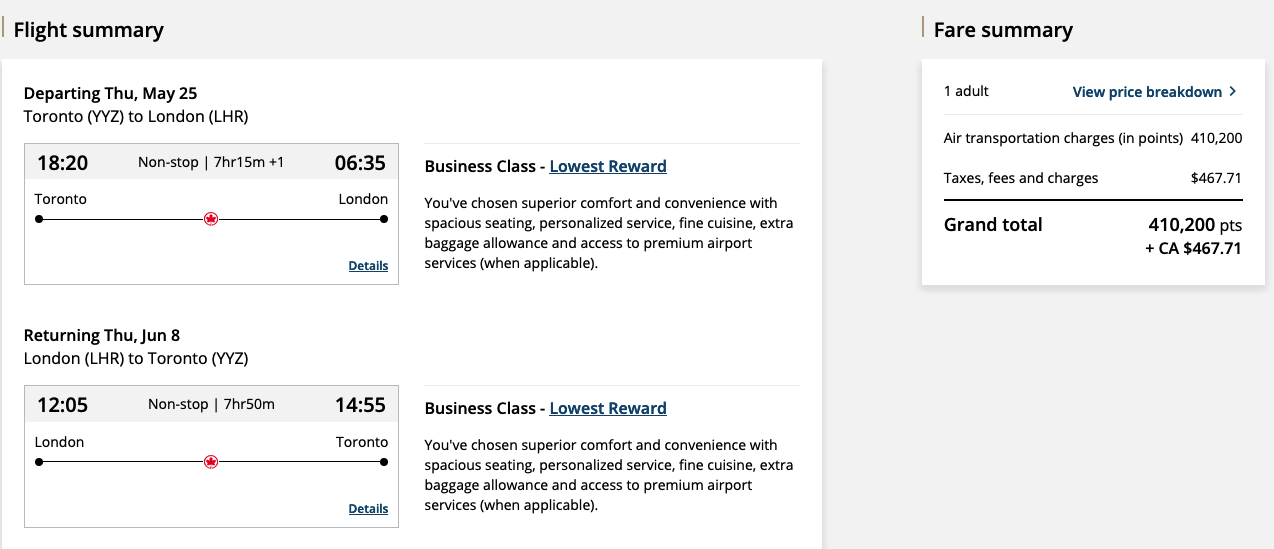 Provides even better value for Membership Rewards & other transfer parnters
To me this just made American Express Membership Rewards points even more valuable since they can be transferred to Air Canada Aeroplan, British Airways Executive Club and Air France KLM Flying Blue. The last two have been making changes for the better and combined with Aeroplan (when there is availability) provides an amazing trifecta of transfer partners. It gives the person all the right options and you can check them all out to see which is best before you transfer!
Don't forget you also have RBC Avion cards and the HSBC World Elite Mastercards that provide options to transfer to British Airways as well so these also benefit from this news.  Or you can for direct Avios earning with the RBC British Airways Visa Infinite Card
Wrapping it up
British Airways is somewhat following in Air Canada's footsteps with their new Reward Flight Saver option. It bumps up the cost in Avios for awards but in many cases that is more than offset by the lowering of the huge carrier surcharges BA levies on non Reward Flight Savers. The Reward Flight Saver option is just that, an option. You don't have to book it if you want to book a regular reward with lower Avios and potentially higher fees.
And when you compare it to Canada's leading airline program it makes the Executive Club program an attractive option for those who are not only set to using Aeroplan for flights to the UK and beyond.