I recently had the opportunity to try out the relatively new Westin Calgary Airport for a one night stay. The hotel is a short five minute shuttle ride away from the airport terminal located on the northwest side of the Airport in the same vicinity as the Hyatt Place Calgary Airport and the Hotel Clique.
Arrival & Check in
As a YYC local I arrived at the hotel with my own vehicle. The hotel has a large parking lot and parking is free so no worries there! For those without a car the hotel does offer a free shuttle to and from the airport terminal.
Check in was super fast and easy as they had two agents checking in guests and one was free right as I walked up. The gentlemen was super friendly and extremely helpful to meet my request for a higher room that faced east so I could enjoy some planespotting!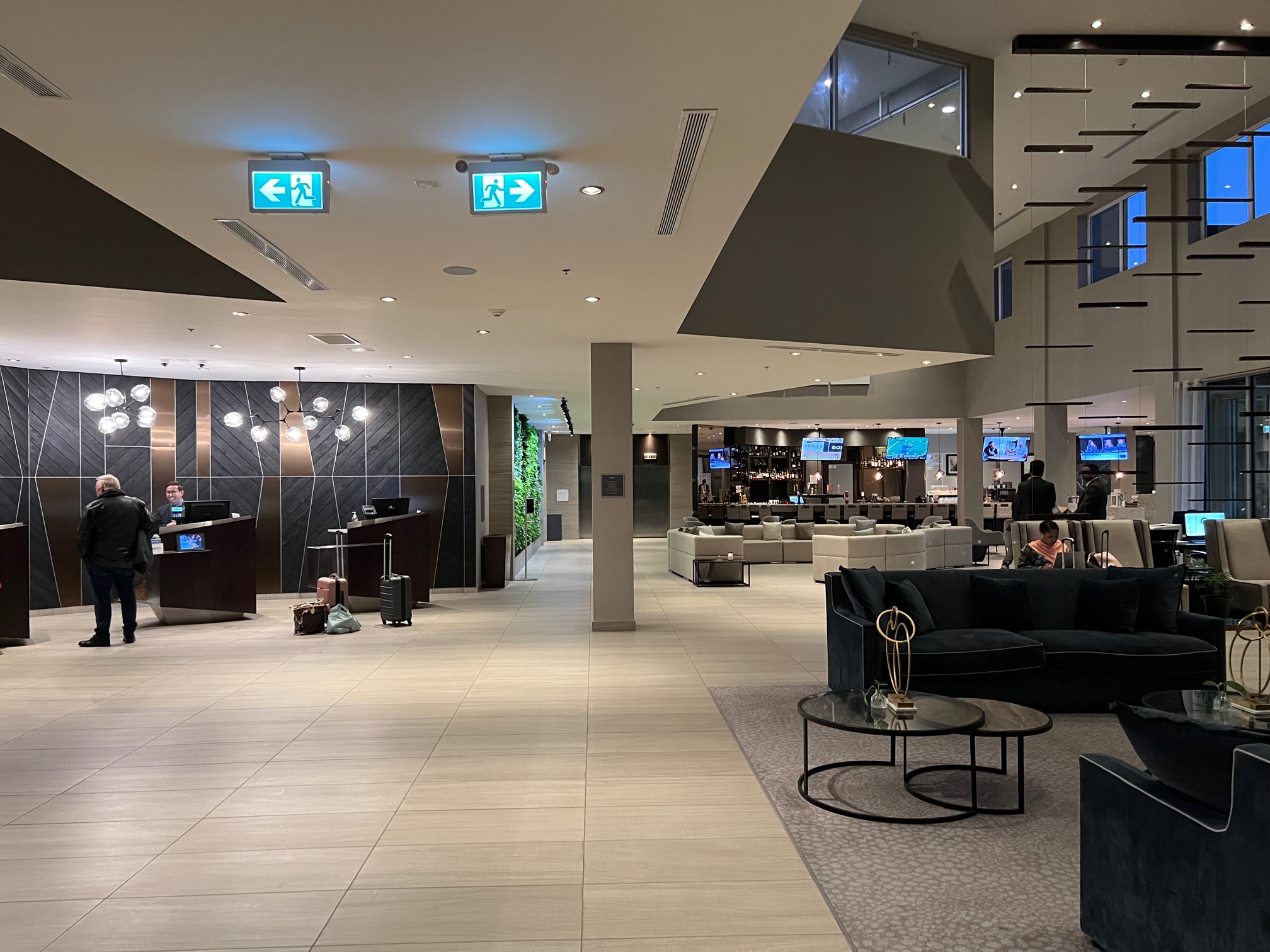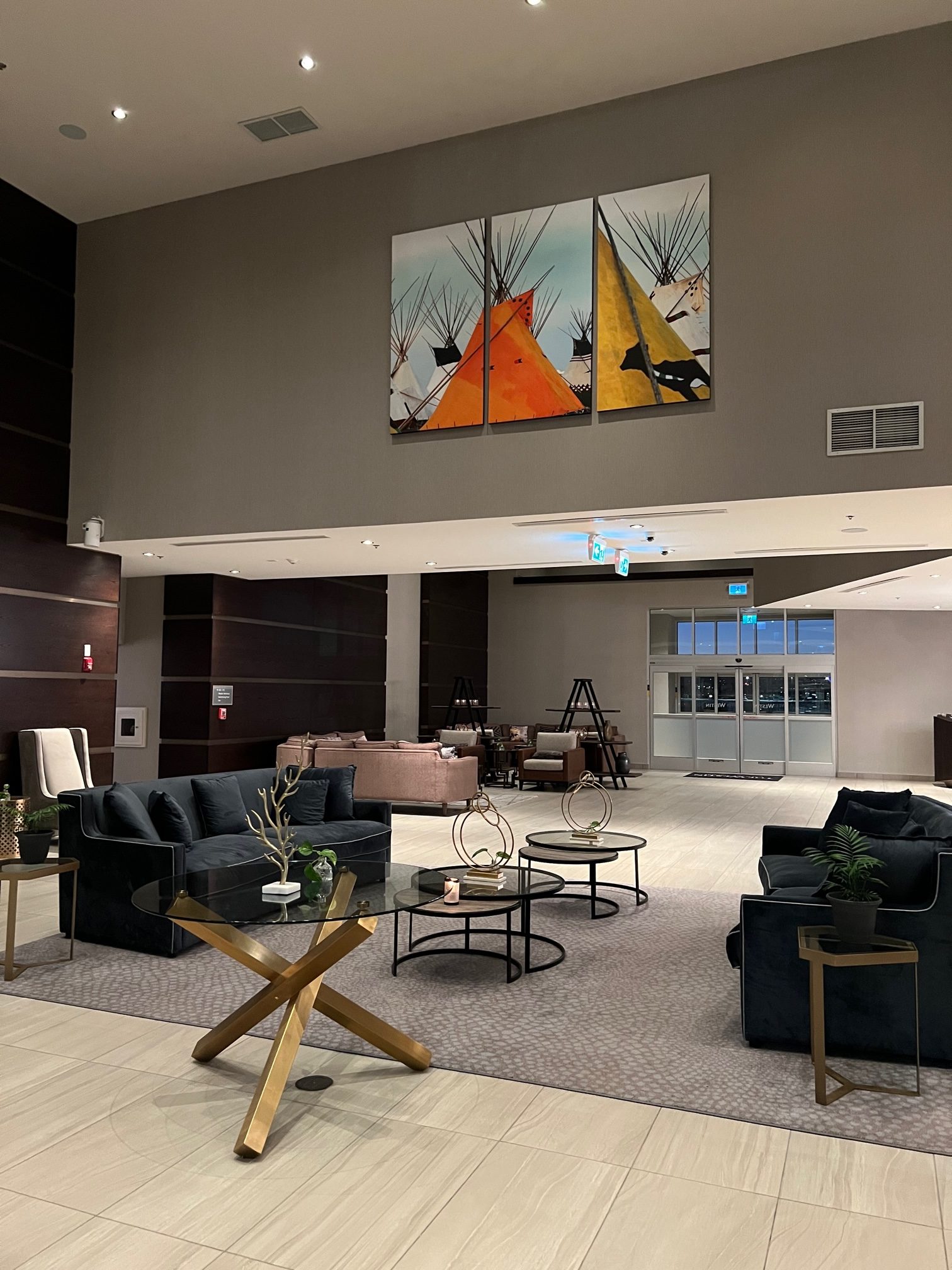 Traditional Guest Room 1 King
I had booked a basic one king guest room for this short stay and that is what I received. My room was on the fourth floor and faced east towards the terminal and runway 17R-35L. Ask for an east facing room (even numbers for most of the rooms) if you want to do some planespotting or a west facing room for a view of the mountains. The room while not large was perfect enough for me and feel it would be enough for most couples travelling together for a short stay.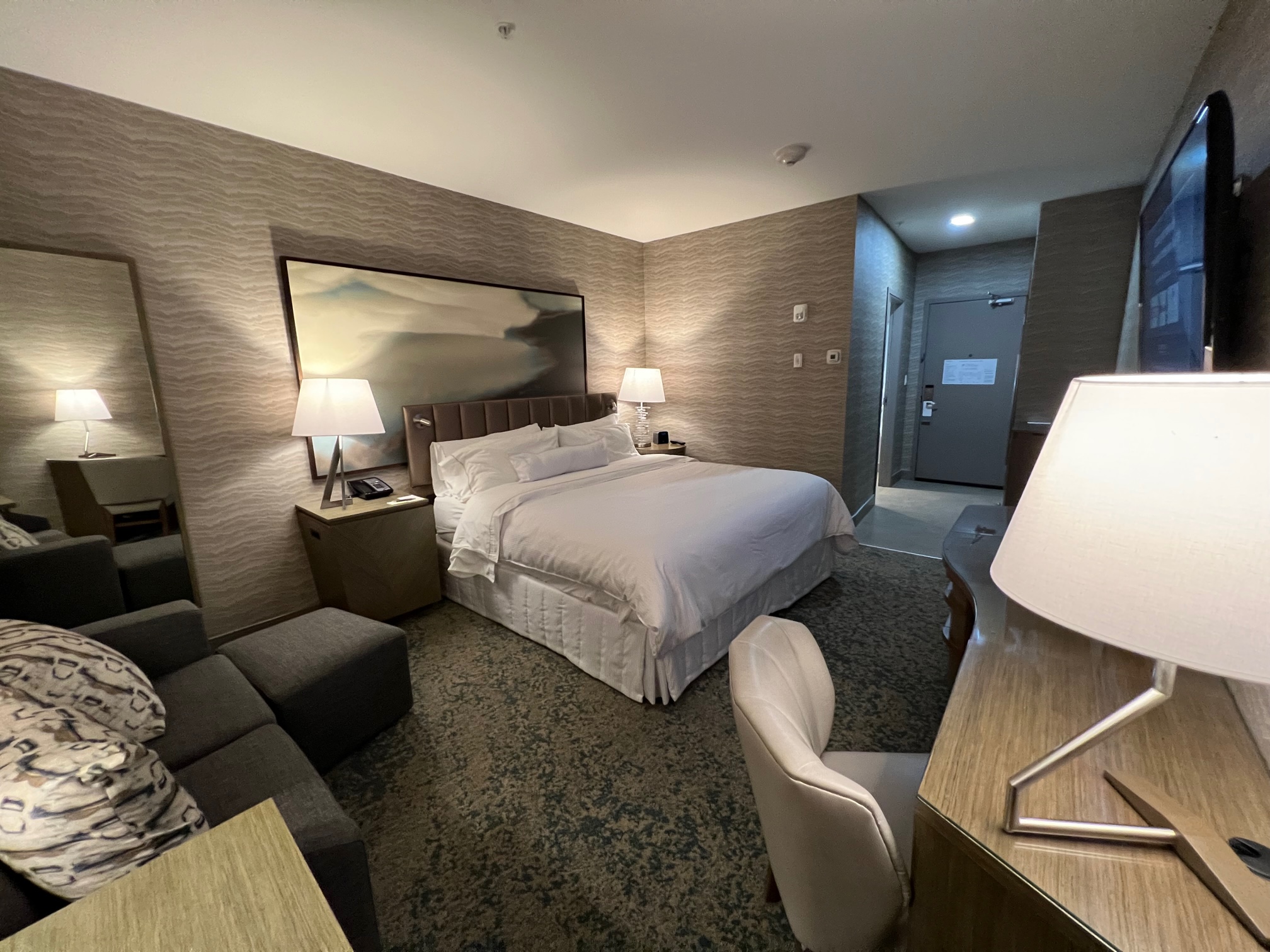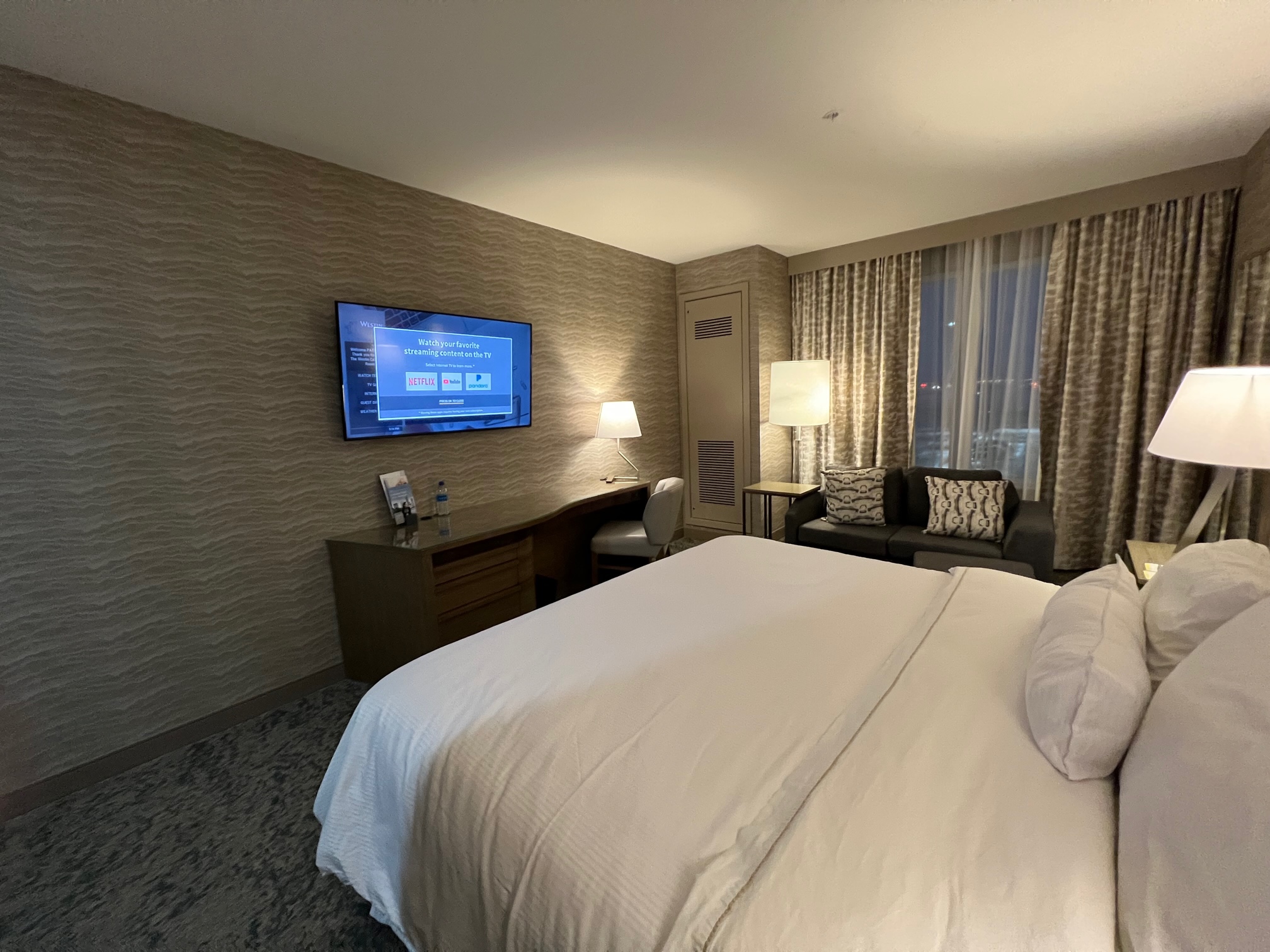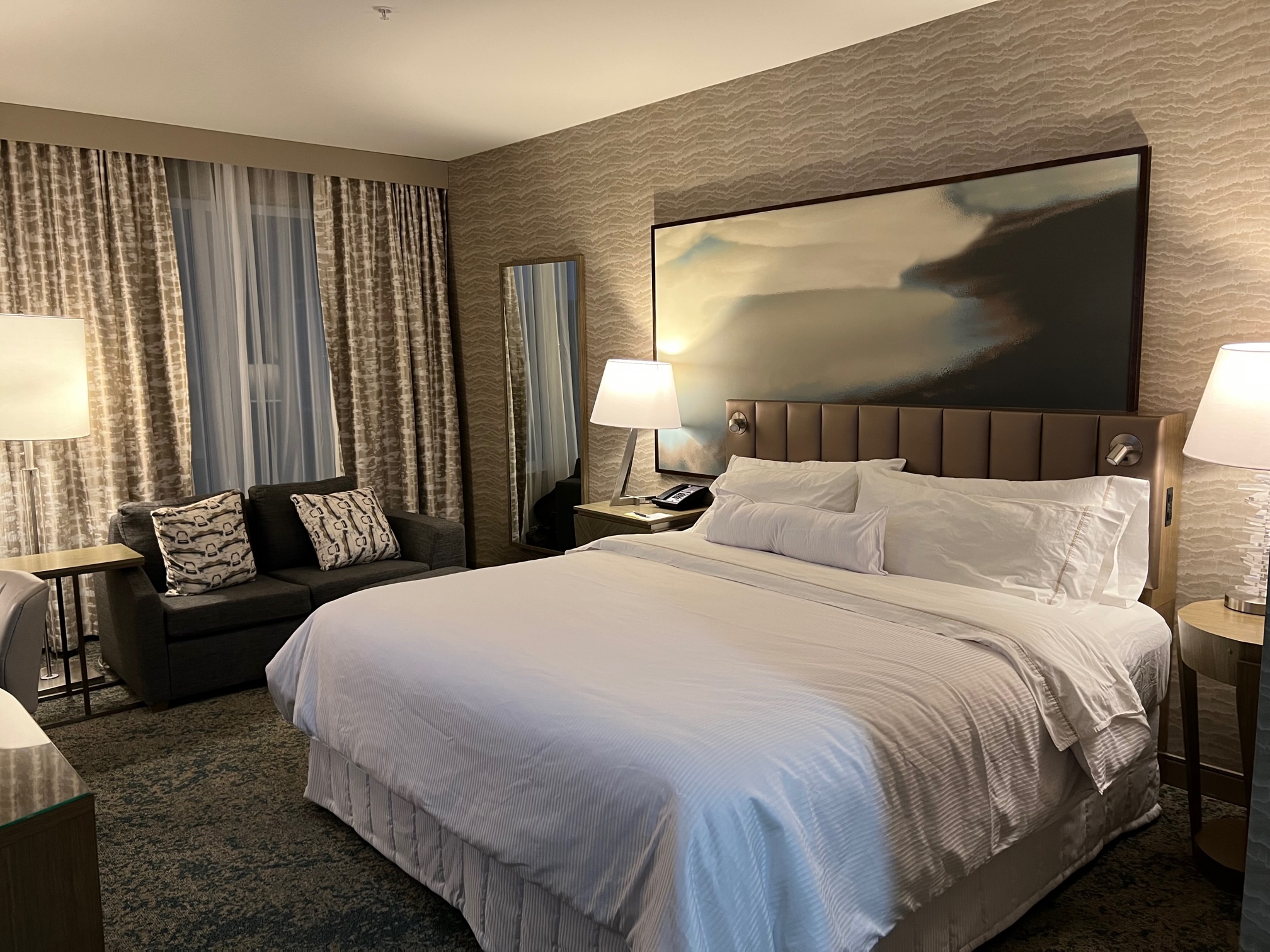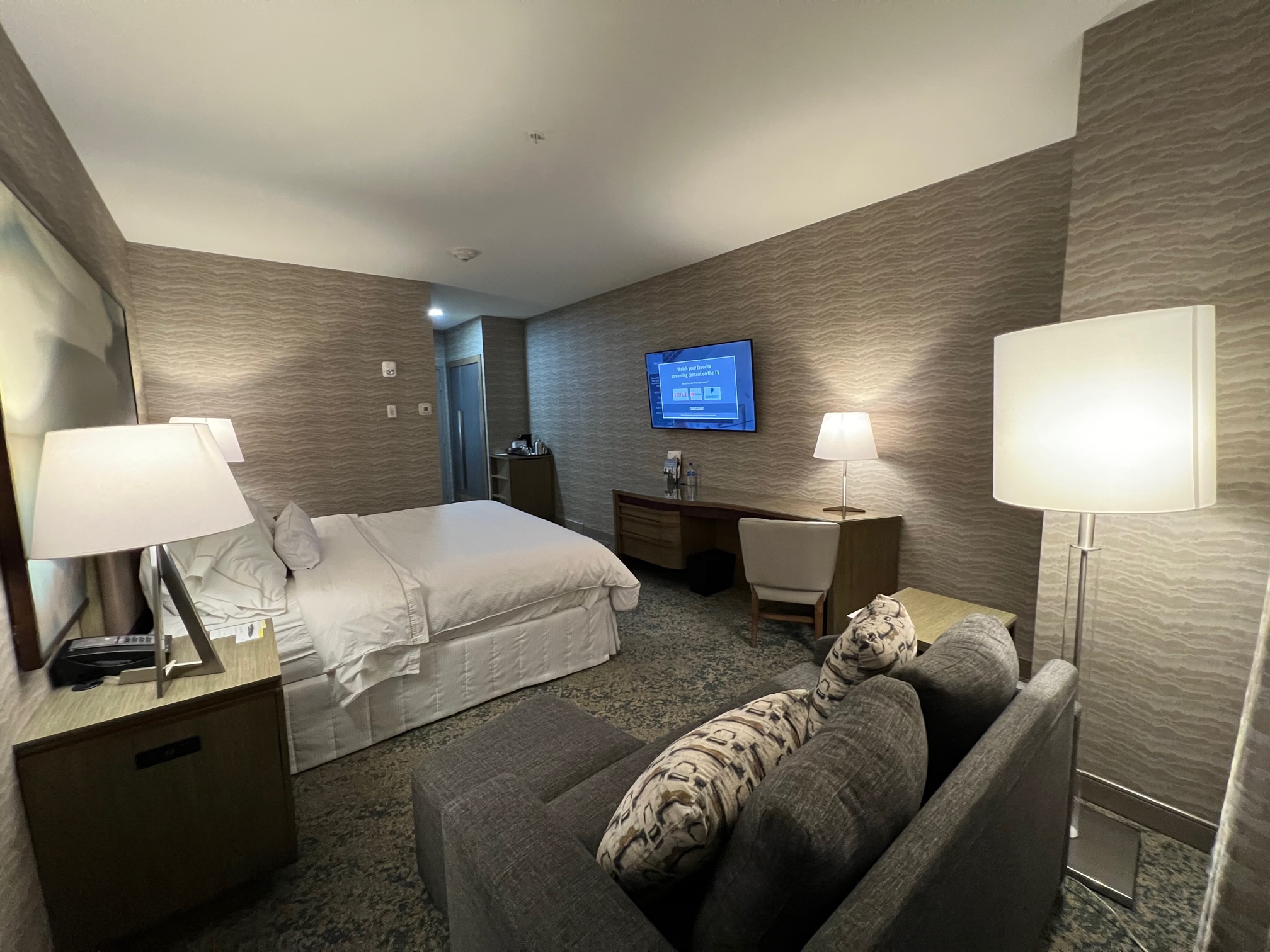 The room was in great shape, very clean and modern.  I've always been a fan of Westin beds and this one didn't disappoint – very comfortable! And the pillows were great as well.
The room featured a small fridge hidden in the cabinet that is used for the  in-room coffee machine, ice bucket and glasses: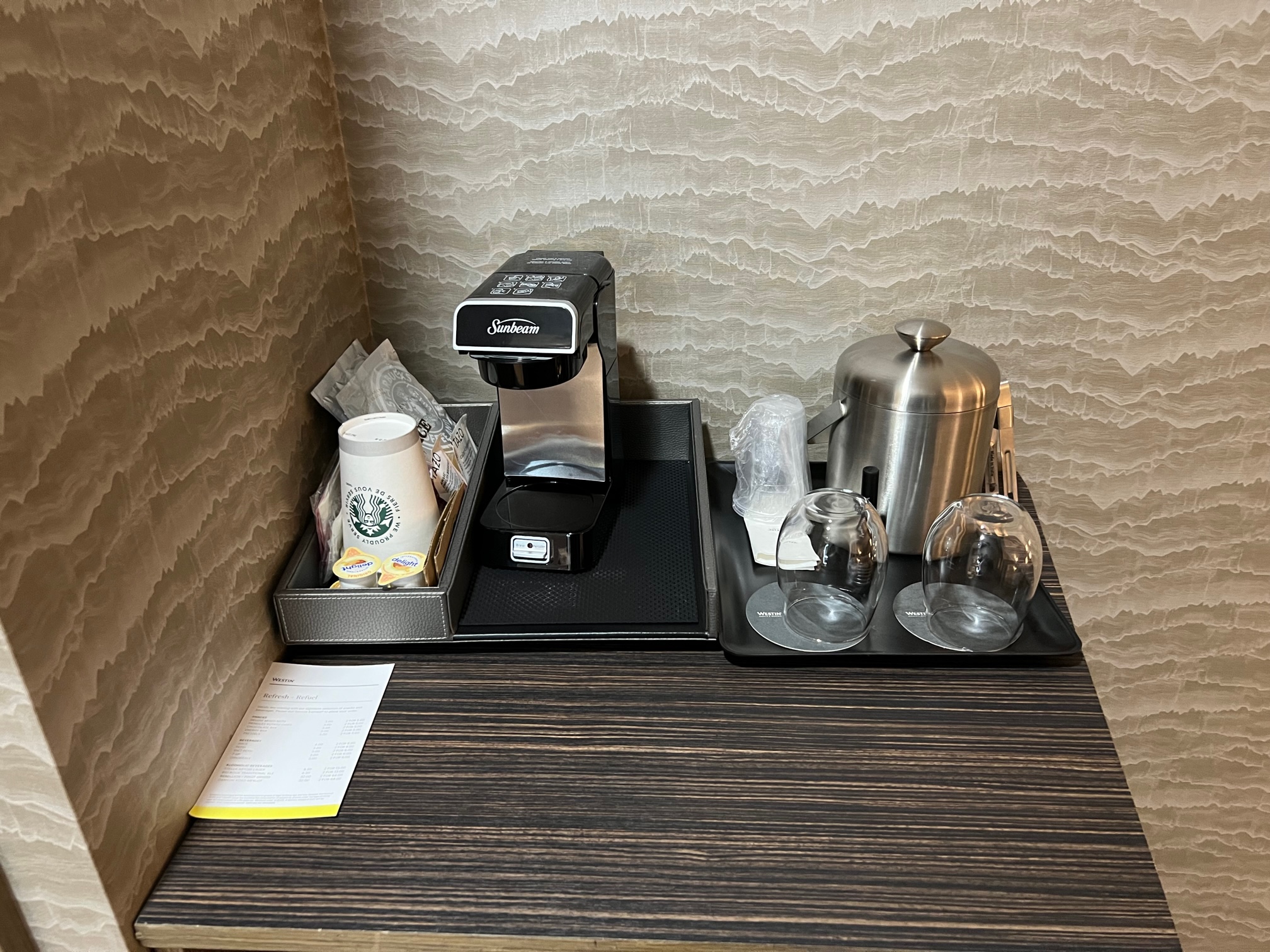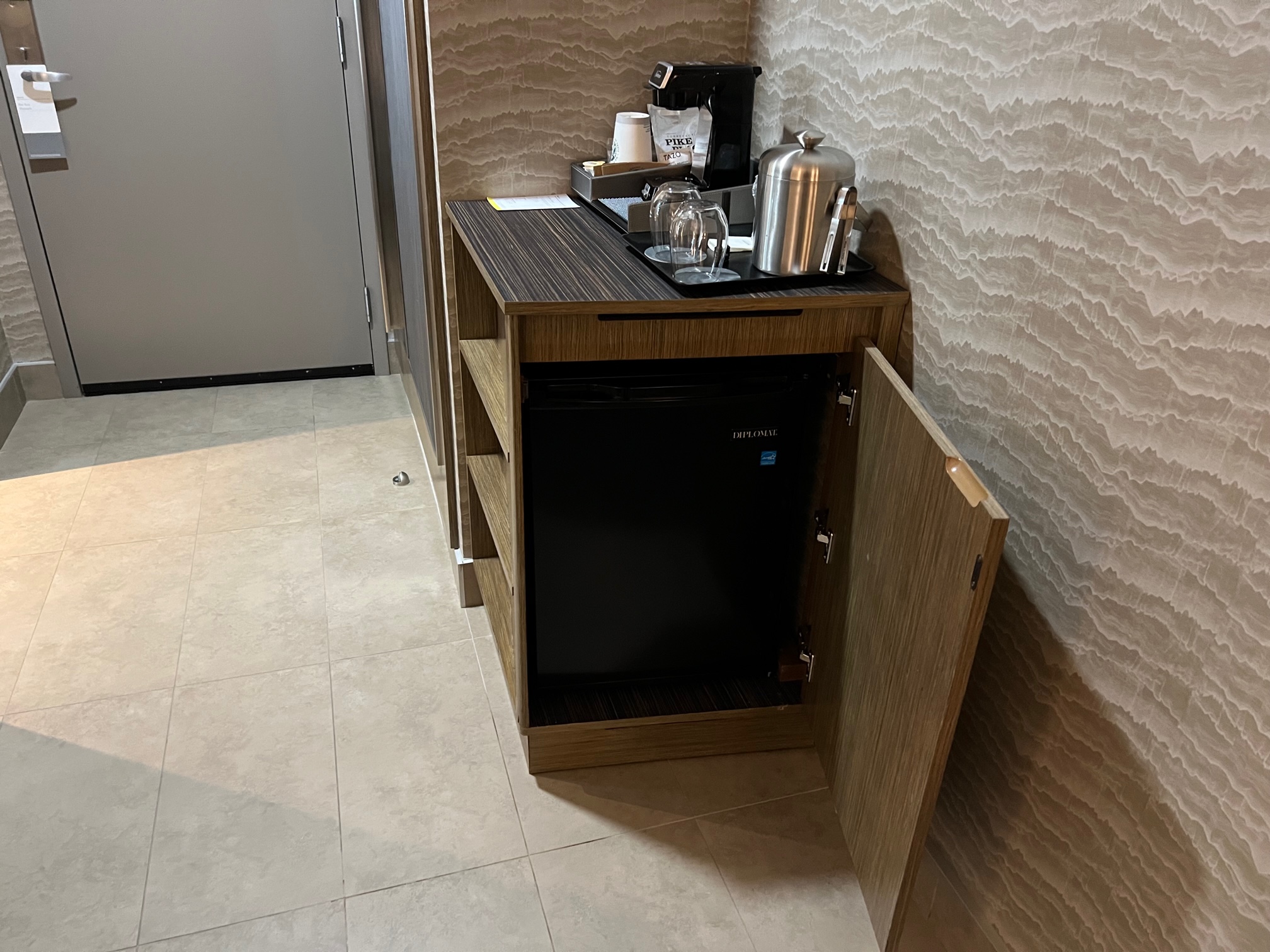 Next to the cabinet was a generous sized closet which housed a safe, iron and ironing board.
As with many new hotels, there was no shortage of plugs to charge your devices: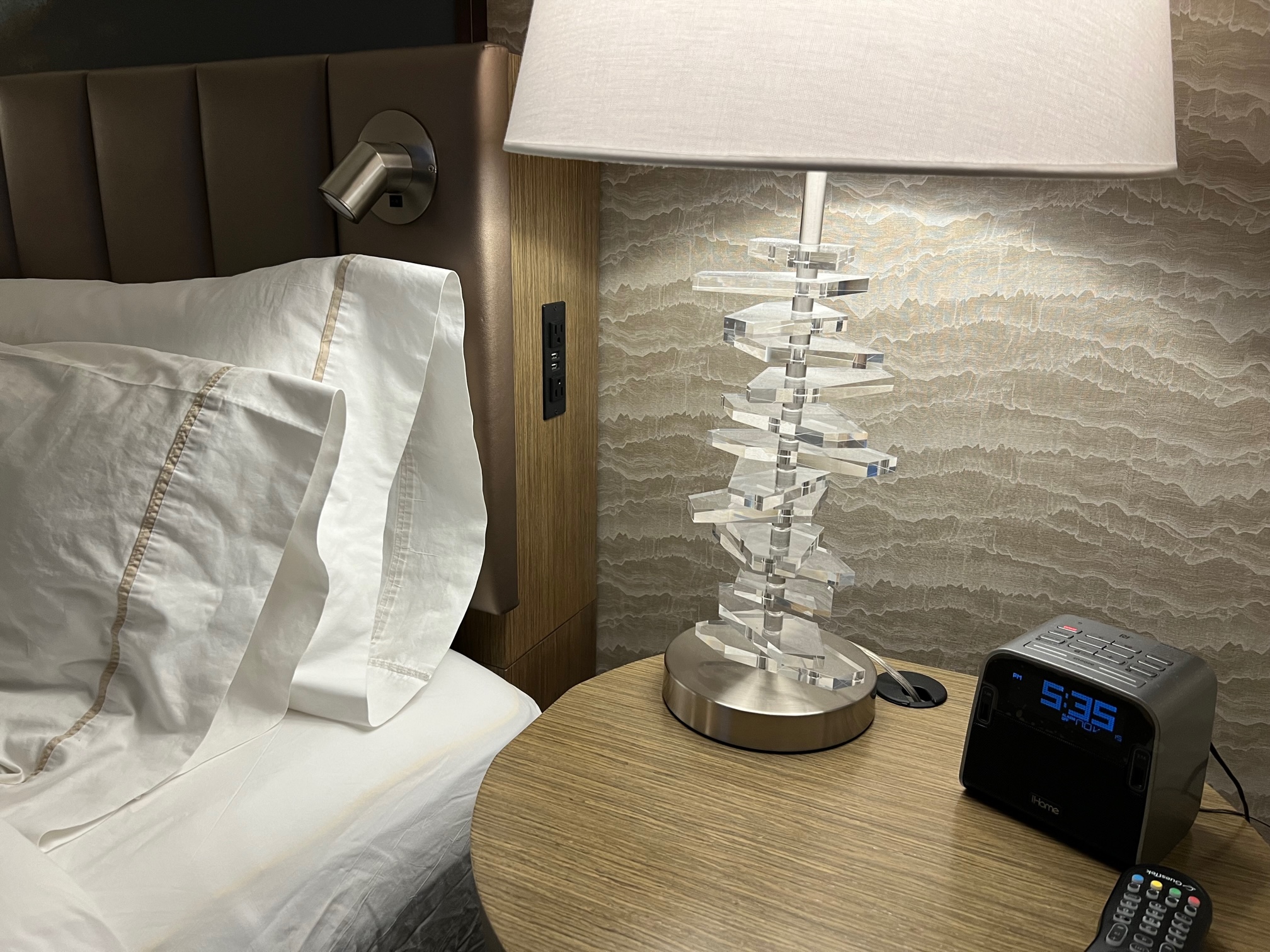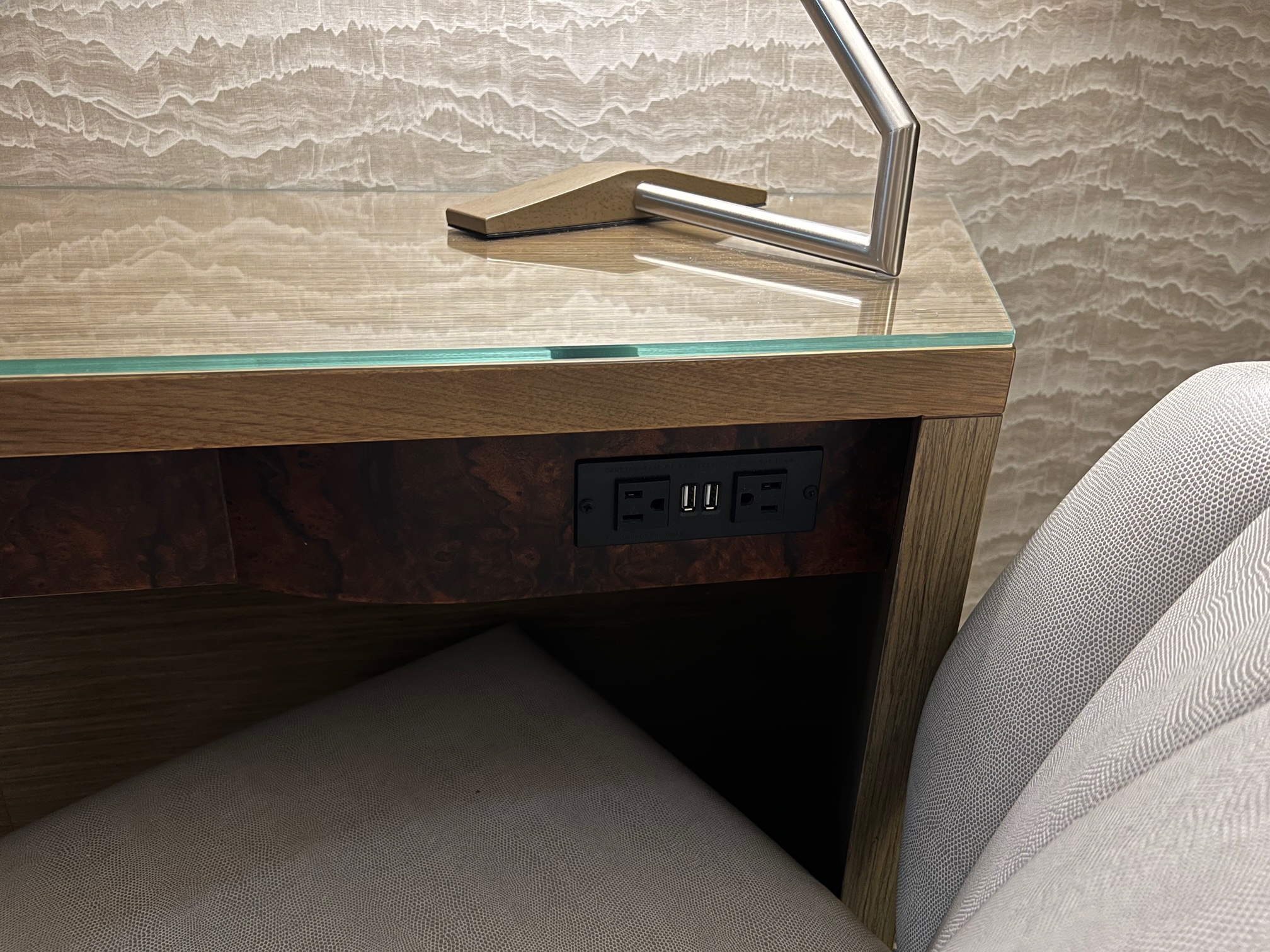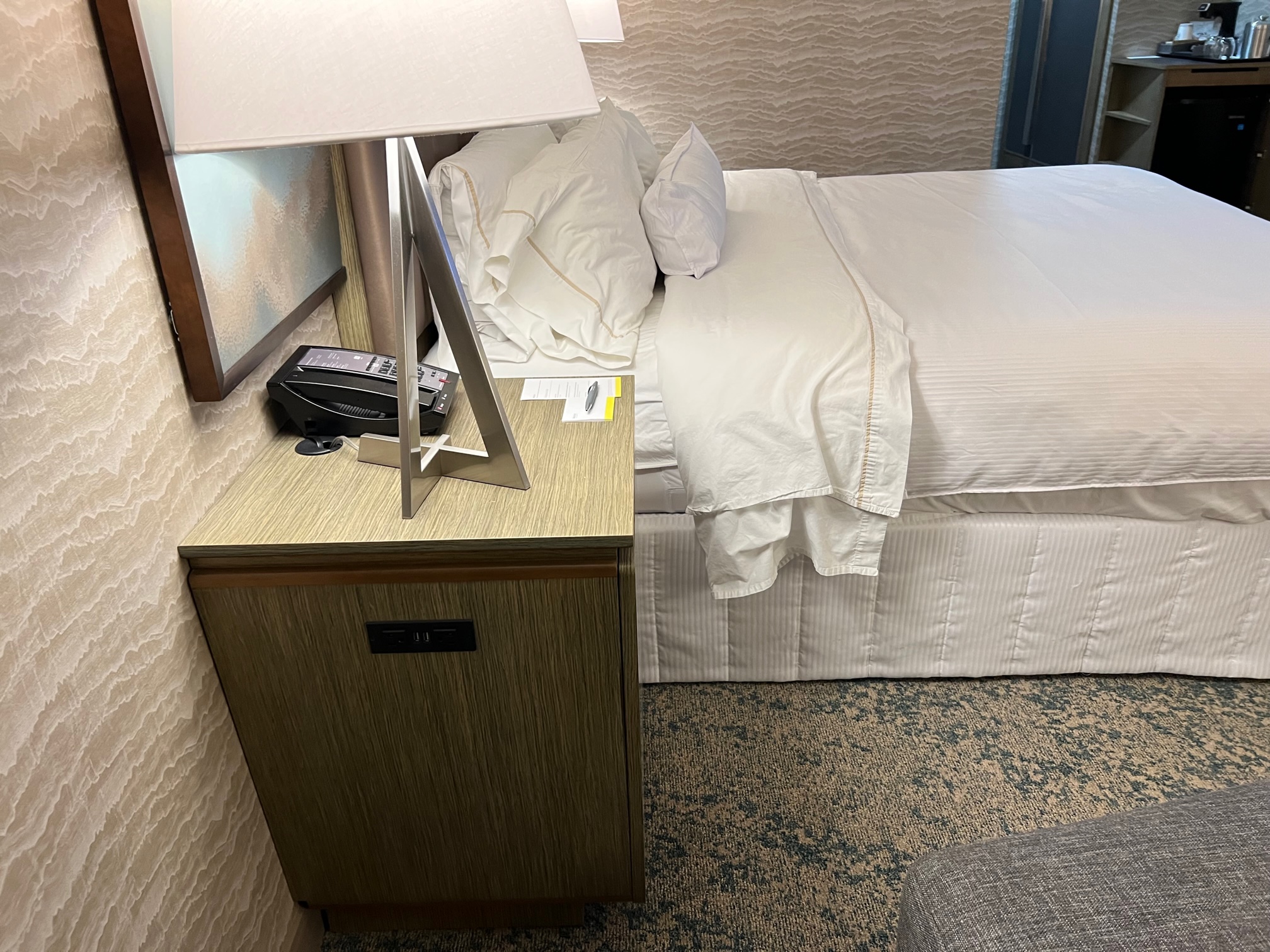 The bathroom was spotless and featured a single vanity and walk in shower. It had the large bottle toiletries in the shower that is really becoming the norm in most hotels. The shower had excellent water temperature (nice and hot) and really decent water pressure.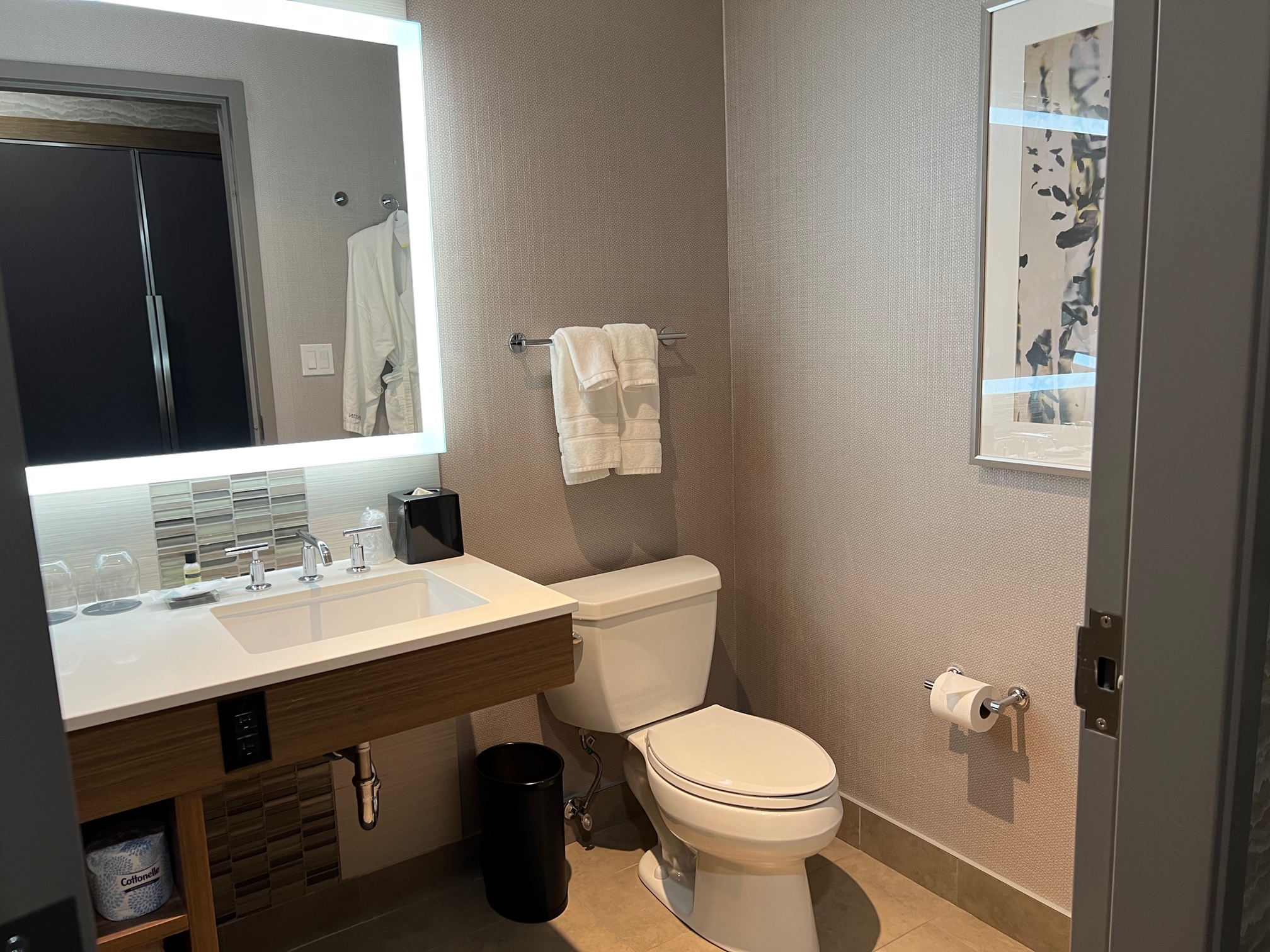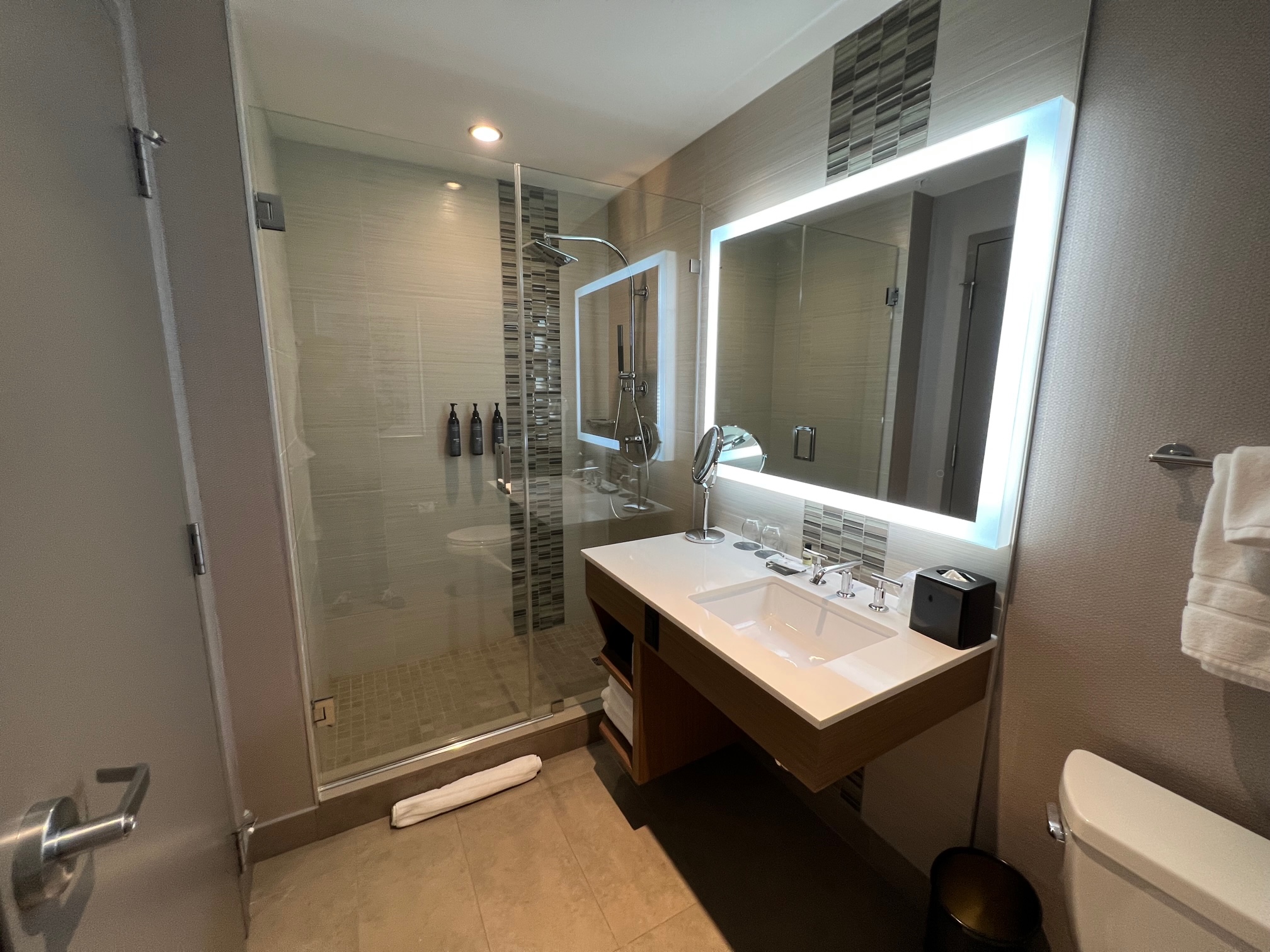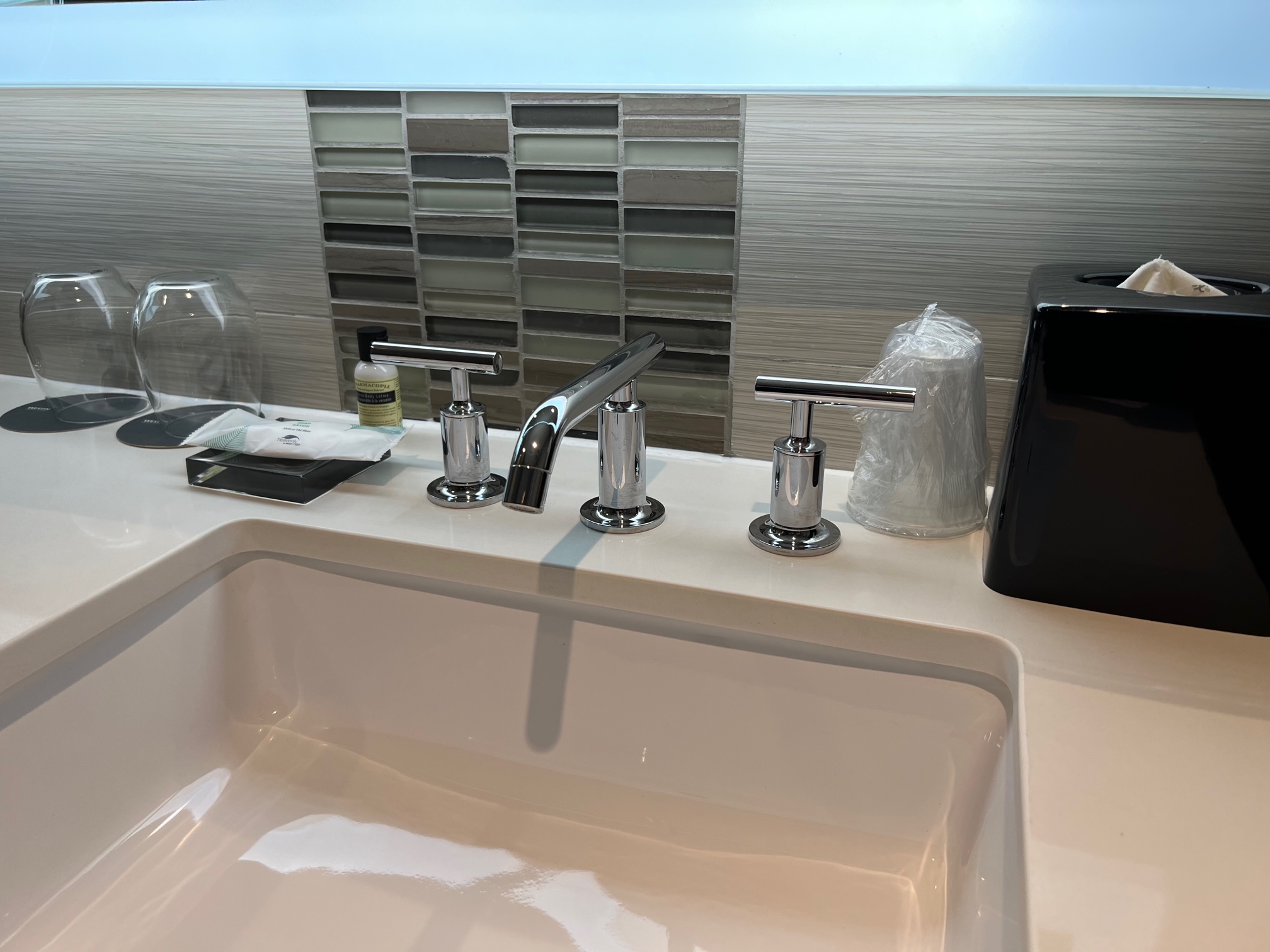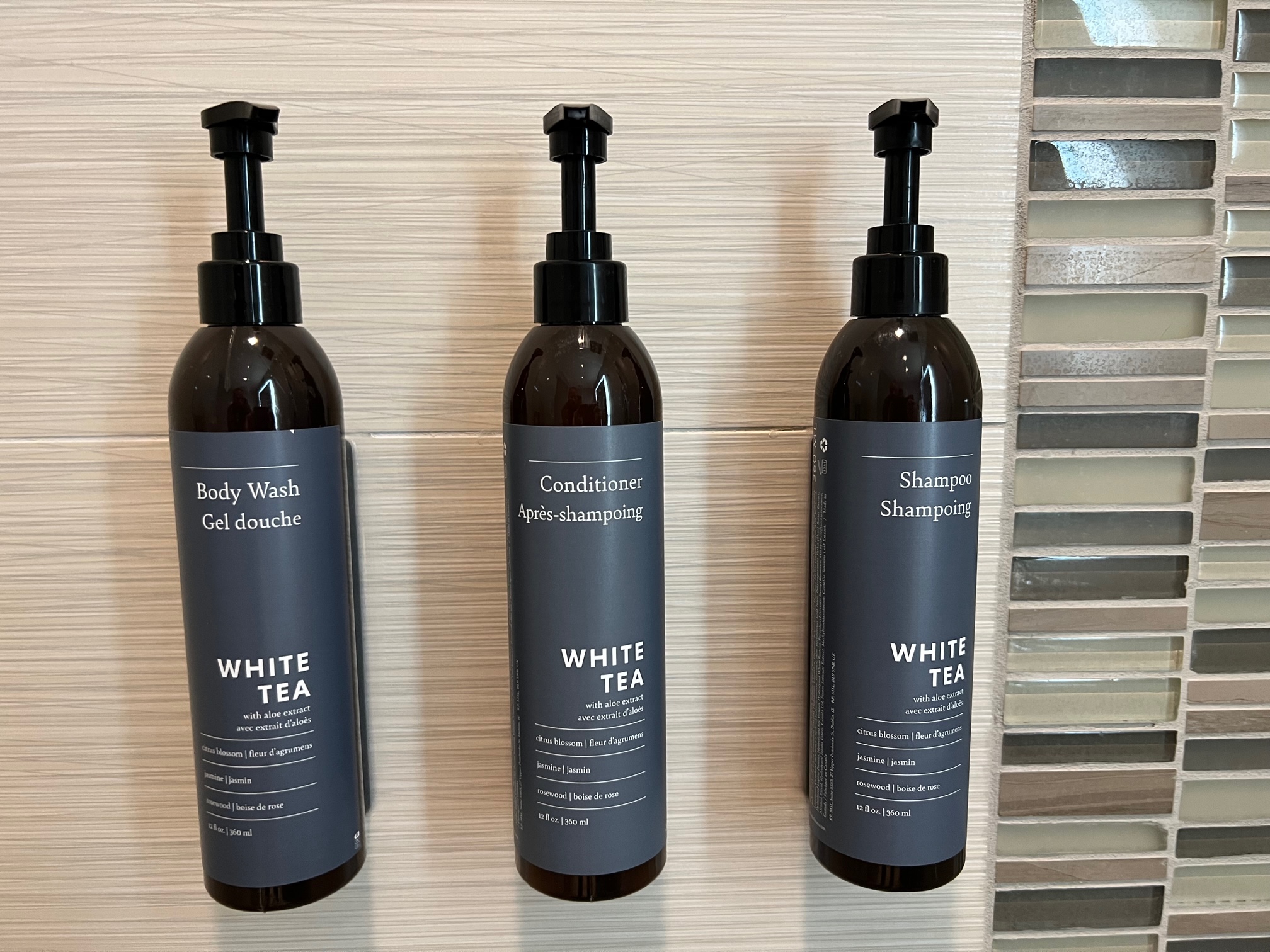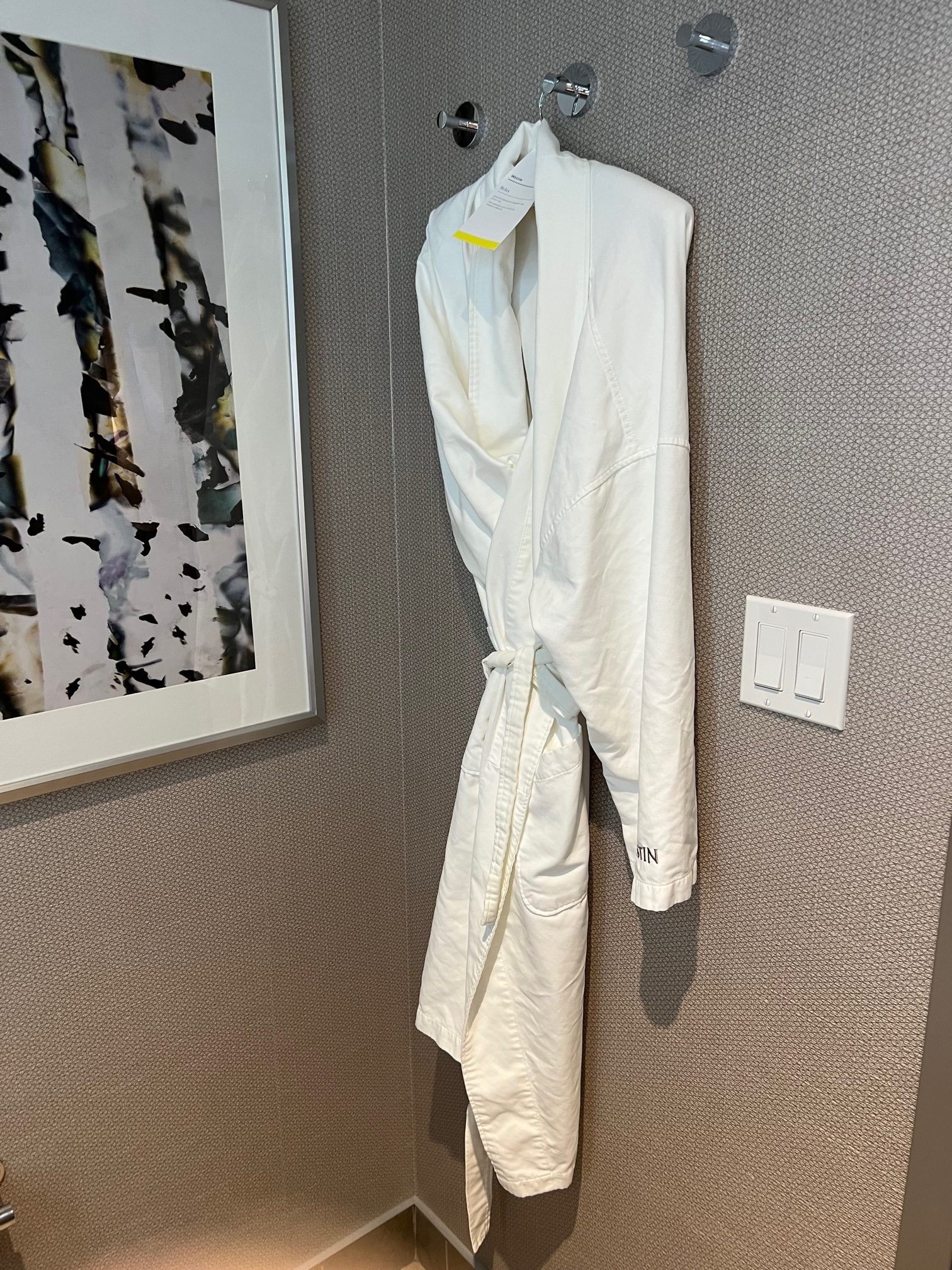 Dining options
The hotel does have Club Lounge however on the night I stayed there it was not open. Hopefully I'll get to check it out and review it on a future stay.
The hotel restaurant, Botanicus Kitchen + Bar features Canadian cuisine. I didn't visit the restaurant so I cannot tell you whether it is good or not.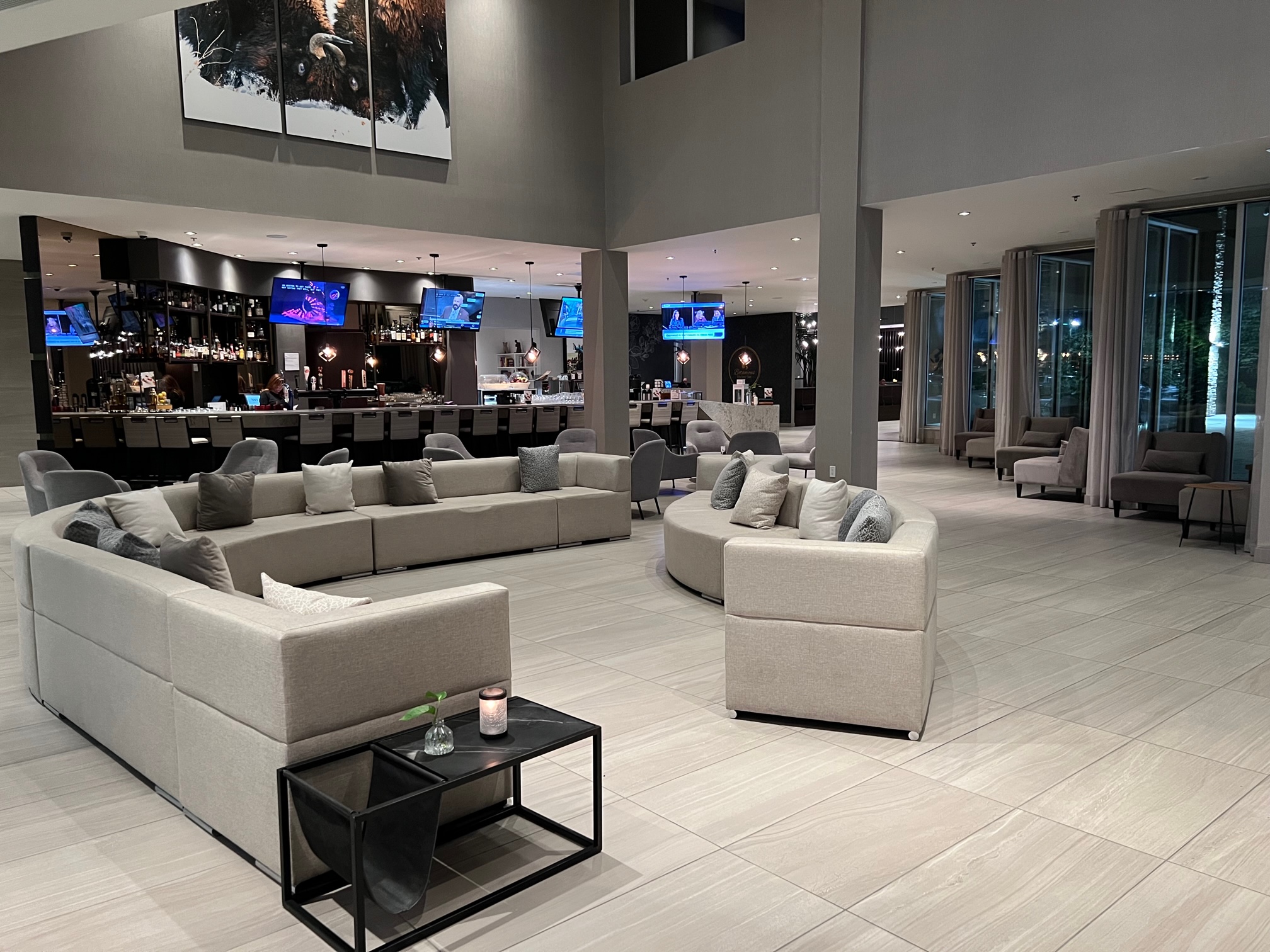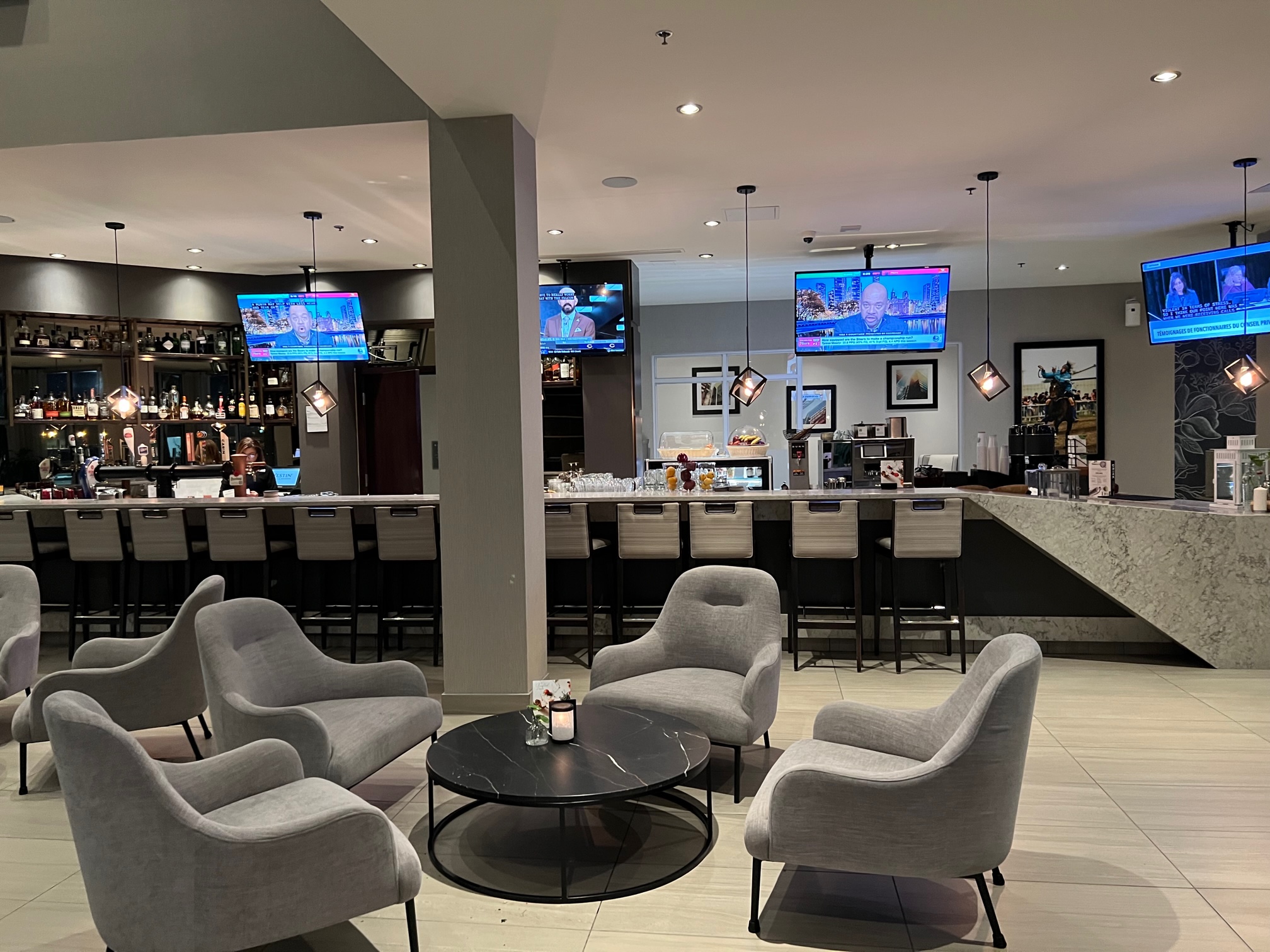 There is also quick serve food outlet, Botanicus Grab and Go which features coffee, drinks, sandwiches to go etc.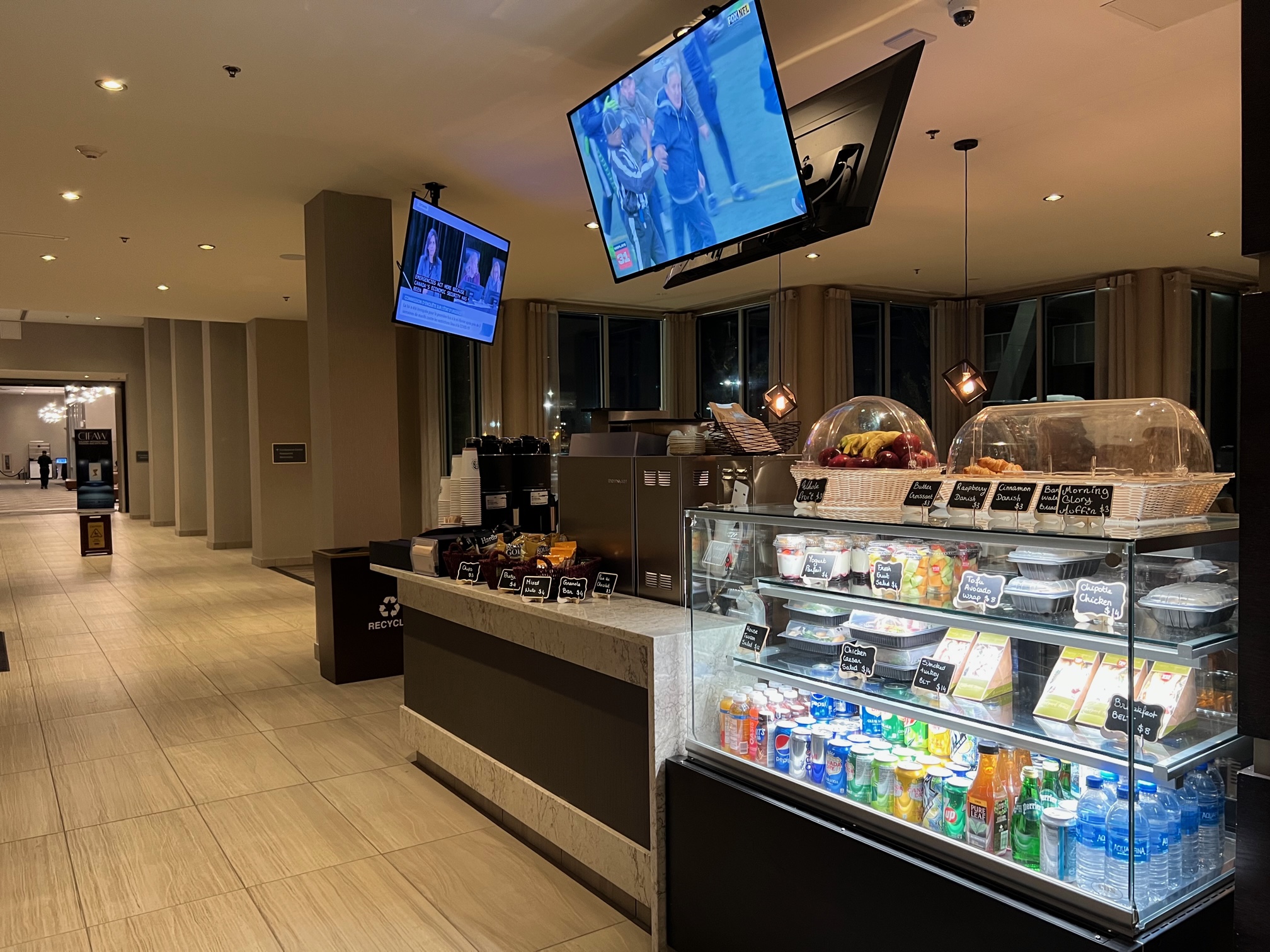 Next to the grab and go outlet is a nice little room which has a little library and some seats to relax in: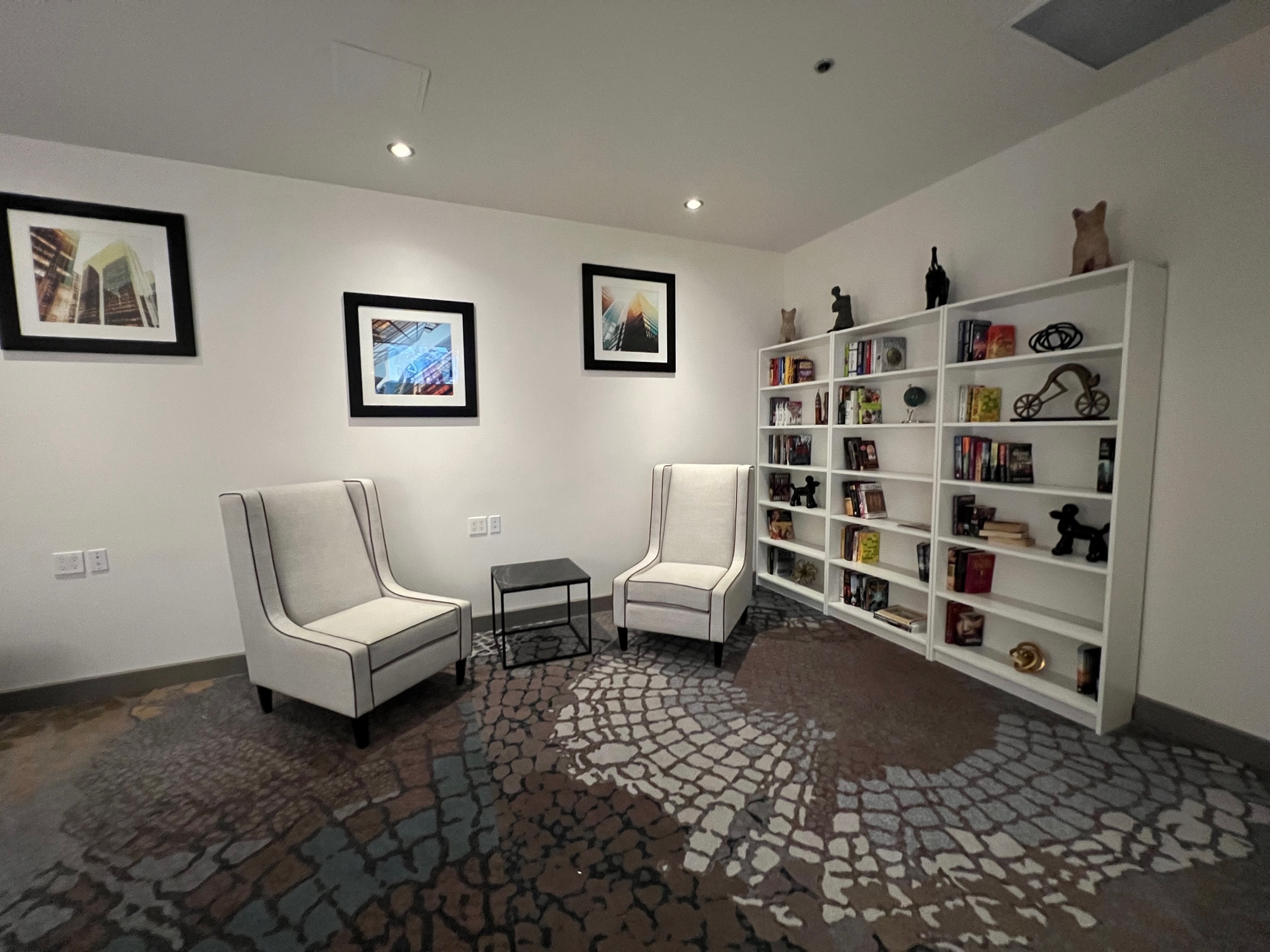 Amenities
Pool & Hot Tub
Although I didn't use the pool or hot tub during my visit when I checked the pool area it was quiet as no one was utilizing it. For being a basic pool and hot tub set up it did seem very inviting as once again, a recurring theme with this hotel, it was super clean!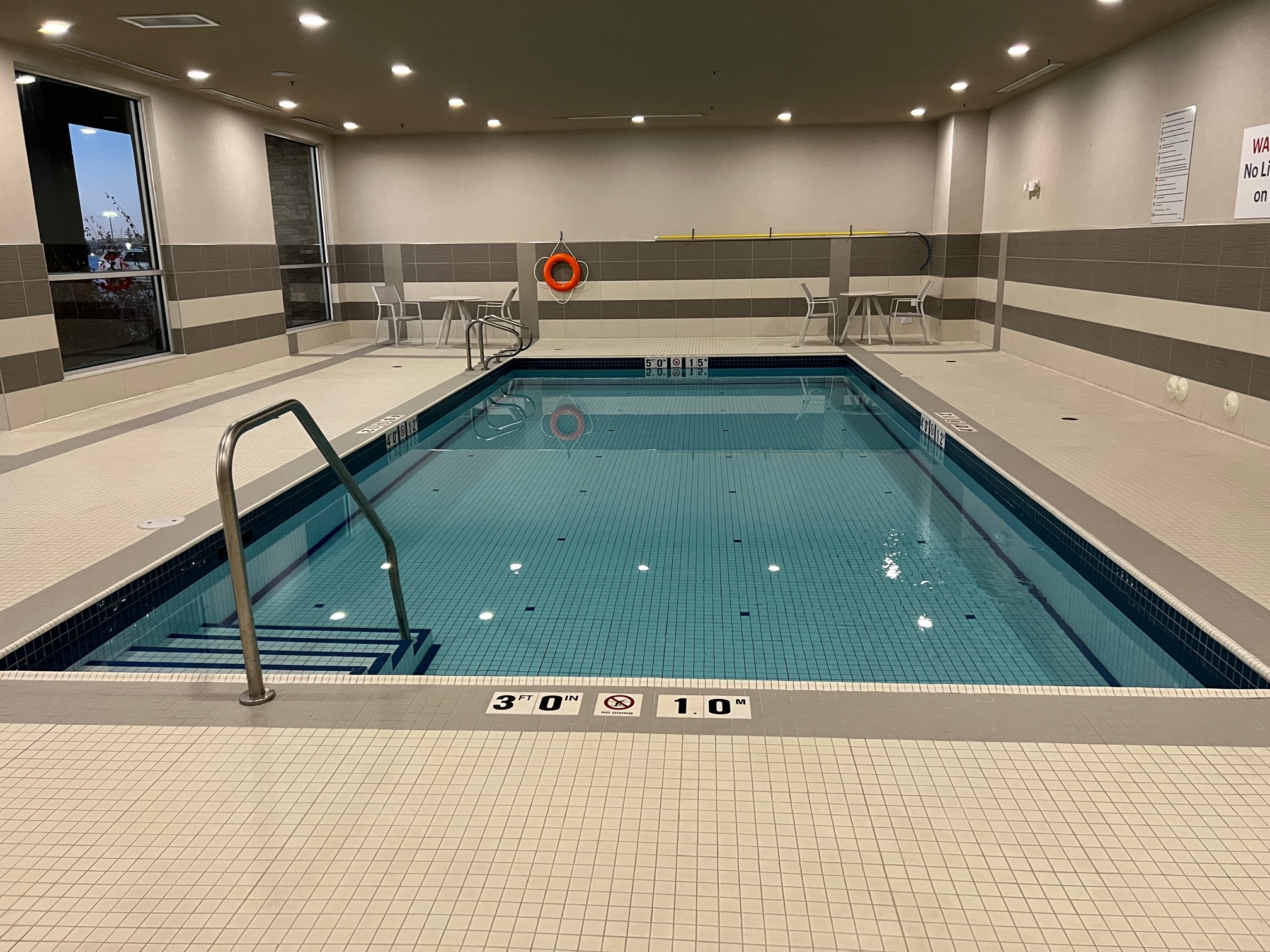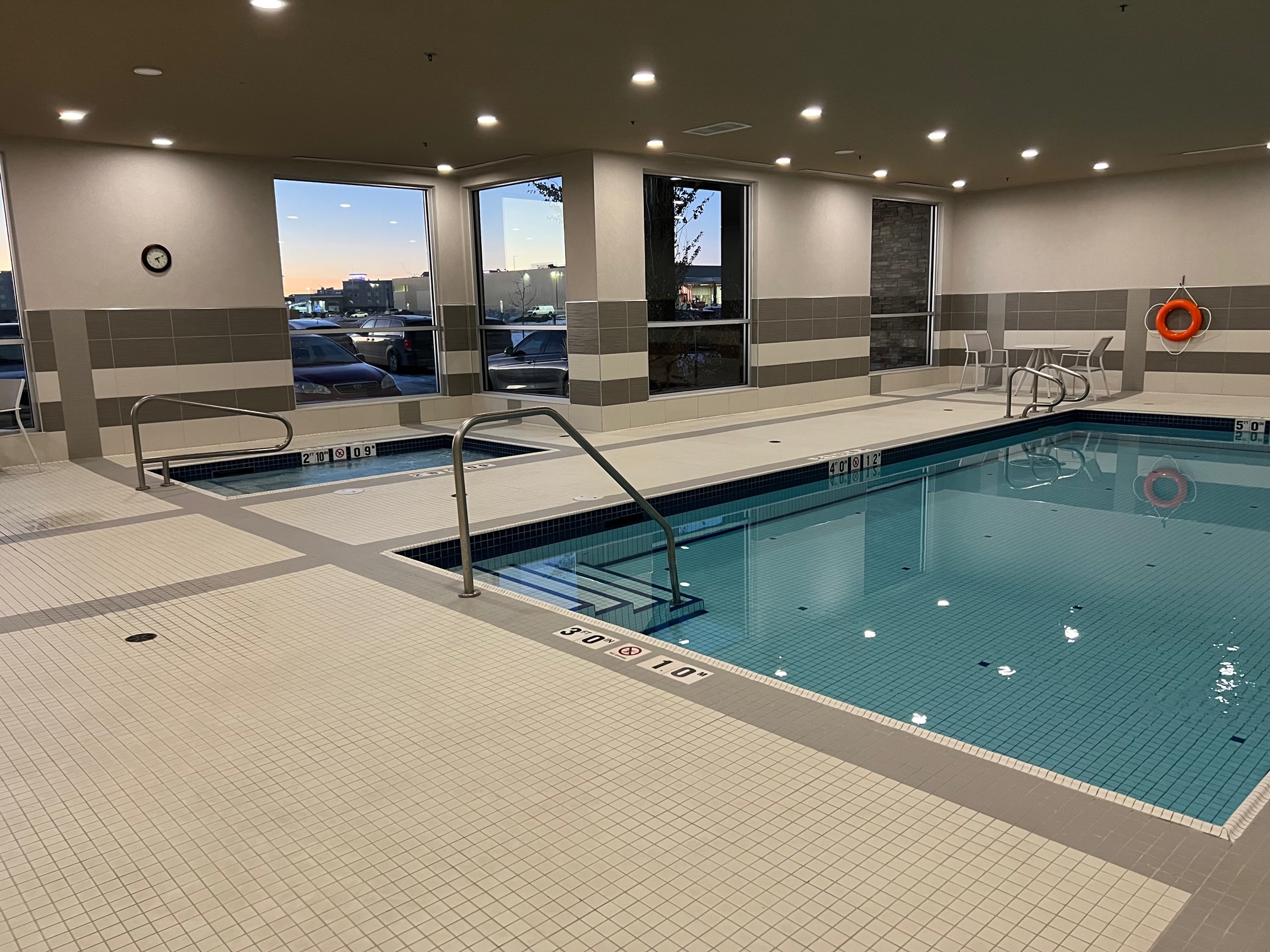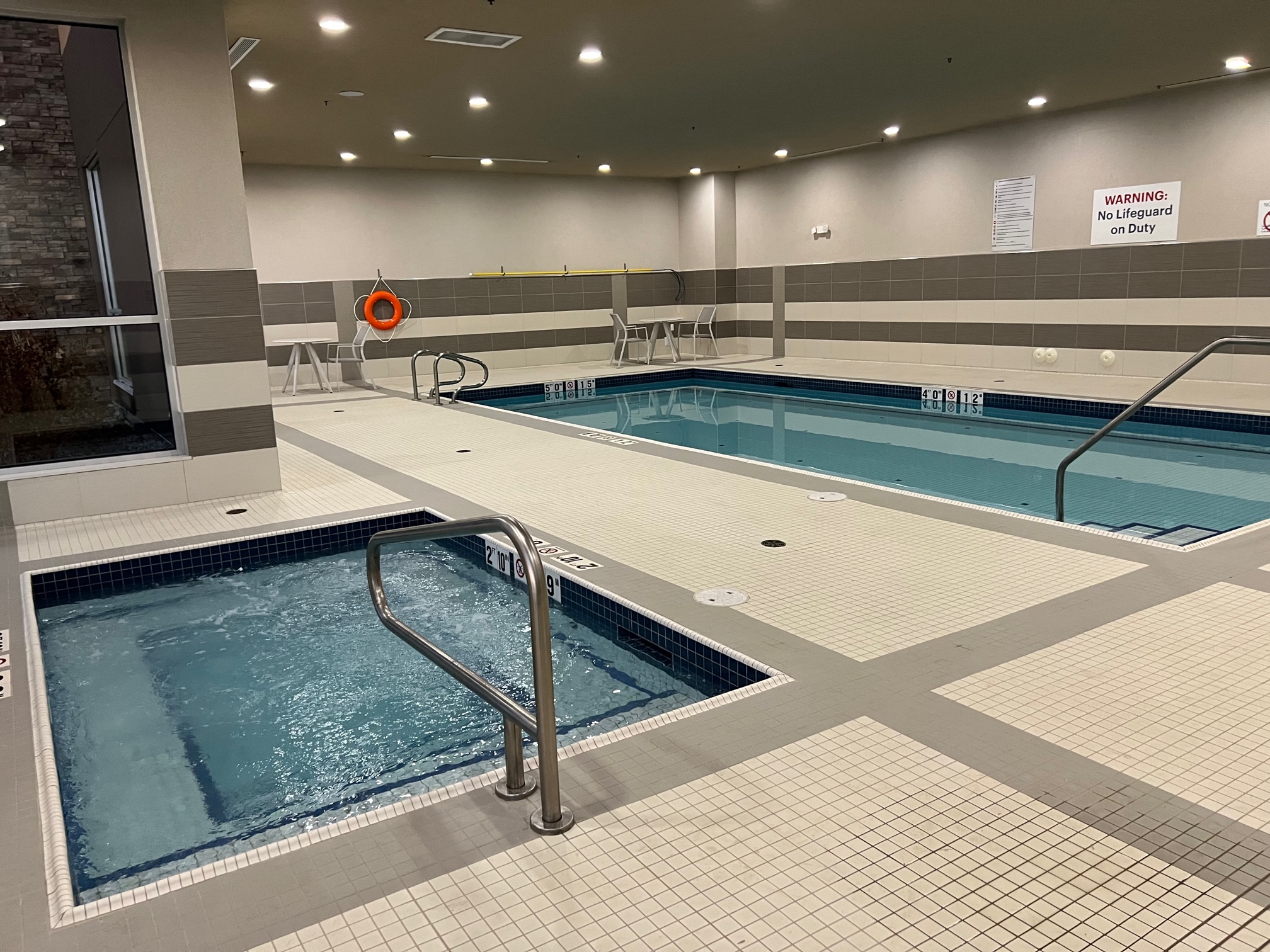 WestinWORKOUT
The fitness room was nice and open with a decent amount of equipment options: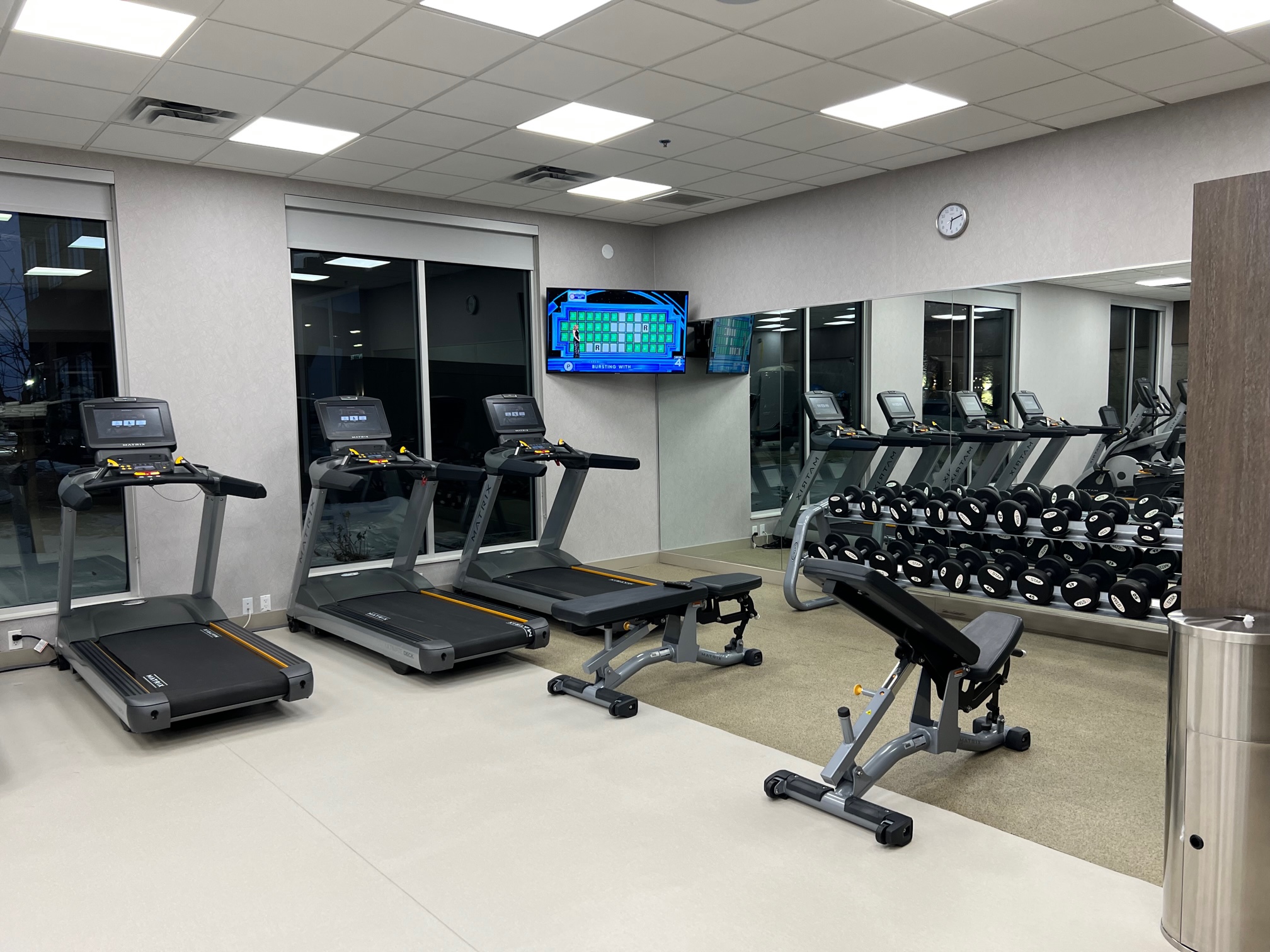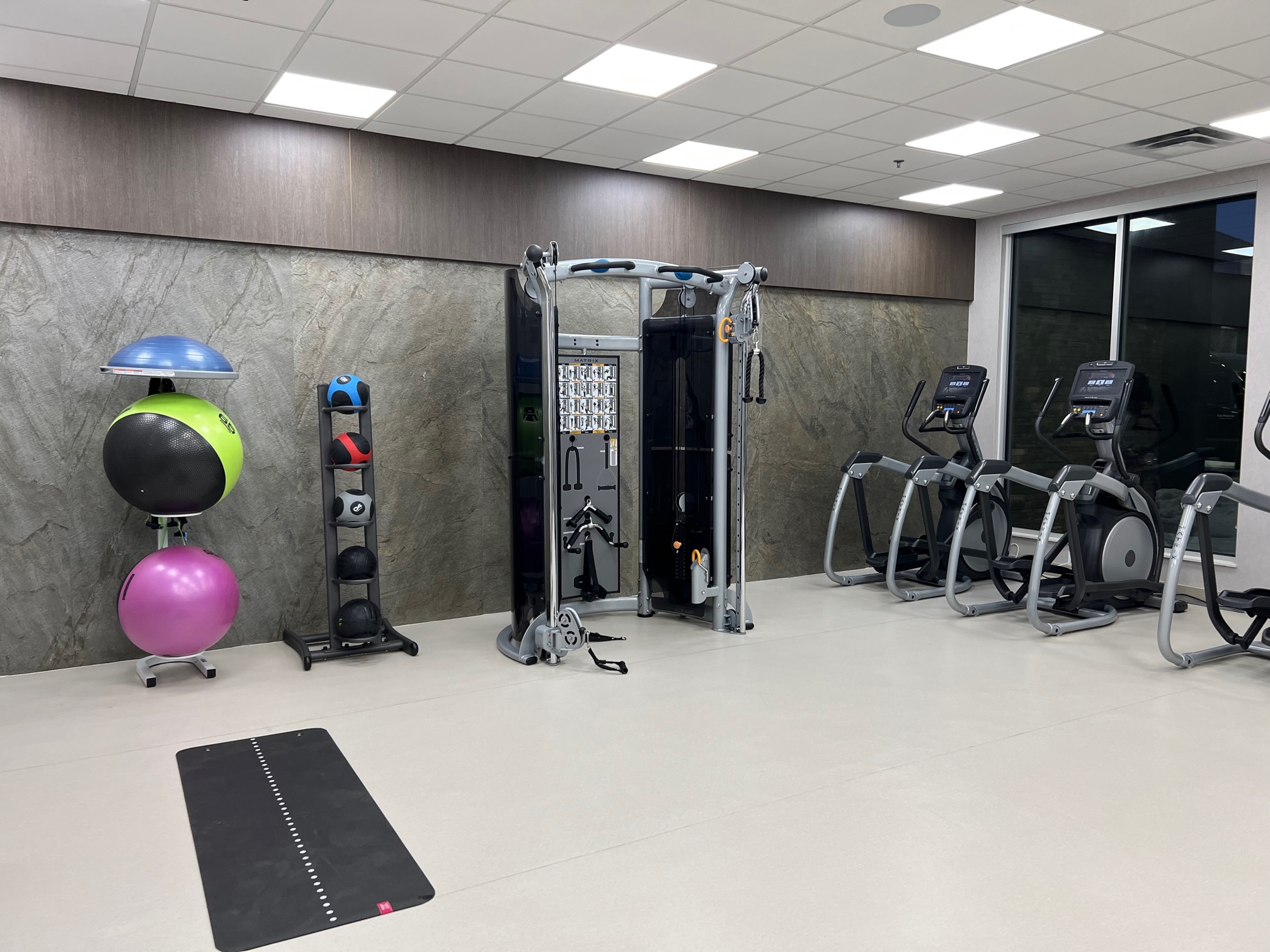 Wrapping it up
Overall I was very pleased with the short stay I had at the Westin Calgary Airport. The check in staff were friendly and I found the overall cleanliness of the hotel to make the stay just that much better. The only complain someone may have is that there isn't much around the hotel other than the two other hotels. No other food options outside of these three spots unless you drive a few minutes away or go back to the airport.
On the night I stayed here the hotel was asking C$178 all in or 16,500 points for a standard room. I ended redeeming points for the stay as it provided 1.08 cents per point in value. That actually makes for a decent redemption – not out of this world but anytime you can get 1 cent or more per Marriott Bonvoy point it's a win.
You can also use your free night award from the Marriott Bonvoy co-brand credit card or the Marriott Bonvoy™ Business American Express® Card  since it is good for up to 35,000 points but unless you know you won't use it elsewhere I'd save it for a more expensive hotel (even though saving $178 with the FNA at this hotel more than covers the $120 annual fee on the card!)
Award night details:
Marriott Bonvoy does not publish award night charts anymore as they have moved to dynamic pricing but these are the points amounts we found for the first 8 months of 2023:
Points required for a free night: 15,000 to 21,000 points
Talk to us! Have you stayed at the Westin Calgary Airport? What are your thoughts of the hotel? Or are you planning to and looking forward to it? Let us know below!