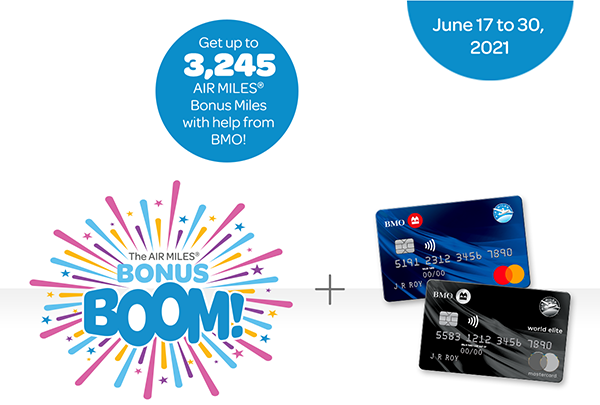 AIR MILES and BMO have once again sent out a teaser
email about the return of the AIR MILES Bonus Boom. It definitely seems to be a monthly event now and they are giving you tons of notice seeing that May's Bonus Boom concluded yesterday! Once again it will be the standard 95 bonus AIR
MILES Reward Miles when you utilize offers from three different
partners between June 17 and 30, 2021.
One of the offers will provide 150 bonus AIR MLES when you
opt-in and spend $250 at participating partners with a BMO AIR MILES card. This is 50 more miles than we saw with the May bonus boom!
Learn more about Bonus Boom here. (The website has not been updated yet since the last promotion)
This notice of the next Bonus Boom is sent out this early so that you have the ability to apply for a BMO AIR MILES card if you don't have one yet and receive it before the Bonus Boom event starts. Here are a couple of the current BMO AIR MILES card offers available right now. You can find these and all other BMO AIR MILES cards on our BMO page.