Here are the Rewards Canada Top 5 Credit Card Sign Up offers for the month of June! This is not a 'best' credit card
list like our Top Travel Rewards Credit Card rankings but instead a look at cards that have very good acquisition (sign up) offers. As always when choosing a card
you should always take other factors into account other than the
just sign
up bonus, but when most or all of these cards are first year free, they
can and
do pay off even when you grab them strictly for the sign up rewards.
This month we are sitting at 4 cards with no annual fees in the first year (or at all) and one card with an annual fee in the first year.
This month we see the TD First Class Visa Infinite card drop off the list. While the card still has an 80,000 point welcome bonus and first year free, 20,000 of those points are awarded on your card anniversary (and $10K in spending) so you have to wait a full year to get them and then pay an annual fee. We've replaced it on this list with the BMO Rewards Mastercard. You'll also see lower welcome bonuses for the Marriott Bonvoy American Express Card and TD Aeroplan Visa Infinite card but they remain on the list for still providing lots of value with their new welcome bonuses!
Here are our top 5 credit card sign up offers for June (in alphabetical order)
BMO AIR MILES World Elite Mastercard – 3,000 Miles (Apply here)
This
almost
best ever sign up bonus for an AIR MILES co-branded card continues on
our Top 5 sign up list thanks to its 3,000 miles sign up bonus
(worth
~$300 or more) and no annual fee in the first year! Even if you
aren't a
fan of AIR MILES the fact you can get
3,000 miles and them use them as cash rewards for no cost to you should
be enough
to go out and get this card. Please note: new Collectors have Miles
automatically deposited into their Dream Account, not their Cash
account.
Minimum Income: $80,000 Personal or $150,000
Household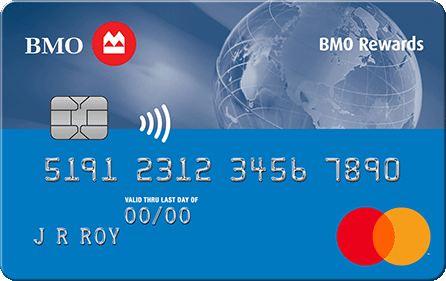 BMO Rewards Mastercard– 20,000 Points (Apply here)
We see this card return to the list with its long running limited time
offer. The BMO Rewards Mastercard has no annual fee so the 20,000 points
(worth ~$142) come to you at no charge. 10,000 points are awarded after
the 1st purchase and then 10,000 more if you can hit $1,000 in spending
in the first three months.

BMO World Elite Mastercard – 35,000 Points (Apply here)
The card offers a 35,000 point sign
up bonus that is worth $250 in
travel and since the card is first year free right now (they bill you
$150 and then rebate after several months) that means your $250 in
travel is free and yes you even get the LoungeKey access and 4
lounge passes included in that first year free.
Minimum Income: $80,000
Personal or $150,000 Household
Marriott Bonvoy American Express Card – 50,000 Points (Apply here)
This is the only card on the list
that has an annual fee right of the bat but the sign up bonus and other
benefits more than make up for it. The 50,000 points, awarded after
spending $1,500 on the card in three months are worth at least $500 in
our minds which means after subtracting the annual fee you are coming
out ahead by $380. In reality you can pull even more value out of the card (into four figures) as we outlined in our post A look at how The Marriott Bonvoy American Express Card provides huge value!
Minimum Income: N/A
TD Aeroplan Visa Infinite Card – 25,000 Miles (Apply here)
Even though it is a decrease from the previous offer that ended at the start of June, this is still one of the better offers available in our market today. The
bonus is awarded as follows: 15,000 Aeroplan Miles when you make your
first Purchase with your Card +
10,000 Aeroplan Miles when you spend $2,000 within 90 days of Account
opening. Depending on how you redeem those Aeroplan miles should be
worth no less than $288 but more likely closer to $500 or more! In fact if you take the per mile value from our post from late April this welcome bonus would be worth $1,450.
Minimum
Income: $60,000
Personal or $100,000 Household
If you went for all these cards you ultimately could end up with
$1,300 to over $3,000 in travel value. However even if you only take
on
one or two you are helping your travel budget significantly at no cost
other than regular credit card spend. We don't really recommend getting
all five in one month unless you know you can meet the minimum spend for
them all at once, rather you'd want to pick one or two right now,
perhaps another next month and so on.
Disclaimers:
American Express is not responsible for maintaining or monitoring the
accuracy of information on this website. For full details and current
product information click the Apply now link.
Sponsored advertising. The Toronto-Dominion Bank (TD) is not responsible
for the contents of this site including any editorials or reviews that
may appear on this site. For complete and current information on any TD
product, please visit the TD site.