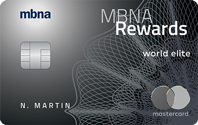 Still on the catch up tip here with past news. Late last week one of our followers on Twitter (thanks @taftmorgan) alerted us to changes that are coming to the MBNA Rewards World Elite Mastercard. This was following by a bunch of emails from our readers (thank you David, Doug, Michael and others!) and several comments on our site about these changes along with screen shots of the letters detailing the changes. So first a big thank you to our loyal readership base for sending us all the details on the changes that are happening to the MBNA Rewards World Elite Mastercard. There are also changes happening to two other MBNA cards that we will cover in future posts.
First off the timing couldn't be worse – we just released our Top Cash Back Credit Card Rankings just a few weeks before this announcement and despite us having a relationship with MBNA this news was not passed along to us or to any other blogs/websites for that matter. They wanted to alert existing cardholders via the old fashioned way with a letter in the mail:
And here is what's happening to the MBNA Rewards World Elite Mastercard:
As of September 1, 2018 the annual fee is being raised to $120 from $89 (or from $0 for some!). That's a sharp increase considering the big drop in reward point earning if you are choosing to redeem for cash back. There is also no word as to whether this increase in annual fee is being matched with an increased sign up bonus. The letter does state there are no changes to insurance the card offers or make detail of any new benefits – so this annual fee increase takes a big bite out of the card
As of February 1, 2019 the cash back reward rate is being devalued. Currently the card earns 2 points per dollar spent and you can redeem 100 points for $1 which equates to a nice simple 2% return. Come February the card will still earn 2 points per $1 spend however the redemption rate will be 120 points for $1 with a minimum redemption of 6,000 points. This means the card will have an effective cash back rate of only 1.67%
The good news is, the redemption for travel remains the same at 100 points to $1 which means if you redeem for travel (which most Rewards Canada readers do) you are still getting that 2% return however with some erosion thanks to that increased annual fee
For those who have this card mainly as a cash back card this is not good news. These negative changes will make the card drop from its 2nd place position in our Cash Back Rankings for 2019 unless of course other cards devalue to be worse than this one. Honestly if you are on the hunt for cash back you will be better off now with the Rogers World Elite Mastercard since it earns 1.75% cash back on most purchases (more on some others) has no annual fee and has a better insurance package than the MBNA card.
If you have the card or apply for it now you'll want to redeem for that cash back prior to February 1 and thankfully MBNA is being proactive with this and dropping the minimum redemption amount to 1,000 points from September 1st to January 31st:
Remember as well this is one of few cards that lets you redeem monthly for cash back – not once per year like many cash back cards so this lower rate should be taken advantage to cash out at your best return possible.
We have featured this card predominantly on our website in our various rankings, Ultimate Credit Card portfolios and other features since it is (was) basically the strongest Mastercard in the market for earn. These we'll have to re-evaluate and adjust some of those articles that use the card for the cash back redemption rate and not the travel redemption rate. Although since the main change isn't happening until 2019 we will keep the card as is on our Top Cash Back ranking but will have a disclaimer stating the fact the card will be changing. We ask that you are patient with as us we adjust all the relevant features on the site as required over the next few months and we'll let you know when they are completed via our daily update posts right here on the blog.
For your information here is the current offering for the MBNA Rewards World Elite Mastercard – as you can see if you apply for it between now and August 31 you'll only $89 for the card, get the $100 bonus and earn 2% until the end of January at which point you could cash out and cancel the card if you like.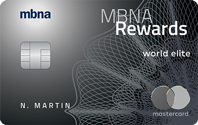 mbna rewards World Elite Mastercard
Get all the features of the MBNA Rewards card with more earning potential
• Earn 2 MBNA Rewards point for every $1 in eligible purchases‡
• Get 10,000 bonus points after your first eligible purchase††
• No limit to the points that can be earned in a year, points don't expire
• Redeem points for cash back, travel, brand-name merchandise, gift cards from top retailers and charitable donations
• Enjoy price protection** and concierge services**
• $89 annual fee
• Take advantage of a credit card that rewards you for who you
are. Apply below for the MBNA Rewards World Elite® Mastercard® credit
card
If you currently hold this card we'd love to hear your thoughts on these changes! Are you going to keep the card or move onto to something else? Let us know below!