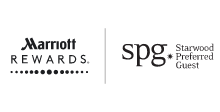 April 24, 2018 – Episode 43 – The Marriott Rewards –
Starwood Preferred Guest Unification Episode! Includes comments from
Marriott Canada's Director of Loyalty Marketing
Over the past 8 days all the buzz in the loyalty world has been
around the announcement from Marriott International about the
unification of their three separate loyalty programs, Marriott Rewards,
Ritz-Carlton Rewards and Starwood Preferred Guest. In this episode
Patrick and Jeff go over most of the details that were released and also
include interview tidbits with Jennifer Bryl, Marriott's Director of
Loyalty Marketing for Canada.
Or download/subscribe via:
Links relating to this week's topic: