The annual AIR MILES Shop the Block
event launched on November 14 and presents a really nice bonus mile earning
opportunity. If you meet the requirement of using Shop the Block coupons at 3
or more sponsors you'll be awarded with up to 2,000 Rewards Miles over and
above the base miles and coupon bonus miles awarded.
Bonuses are as follows:
Use 3 different offers
Get 300 Bonus Miles
Use 5 different offers
Get 1,000 Bonus Miles
Use 7 different offers
Get 2,000 Bonus Miles
Now to earn the bonus won't come cheap if you don't have any planned shopping
this month at the participating sponsors. On the other hand if you do
or can move shopping from one retailer to another that is an AIR MILES
Sponsor than you can earn those bonus miles for your everyday regular
spending.
The cheapest way we found to earn the bonus simply by looking at all the
details on the coupons (Alberta region) would be as follows:
Spend $25 on almost anything at Rexall (15 Bonus Miles coupon- this was 50 in the spring edition of this offer called Mega Miles)
Spend $50 at Top Shop Top Man (100 bonus Miles coupon)
Spend $50 at Shell that also includes a minimum 25L gas purchase (10 Bonus Miles coupon)
Spend $45 at The Children's Place (5x Miles Coupon)
Spend $50 at Global Pet Foods (15 Bonus Miles Coupon)
If you have a BMO or American Express AIR MILES Credit Card achieving the bonus can be easier as it will count as one offer if you make 25 or more in-store purchases on one of the cards.
That's $220 in spending to earn the 2,000 Bonus Shop the Block Miles
but then you have to add in your base amount miles plus the coupon
bonuses for an additional ~150
miles or so for 2,150 bonus miles in total. We value AIR MILES Rewards
Miles at an
average of 13 cents each for travel, so you are getting back $280 on your $220
in spending, that is a great return! If you strictly earn cash rewards,
then you are looking at a return of about $226, still pretty decent for
spending $220. For some of you it may
take more spending but as we mentioned before if this is shopping you
are already planning on doing then jump on the Mega Miles event right
away so that you can earn this bonus.
Find out more and print all your coupons here!
---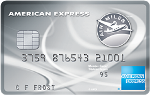 American Express® Air Miles Platinum®* Credit Card
• New American Express® AIR MILES®* Platinum Credit Card Cardmembers,
earn a bonus of 2,000 AIR MILES®* Reward Miles when you charge a total
of $1,500 in purchases to your Card within your first three months of
Cardmembership. That's enough for a select flight.
• Earn 1 reward mile for every $10 in Card purchases at AIR MILES®* Sponsors
• Earn 1 reward mile for every $10 in Card purchases at other
eligible grocery stores, gas stations, and drugstores in Canada
• Plus, earn 1 reward mile for every $15 in Card purchases everywhere else
• Shop at participating AIR MILES Sponsors across Canada with
your Card and show your AIR MILES®* Collector Card, and you can earn
reward miles twice
• You can use Apple Pay on your eligible device to pay for
goods and services at participating American Express contactless
merchants
• American Express is not responsible for maintaining or
monitoring the accuracy of information on this website. For full details
and current product information click the Apply now link.
Conditions apply