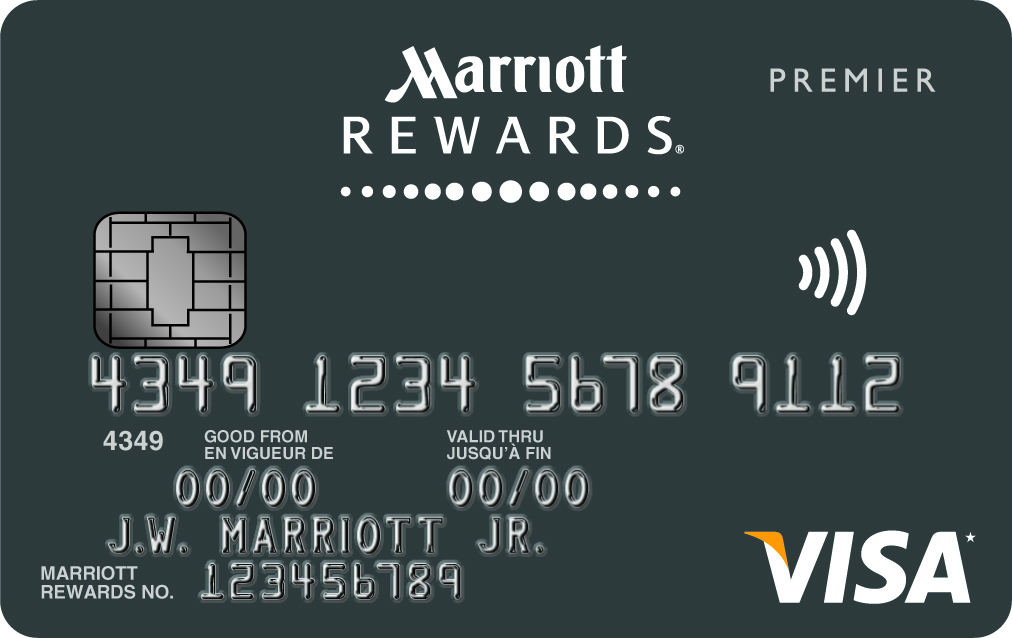 Below you will find the complete review of the card as seen on the main Rewards Canada site.
One
of only a handful of hotel frequent guest credit cards in Canada, The
Marriott Rewards Premier Visa card from Chase recently went through a
major work over to make the card more attractive and competitive in the
extremely saturated travel rewards credit card market. The changes to
card have proved popular and as such I felt that it should be the next
card to be given the thorough 'Rewards Canada review' treatment.
Overview
The Marriott
Rewards Premier Visa card came onto the market in September 2012
replacing its predecessor the Chase Marriott Rewards Platinum Visa. Issued
by Chase Bank Canada, the new version of card brought along a healthier
dose of rewards and also was the first hotel credit card (and also first
'major' travel rewards credit card) in Canada to offer no foreign
transaction fees. The card falls into our "Hotel Credit Card"
Category which means it is a credit card that earns points directly into a hotel's frequent guest program.
Sign up Features
The Marriott Rewards Premier Visa comes with a 30,000 Marriott
Rewards points sign up bonus that is awarded upon your first purchase
with the card plus one free night at a Category 1-4 hotel upon your approval
for the card. Depending on the category you redeem your points and free
night at you could get as many as 5 nights for free with these sign up
features.
Costs
The Marriott Rewards Premier Visa comes with a $120 Annual which
is waived in the first year. $120 is par for the course with many premium
travel rewards cards although not too many waive the fee in the first
year. Supplementary cards are free which is slowly becoming the norm for
many cards. The interest is right in-line with the majority cards at 19.99%
Earning
The Marriott Rewards Premier Visa earns points directly into
the Marriott Rewards program as follows:?5 Points per dollar spent at
over 3,600 participating Marriott locations Worldwide?2 Points per dollar
spend on airline tickets (must be booked directly with the airline), car
rentals and restaurants?and finally 1 point per dollar on all other eligible
spending.
Redeeming
The Marriott Rewards Premier Visa earns offers numerous redemption
options via the Marriott Rewards program. Of course, being a Frequent
Guest Program, the primary redemption option which most people look at
is hotel reward nights. Marriott Rewards offers numerous redemption levels
for stays at their hotels and those level are broken down as categories.
Category 1 hotels tend to be the cheapest and least attractive hotels
in terms of 'dream' redemptions but are not necessarily bad
hotels while Category 9 are the cream of the crop hotels in the most prime
locations around the world.
Marriott Reward's points per night category
requirements are as follows:
Category 1: 7,500
Category 2: 10,000
Category 3: 15,000
Category 4: 20,000
Category 5: 25,000
Category 6: 30,000
Category 7: 35,000
Category 8: 40,000
Category 9: 45,000
Ritz Carlton Hotels run from 30,000 to 70,000 points per night
One nice feature found in a few hotel reward programs are an additional free night if you redeem for a set consecutive amount of nights and Marriott Rewards is one of the programs that offers this. On all redemptions, Marriot or Ritz Carlton if you redeem for 4 nights you can receive a 5th night free, which essentially saves you 20% on the redemption. Another way to save Marriott Rewards points is to redeem for a PointSavers award or Seasonal Award. PointSavers and Seasonal awards are kind of like Priority Club's Point Breaks offers I have mentioned frequently though they are not as lucrative. With PointSavers you can save up to 33% on the number of points required per night at select Marriott locations worldwide. The PointSavers list changes weekly and you access that list here. ince the list is updated so frequently it is always a good idea to check it before you book a hotel reward night as a Marriott property down the street may be cheaper than the property you were originally thinking of. Seasonal awards offer at least 25% off the nightly points requirement and are not updated as frequently as the PointSavers award. You can access the Seasonal Awards list here.
Marriott Rewards also allows you to use points to upgrade a reward night and those upgrades are 5,000 points per night and are subject to availability. Another redemption option for Marriott Rewards (and therefore your Chase Visa) is instant redemption. Marriott is the only hotel chain that allows you to use points instantly while staying at a Marriott Hotel. The points are redeemed as cash against the charges on you hotel folio. The redemption rate isn't that great but if you are swimming in Marriott Rewards points and don't know what to do with them then this maybe a good option for you.
Probably the second biggest redemption option that members of frequent guest programs look at after reward nights are converting their hotel points to their favorite airline frequent flyer program. The program allows you to convert points to 35 different airline programs but this is where Marriott Rewards (and essentially this card) is weaker when compared to programs like Starwood Preferred Guest. Depending on the amount of points you convert and into which program it will cost you between 2.5 and 10 Marriott Reward points for one airline mile/point. The program has an option to use your Marriott Rewards points to book a flights and car rentals via their online booking engine, the number of points redeemed depends on the cost of the ticket and/or car rental. Once again the value for this redemption is less than redeeming for Marriott reward nights.. Other options include Marriott Gift Cards and Gift Cheque, spa & dining awards and like most other hotel programs Golf and exclusive experience vouchers.
Features and Benefits
The biggest feature that the
Marriott Rewards Premier Visa comes with the No-Foreign
Transaction Fee feature. This is big for those who travel outside of
Canada lots or make a lot of transactions (ie online shopping) in currencies
other than the CAD$.
Elite Status also comes with this card, albeit only Silver Elite status
courtesy the card automatically giving you a 15 night stay credit on
your Marriott Rewards account. Silver Elite comes at 10 Nights so you
are 5 nights closer to Gold with the card. If you don't qualify
for Gold, those 5 extra nights should rollover to your next year's
elite qualification which means when your card renews you will technically
have 20 qualifying nights, 10 to get you Silver (5 from the year before
and 5 new) and then 10 towards Gold. Which means those 10 can then rollover
to the next year and so on and so forth.
Another nice feature of the card is an annual free night at a Category
1-5 hotel that is awarded on your card anniversary. By upping this offer
to Category 5, cardholders have a broader range of hotels to redeem
at as many of the nicer mid-scale Marriott properties tend to be in
this Category.??In terms of benefits, the card does not offer too much.
In fact the only insurance is the Auto Rental Collision Damage Waiver
insurance.
What is good about this card
The best thing about the Marriott Rewards
Premier Visa is that it is the only credit card co-branded
with a major travel industry supplier in Canada that has no foreign
transaction fees. If you are abroad a lot or do a lot of online shopping,
saving 2 to 2.5% on all your purchase can add up big time. I know people
spending over $100K a year outside of Canada in their travels which
could translate to a savings of over $2,000 per year!
The fact the card has no annual fee in the first year coupled with a
decent sized sign up bonus, the silver elite status and a free night
tossed in makes this card almost a no-brainer (at least for the first
year). If you do plan on keeping the card after your first free year
then the anniversary bonus of a Cat 1-5 free night should cover your
annual fee if not more, making the card virtually free.
What is not so good about this
card
While the Marriott Rewards Premier Visa
card does come with Silver Elite status, the elite program of
Marriott is one of the least generous of all the big hotel chain elite
status programs. The only truly useful benefits of Silver are a 20%
bonus on points awarded for Marriott Stays and priority late checkout.
Plus to reach Gold takes another 35 nights over the 15 you get with
the card (50 nights total)
The serious lack of a good insurance package is also a big drawback
on this card especially if you are thinking of making this card your
primary travel rewards credit card. While it awards you with extra points
for airline tickets it sure won't protect when you fly like many
other Canadian cards that also cost $120 per year but come with flight
delay, lost/delayed baggage and even flight cancellation or interruption
insurance.
Conclusion
I'm glad that Chase and Marriott decided to revamp their offering
here in Canada as it provided a stronger card after their old version
fell out of the top two in our Hotel Credit Card rankings back in 2011
due to the introduction of the Priority Club® World MasterCard®
from Capital One®. Now with the enhanced sign up offer, the retention
of the annual silver elite status, the new annual free night and the
best feature of all, the no foreign transaction fee this card will more
than likely move up the ranks in the upcoming 2013 Rewards Canada Top
Travel Rewards Credit Card rankings. If you are a major player with
Marriott Rewards than this card is no brainer, it should be in your
wallet. If you travel heavily outside of Canada or make a lot of purchases
outside of Canada (online or corporate) then you really should consider
this card simply for the no foreign transaction fee. I remember a few
years back someone emailing if there were any cards that had no foreign
transaction fees as she ran a store importing lots of stuff from New
Zealand ($30,000 a month if I recall correctly) and would benefit immensely
if she had a card like that. Now she can and I hope she is! I'm
not sure if the question
I posed in 2011 to all the credit card companies in Canada about Foreign
Transaction fees influenced Chase or not (I'll just dream that
I did, chances are they just followed their U.S. parent company) but
the news is getting out for travelers and I wouldn't be surprised
if you see more card issuers jump on the no-foreign transaction fee
bandwagon like we've seen in the U.S.
Enough of the forex fee, if you are not huge into Marriott Rewards and
spread your hotel stays around than you may get more bang for your buck
with a non-hotel travel rewards credit card but if you even have only
a couple stays a year then this card could make a good secondary or
tertiary card. If you are looking for a card with good insurance benefits,
then skip this one as well as it virtually has none.
Overall I don't think the card has or will make huge inroads with
the masses in Canada but I do believe it has and will do really well
with the frequent traveler crowd because of the no-foreign transaction
fee.
Care to comment? Do you agree or disagree with us? Tell us what think
about the relatively new Marriott Rewards
Premier Visa by commenting below!
Related Links:
The
Chase Marriott Rewards Premier Visa
on
Chase.ca
Rewards Canada's Canadian All Travel
Rewards Credit Card Comparison including the Chase Marriott Rewards
Premier Visa
Rewards Canada's Canadian Hotel Only
Credit Card Comparison including the Chase Marriott Rewards Premier
Visa
Other cards to consider if you are looking at this
card:
American
Express Gold Rewards Card
Diners Club Club Rewards
MasterCard
MBNA
Choice Privileges MasterCard
Priority
Club® World MasterCard® from Capital One®
Starwood
Preferred Guest Credit Card from American Express
– Chase is not
responsible for maintaining or monitoring the accuracy of information
on this website. For full details and current product information click
the Chase Marriott Rewards Premier Visa link above. Conditions apply