(This post is a duplicate of the one found on our main Rewards Canada site)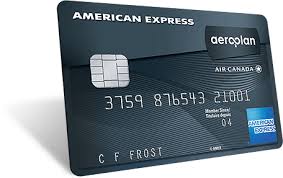 For well over a year now we've known about a new Air Canada / Aeroplan co-brand card that was to be launched by American Express. When the press release from Amex came out in 2013 about the renewal of the co-brand contract it briefly mentioned that it was to be a new high end product. Taking the same branding as their higher end AIR MILES card, the new card is called the American Express AeroplanPlus Reserve Card. Details of the card were revealed via a soft launch in December 2014 and the card itself was officially launched on January 27 at an event in Toronto.



Overview


The American Express AeroplanPlus Reserve Card is now the most expensive publicly available payment card in Canada, taking the title from American Express' The Platinum Card. It falls into the AeroplanPlus portfolio from American Express which also has a basic card, a Gold card and a Platinum card. One major difference with the Reserve Card over the other AeroplanPlus cards is that it is a credit card versus a charge card. The card falls into our Airline Card category and is targeted to Air Canada travelers who can enjoy the rewards, benefits and insurances that come with the card.



Sign up Features


The American Express AeroplanPlus Reserve Card comes with a 50,000 Aeroplan Mile welcome bonus after you spend $3,000 in the first 3 months of Cardmembership. The 50,000 Miles are enough for two economy class or one business class ClassicFlight award ticket within North America.



Costs


As we already stated, the American Express AeroplanPlus Reserve Card has the honour of now being the most expensive card in Canada because of its $899 annual fee. Supplementary cards also run a hefty $299 each. The interest rate on the card is19.99% which is in line with the majority of cards in Canada.



Earning


The American Express AeroplanPlus Reserve Card earns 1.25 Aeroplan Miles for every dollar spent on the card outside of Air Canada purchases. For Air Canada purchases the earn rate is bumped up to 2 Aeroplan Miles per eligible dollar spent.
Redeeming


Being a co-brand card redemption is actually done via Aeroplan not American Express Membership Rewards. This is where the strength of the Aeroplan program comes through again and makes any Aeroplan co-brand card shine. Aeroplan offers numerous redemption options but of course having routes from being a frequent flyer program, the primary redemption option which most people look at are award flights on Air Canada and Aeroplan partner airlines In total there are 25 major partner airlines outside of Air Canada ranging from Adria Airways to United Airlines, most of whom comprise the Star Alliance of which Air Canada was founding member. Air Creebec, Bearskin Airlines,Calm Air, Canadian North and First Air make up the minor Canadian airline partners that you can also redeem Aeroplan miles with. Overall you can redeem Aeroplan miles to over 1,000 destinations Worldwide which is one of the reasons Aeroplan is so popular.
For redemptions on Air Canada and most of the other partners there are numerous options depending on availability. Much like many other frequent flyer programs, award seats are limited at the lower redemption level (Aeroplan calls this level ClassicFlight) but you can use more miles to get an 'any seat any time' award ticket (Aeroplan calls this Market Fare Awards) as long as the flight still has seats available. Flight redemptions start as low as 7,500 miles for a short haul one way economy class ClassicFlight Award and go as high as 290,000 Miles for a round trip flight in First Class to Asia on a Aeroplan partner airline. With the new half price awards in place you can see that redemptions can come quite easily. Even for round trip flights you are only looking at 15,000 to 25,000 miles for travel in North America. These levels are easily achieved with credit card spend alone. For a complete listing of ClassicFlight award levels see Aeroplan's latest Reward Flight Chart

In some rare cases when flights are relatively empty or are available as a seat sale you may see the Market Fare Price be lower than the ClassicFlight amount. This is especially holds true for those Aeroplan member who hold Distinction status and get a discount on Market Fare awards. One recent search for a dBlack member showed the ClassicFlight level at 60,000 miles for a flight between Toronto and Paris while the Market Fare price was only 55,000 miles.

Related: To learn more about Aeroplan flight awards see this helpful page on Aeroplan.com. Other flight reward options with Aeroplan include Around the World rewards which run 200,000 miles in Economy, 300,000 for Business or 400,000 for First Class. You can also use Aeroplan miles to upgrade flights on Air Canada and its Star Alliance partners to Business or First Class when you travel on an eligible fare.

Overall Aeroplan has been well known for their flight awards as the mileage requirements on ClassicFlights tend to be competitive despite recent devaluations in certain categories and the fuel surcharge issue on some carriers like Air Canada themselves. The "Mini Round The World" award (AKA Mini-RTW) is an example of a well-known and good value flight award by maximizing the two stopover or one stopover and open jaw feature.

Finally Aeroplan miles can also be used for many non-flight award options as the Aeroplan reward catalog has expanded greatly over the years. Most of these other redemption options tend to represent a poor value when compared to redeeming for flights however they are a good option for those who may not have enough miles for the flights they want or for those people who more miles than what they know what to do with them! These other options include using miles for hotel stays, car rentals, gift cards and merchandise. You can also transfer miles to another Aeroplan member (at a cost), donate them to charity, even use them for exclusive 'Money Can't Buy' awards like autographed photos, activities and events.

Features and Benefits


The American Express AeroplanPlus Reserve Card comes with a very strong insurance package and a big bag of benefits. On the insurance side the card comes with wide range of coverage as including emergency medical, travel accident insurance, trip cancellation, trip interruption, flight delay, baggage delay/lost or stolen baggage insurance, car rental CDW coverage, purchase protection and more. Pretty much every type of insurance is provided except for Price Protection. The insurance package is definitely built for the traveller and is very similar to those we seen on Visa Infinite/Infinite Privilege and MasterCard World/World Elite cards.

The card comes with a whole bag of traveller benefits over and above the insurance package!

Receive one annual $200 Annual Travel Credit that can be used towards any flights, car rentals, hotels and more charged to your Card when you book travel online or call American Express Travel Services.
Bring along a friend on us with the Partner Ticket Benefit. Once per year, you can redeem up to 25,000 Aeroplan Miles for a short-haul or long-haul round-trip ClassicFlight reward seat in economy class and receive a second Partner Ticket for the same itinerary.
The Air Canada Privilege Flight Pass lets you experience ultimate convenience and flexibility with eight prepaid, one-way flight credits within Air Canada's North American network. This feature offers approximately a 5 to 8% discount on regular flight pass prices and not only that you have only eight credits to worry about using up instead of the 10 seen when you buy passes without this card
Enjoy the benefit of an eligible complimentary first checked bag on flights operated by Air Canada, up to 5 bags annually .
Enjoy maximum comfort and a calm atmosphere in state-of-the-art lounges worldwide, including unlimited access to the Air Canada Maple Leaf LoungeTM* where available, in airports across Canada, in London and in Paris, and around the globe.
In addition, receive unlimited access to a world of first class service and tranquillity with Priority Pass Membership. Escape the chaos of airports and relax in over 700 executive lounges around the world. Regardless of which class or which airline you fly, these luxury lounges offer amenities designed with comfort in mind.
And if you are flying from Toronto Pearson you get whole bunch of benefits that are like those seen on The Platinum Card from American Express like Valet Service, Parking Discounts and Pearson Priority Security Lane.

What is good about this card
There are some really good things about this card that only a select few of people will agree with based on the price of this card. Those are the Air Canada frequent flyers who can't reach higher status with the Air Canada Altitude programs as this card will bridge the gap on benefits they don't get. These benefits are primarily the Maple Leaf Lounge access and the discounted less credit requirement of the Air Canada Privilege Flight Pass.
The annual Complimentary Short Haul/Long haul flight benefit could bring a value of $500 or more when taking advantage of it so it is definitely a good feature of this card. Not to mention the $200 annual travel credit to save some money on your travels.
Of course the insurance package is superb but doesn't stand out as a game changer since many cards offer the same or similar benefits
What is not so good about this card
The price! This is the number one sticking point we have heard about this card! For $899 it is and will be a very tough sell. Even with the $200 annual credit you are still looking at $699 for the card. However there is that niche market where the $899 will be more than worth it!
Although at 50,000 Aeroplan Miles, the sign up bonus is low for a card that costs this much. Yes the price of the card is not based solely on the sign up bonus but it isn't much higher than the AeroplanPlus Platinum Card and is the same as The Platinum Card from American Express (or lower if you take into account the referral sign up bonus of 60K)
.
A higher sign up bonus in the 65,000 - 80,000 miles range could just be the tipping point that would make someone grab this card instead of some other card or no card at all.
The checked baggage credit of only 5 bags annually is not so good. While you'll save $125 each year if you max out the benefit it could be better as most other cards in Canada and the U.S. that have this benefit offer it with no limitation.. I can see where Amex is coming from however as the majority of people who will get this card are Altitude Prestige 25K or Elite 35K which means they already get some sort of complimentary bag perk and this card will just cover them when travelling with friends or family.
Who should get this card
Air Canada frequent flyers who won't or can't achieve Altitude 50K, 75K or 100K status as the card bridges the gap for benefits that 25K or 35K (or no status) don't see. We know this is common for many who fly frequently on short routes in Air Canada's network (i.e. Sudbury-Toronto) who while loyal just don't get the miles or segments in to get the benefits this card offers in the Altitude program
Air Canada frequent flyers who even though they have higher Altitude status can find value in the complimentary short haul/long haul Aeroplan Ticket and/or the Flight Pass privilege to cover the $899 annual fee.