When it comes to credit cards a lot of the focus that consumers put forth is on the rewards – the points and miles. This is followed by benefits offered and insurance coverage but little coverage is given to limited time statement credit or discount offers provided by some of the issuers. Yes, you'll find a lot on the topic here on Rewards Canada and several other sites but outside of that you don't hear too much about them. For the most part, they are better known as Amex Offers and RBC Offers as those are the two big programs and you really shouldn't ignore them as they can provide some big savings.
The History of the Offers
For the most part these type of offers are relatively new in Canada. American Express really kicked things off in 2019 with Amex Offers.  Technically speaking, Amex Offers were around before that as I have ones dating back to 2014 but they were few and far between and it was only four years ago when Amex really made an effort to make them into what they are today. BMO had tinkered with them around that time as I received a couple on my Diners Club Mastercard (but nothing else for years now) and then RBC began providing these offers as well.
The pandemic saw the likes of TD and other issuers also put out limited time offers but these were more for keeping their cardholders engaged during a time that saw a dramatic shift in spending habits. However now that we are nearing a pre-pandemic normal it seems many of these other issuers aren't as focused on continually providing offers like these.
An Amex Thing
Overall though it has been an Amex thing during this time. They have been doing the best job of it by providing a lot of relevant offers for their cardmembers and they continue to do so.
RBC, while having up to a dozen or more offers at a time for the first few years, would really only have one or two that that made sense for a wide swath of their cardholders (Think Boston Pizza, Indigo etc.), the rest of the offers weren't anything to write home about.
RBC steps it up with their RBC Offers
That seems to have changed in 2022, while so much focus is still on American Express and their Amex Offers, RBC has really done a good job and stepped it up with their RBC Offers this year. Part of that comes from revamping their RBC Rewards program which is now called Avion Rewards. The program has put a big focus into cash back offers and statement credits with more partners over and above the existing rewards on their cards.
And it shows – of late they have adding a ton of offers (upwards of 50 available at a time) and they are becoming more relevant for a lot of Canadians.  While they still have a lot of "I would never use that offer" offers they have added many more that fall into the "maybe I would" and "I definitely would" categories.
For example, recently RBC announced Lowes, Rona, Reno-Depot as cash back partners for their Avion Rewards program. The great thing about this offer is that it is not just for Avion Rewards cards. It is also available for other RBC cards such as the WestJet RBC World Elite Mastercard.
Personally, I just happened to need to make a big purchase on Rona.ca earlier this month so you can bet I registered for the statement credit offer and used my WestJet card for the purchase:

The offer provides 10% cash back on the first $250 and then 5% cash back on the next $1,250 spent. As you can see from my screen shot above I maxed out the return on that offer earning $87.50 back on that purchase. On top of this I still earned my 1.5% in WestJet dollars for the purchase. In all, I received $111 in statement credits and rewards on that one purchase.
Amex Offers continue to wow
As RBC steps it up, Amex hasn't backed down and they have been providing a ton of great offers as well during 2022. For myself this has included the tap/mobile pay offer ($2 each time up to 10 times), the $40 Our Place Statement credit, the Wendy's offers and many more that I have utilized. Here's a sampling of some of the credits earned in just the past month: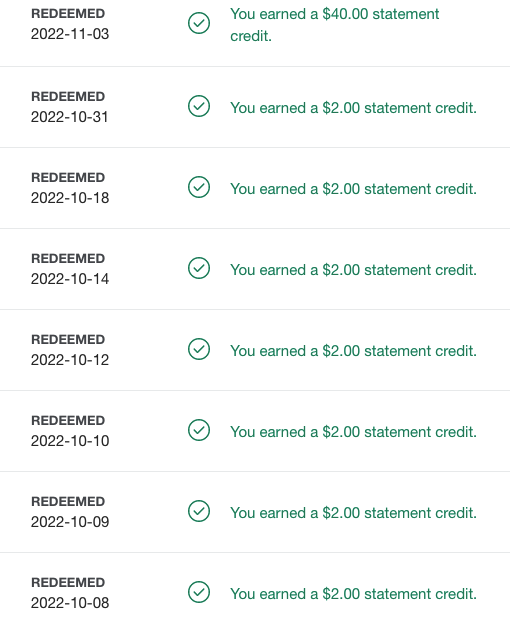 Don't ignore the offers
As the title of this post states, don't ignore these offers. The best way to find out about them is to log in to your Amex and/or RBC accounts (or mobile apps) and check what offers are available. Amex tends to release them on Monday, Wednesday and Fridays but we have seen them come out on other days of the week as well. RBC tends to release them a couple of times per month.
Be sure to check all your cards if you have multiple cards as the offers aren't always provided on all of them. For me, as an example, I get most of my Amex Offers on The Platinum Card but of late have been receiving more on the Cobalt Card. My Gold Rewards Card on the other hand almost never sees any offers while my wife's Bonvoy card sees a good amount of them.
When you do see the offers, register right away for those you know you will use and even those your not 100% sure about but are ones you would potentially utilize. By registering for them right away you avoid the issue that we all encounter, and that's forgetting about it down the road and then using your card where you could have scored a discount or statement credit.
Also keep tabs on your email as sometimes Amex and RBC send out emails with the offers and finally you can always check Rewards Canada's guides for Amex Offers and RBC Offers (as well as our blog) as we update those frequently when the offers come out:
Wrapping it up
I'll be honest here, it was the RBC Offer for Rona that prompted me to write this post. Although I frequently write about RBC Offers I myself tend to forget about or ignore them. And I really shouldn't and you shouldn't either. The potential for cash savings can be great. My Rona purchase was a required one, that is I didn't spend frivolously, and by remembering that RBC had this offer I made sure to use my WestJet RBC card for it (after I registered for the offer of course!)  And if you have American Express cards (including those issued by Scotiabank) but haven't taken advantage of Amex Offers yet, consider this post as a jump start for you to begin paying attention to them so that you can enjoy saving some cash as well.
If you are in the market for a new  card you can check out the latest card offers here:
Images via American Express & RBC