Air France KLM Flying Blue's Promo Rewards sees Canadian cites for the first time since February  As we reported last week the December Promo Rewards are offering 50% off business class flights out of Montreal and 25% off business class flights out of Toronto.
The Promo Rewards

December Promo Rewards – Save 20% to 50% on the Award Miles usually required for an award ticket.
Destinations vary by each promotional period. Click here for more details  Book by Dec 31, 22 for travel until May 31, 23
This month's Canadian cities:
Montreal: 50% off Air France or KLM business class
Toronto: 25% off KLM Business Class
50% off Montreal to Europe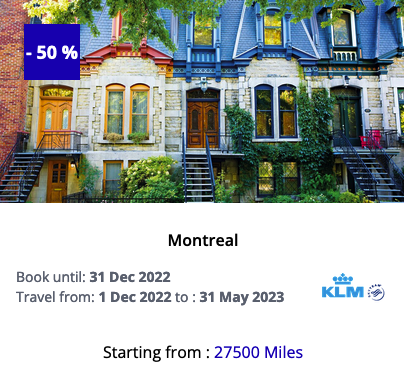 We see the best offer possible return for departures from Montreal!  We haven't seen 50% off business class since 2019 but now it is back! The 50% off will be valid on both Air France and KLM flights to Europe.
Business Class on Air France will start at only 35,000 miles one way and KLM will be 27,500 miles one way. Round trip will be exactly double at 70,000 miles and 55,000 miles respectively. The mileage amounts will vary depending on which destinations you choose in Europe but a good proportion of them should be available at these rates. We'll follow up with a post early in December with examples!
Here's an example of some the availability between Montreal and Amsterdam in April 2023: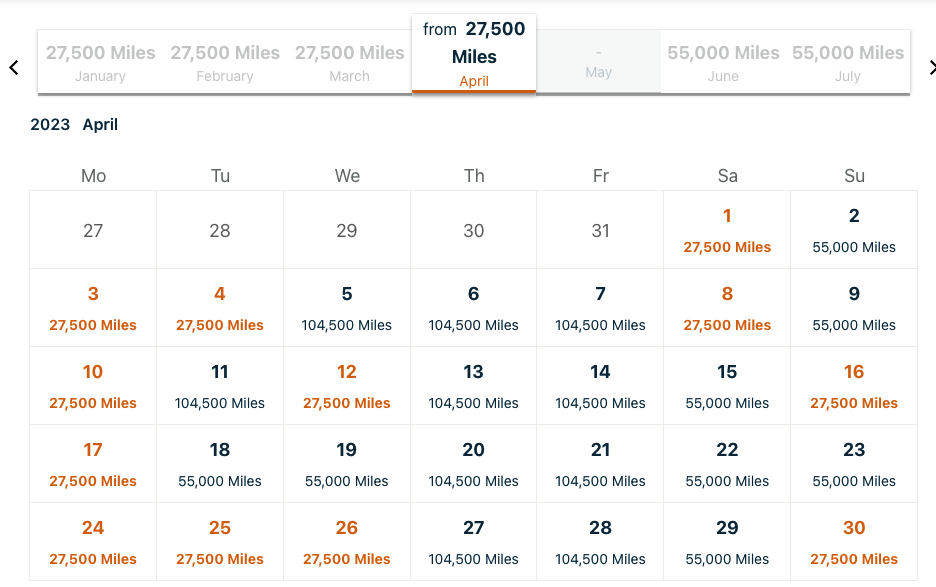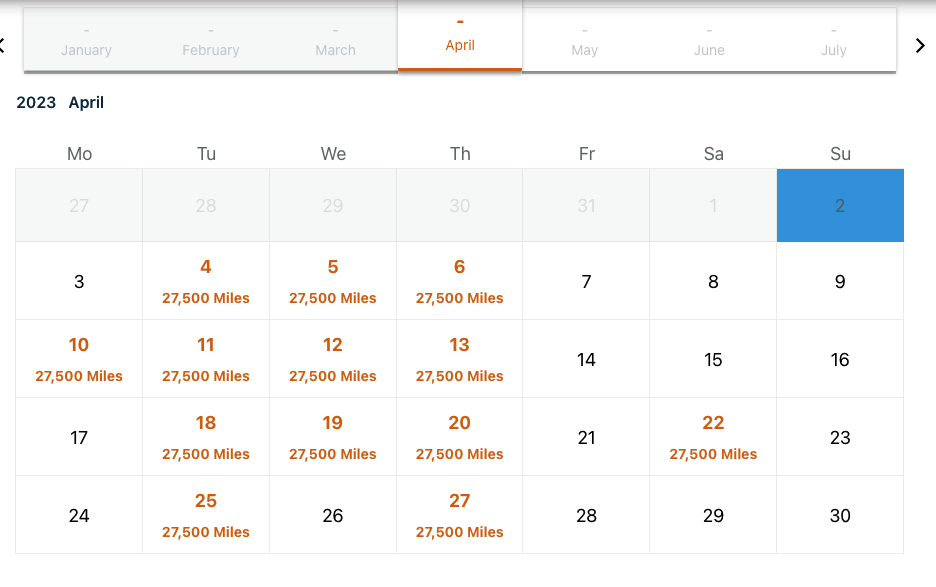 And example of a roundtrip redemption in April: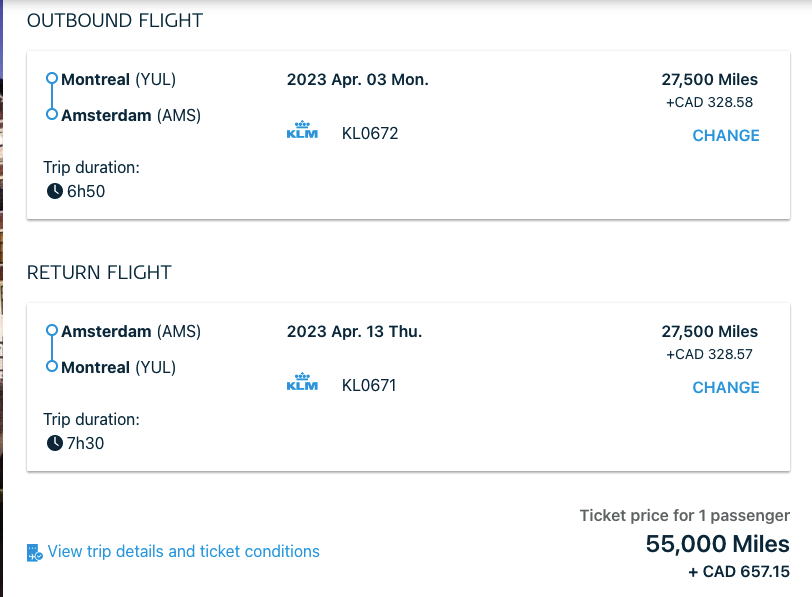 25% off Toronto to Europe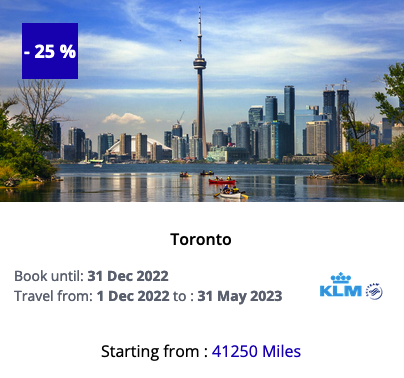 Toronto gets a business class deal providing 25% off the standard Flying Blue mileage requirements for flights on KLM!
These KLM business class rewards will start at 41,250 miles one way. While it doesn't match the Montreal offer it is still a really good deal for those who may not want to re-position to YUL!
Booking and travel dates:
You can book these rewards starting on December 1st right through to December 31st on the Air France or KLM websites.
What I also like about the offer is the actual travel window is big! You can travel on these offers anytime between December 1, 2022 and May 31, 2023.
Transfer from American Express Membership Rewards
Even though Air France KLM have launched their own credit card in Canada now, it is so new that if anyone was just starting out with it you most likely will not have enough miles from your spending to book these flights. That means if you don't have enough Flying Blue miles or any at all, your best option is to convert American Express Membership Rewards points to Flying Blue Miles. The transfers are typically near-instant but American Express does state they can take up to 3 days.
Membership Rewards points transfer at a 1 to 0.75 ratio to Flying Blue. Which means you'll need to transfer as little as 36,700 points for a one way KLM business class flight out of Montreal (you only need 36,667 but transfers are in 100 point increments) or 73,400 round trip. For the Air France flights it will be 46,700 points one way or 93,400 round trip.
Even with the 1 to 0.75 ratio these represent great redemption options for your Membership Rewards points. This especially true for the American Express Cobalt Card if you earned most or all of your points at the 5x level. That round trip business class flight on KLM for 73,400 points represents only $14,680 in 5x points spending.  You won't find that with any other card.
For comparison Amex's own Fixed Points for Travel requires 140,000 points for round trip Europe business class flights (and that only covers $2,500 in base fare) and with Aeroplan you'd be looking at ~140,000 Aeroplan points (140,000 Membership Rewards points) so you can see how this makes for a great conversion from Membership Rewards.
Buy Flying Blue Miles

The other option if you don't have enough miles or don't have an American Express card is to actually buy Flying Blue Miles. At the regular price it doesn't really make sense to buy the entire amount of miles for a reward but if you only require a couple thousand miles it can make sense to do so.
The good news is they are also offering up a 120% bonus for buying miles as of today! If we look at the above flight example requiring 55,000 miles, you can buy 56,000 miles (28,000 plus a 100% bonus) for US$938: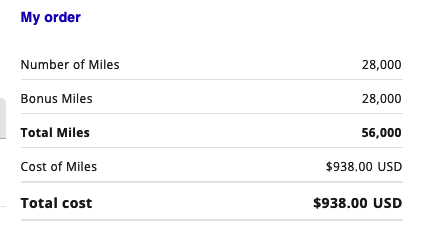 US$938 will work out to around C$1,280 and then you have to GST/HST on top of that. So may be looking at upwards of $1,450 to buy the miles and then $657 in taxes and fees on the award ticket. In the end around $2,100 needs to be spent to get this ticket that costs over $5,500: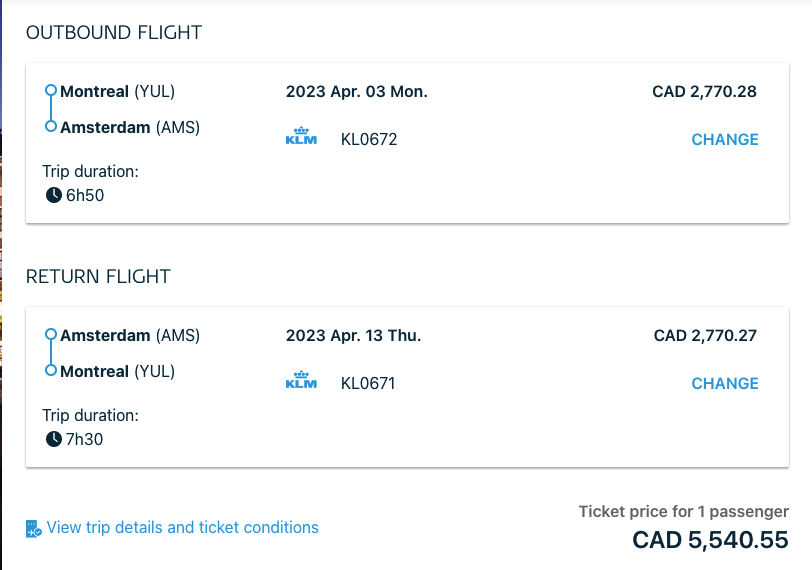 If you want to buy enough miles for two tickets, you'll get the 120% bonus: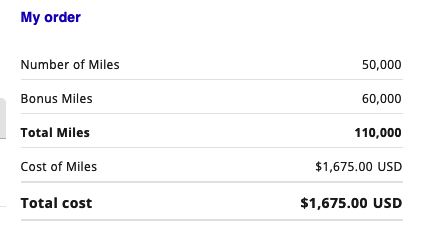 Here this will cost US$1,675 or about C$2,285 before GST/HST. All in with HST would be around $2582. Divide that by 2 and you get $1,291 per ticket plus the $657.15 in fees/taxes on the reward flight and you business class tickets to Europe for C$1,948 each!
Click here to learn more and to Flying Blue buy miles.
Not enough miles for Business Class?
Remember Economy Class flights to Europe on Air France KLM start at only 15,000 miles out of Canada so if you don't have enough miles for business class check out their economy options.
Wrapping it up
Air France KLM Flying Blue's Promo Rewards have returned for Canada this December. They feature 25% off business class flights out of Toronto and 50% off business class flights out of Montreal. It is that 50% off business class that I know so many of our readers have been waiting for!