Here's your Rewards Canada update! Your near daily dose of loyalty program, credit card and travel news, bonuses, deals and more.
Earn bonus points on your first ExpediaForTD booking
Holders of the TD First Class Visa Infinite Card and other proprietary TD Rewards cards who have not book via ExpediaFor before can earn 10,000 bonus points on new bookings of $300 or more. This offer must be booked by October 27 and is good for standalone hotels, motels and vacation rentals or packages including lodging component. Click here for more details
—
Up to 7,000 bonus Avios when you fly Qatar Airways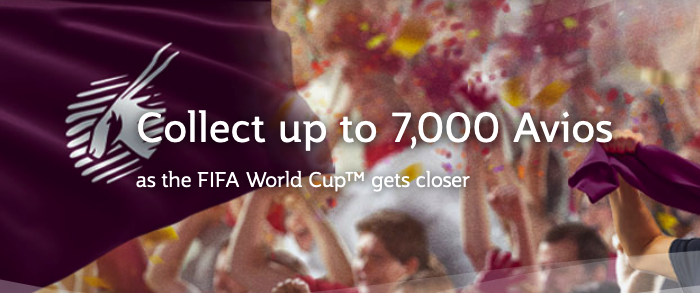 There is new Qatar Airways booking bonus to celebrate the upcoming FIFA World Cup. Right now when your next flight on Qatar Airways out of Montreal (or anywhere in the World) you can earn up to 7,000 bonus Avios. The promotion offers 5,000 Avios for booking online plus an additional 2,000 if you make the booking via their mobile app. This offer is open to those existing Privilege Club members (must have joined by Sep 24) who book by Dec 15 for travel until Dec 20. Click here for more details & to book this offer.
Don't fret if you are not a member however as they have a new member bonus of 5,000 Avios when you join the program and complete your first flights. You can also earn 2,000 more Avios if you book that flight via their app. Click here for more details
Image via Qatar Airways

—
Be sure to subscribe to the Rewards Canada News email newsletter so that you don't miss out on any loyalty program news and offers! You can subscribe to the newsletter here
Posts since our last update:
Deals:
HSBC: Get up to 4.75%* total annual interest rate on new deposits ± on your HSBC High Rate Savings Account from October 17, 2022 to January 27, 2023.
Fairmont Hotels: Save up to 30% on stays at Fairmont Hotels in Canada, United States, Mexico, Barbados, Bermuda, Bahamas. Book by Mar 31, 23 for stays until Apr 30, 23. Click here for more details & to book this offer.
The Globe & Mail: Flash Sale: $1.50/week for 52 weeks. Now through 10/26. Click here for more details
Scotiabank: Make money while you wait. Earn up to 4.25% interest on your MomentumPLUS Savings Accounts for 5 months. Plus earn a $300* welcome bonus with the Scotiabank Ultimate Package!
Receive $5.00 free with the code AMPLI5 when you join Ampli by Avion Rewards
Canadian Bonus Offers
Air Canada Aeroplan
– 2,500 Bonus Aeroplan points on Air Canada Vacations packages at select Margaritaville Island Reserve Resort Book by Oct 31 for travel until Apr 30, 23. More…
Emirates Skywards
– Double Skywards Miles for stays at participating IHG Hotels & Resorts in Canada and Worldwide. Book by Nov 18, 22 for stays until Jan 18, 23. More…
Qatar Airways Privilege Club
– Earn 5,000 bonus Avios on your next Qatar Airways flight out of Montreal or worldwide that is booked online on the Qatar Airways website. Earn an additional 2,000 bonus Avios for a total of 7,000 Avios if you book via the Qatar Airways mobile app. Book by Dec 15 for travel Nov 1 – Dec 20, 22. More…
Other Bonus Offers
Marriott Bonvoy
– Denver 5,000 bonus Bonvoy Points PER NIGHT for stays at the Sheraton Denver Tech Center Hotel. Max. 25,000 bonus points per stay. Book now for stays until Dec 23, 22 More…
– Louisville 1,000 bonus Bonvoy Points PER NIHT at the Four Points by Sheraton Louisville Airport. Book now for stays until Nov 11, 22 More…
– Oklahoma City 1,500 bonus Bonvoy Points plus free breakfast per stay on Friday, Saturday or Sunday nights at the Renaissance Waterford Oklahoma City Hotel. Book now for stays until Dec 20, 22 More…
– Sedona 2,000 bonus Bonvoy Points for stays of 2 or more nights at the Sky Rock Sedona. Book now for stays until Dec 26, 22 More…
– Tempe 2,000 Bonus Bonvoy Points per stay at the Moxy Phoenix Tempe/ASU Area. Valid for stays until Dec 27, 22 More…
SAS EuroBonus
– Triple EuroBonus Points Discount on all hotel stays booked via Hotels by SAS. Book by Oct 24 for stays until Mar 31, 23. More…
Singapore Airlines KrisFlyer
– Earn up to Triple KrisFlyer Miles for rentals of 1 or more days at participating Hertz locations in USA, Canada, Europe, Australia, New Zealand or Asia. Book now for rentals until Dec 15, 22  More…