Here's your Rewards Canada update! Your near daily dose of loyalty program, credit card and travel news, bonuses, deals and more.
New AIR MILES Card Linked Offers
Three new AIR MILES Card Linked offers have been released. It's nice to see AIR MILES finally changing it up with these offers as for the better part of the first 8 months there was a bit of monotiny in them. The three new offers are as follows:
Get 45 Bonus Miles™ when you spend $85 at Goodfood online
Get 50 Bonus Miles™ when you spend $100 at Peter & Paul's Gifts online
Get 50 Bonus Miles™ when you spend $100 at Natura Market online
You can check out these and other AIR MLES card linked offers here.
—
Save up to an extra $100 on flights to Ireland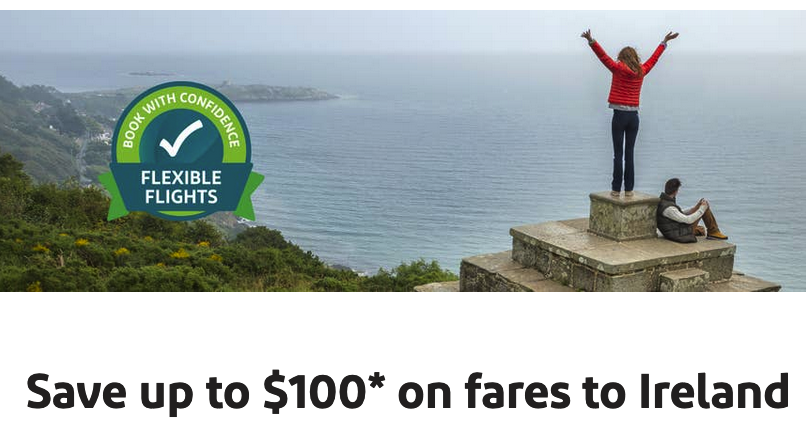 Aer Lingus is once again offering up to an additional $100 off their flights from Toronto to Ireland. Round trip flights to Ireland start around $400. Simply book by November 10 for travel until March 31, 23. Click here to book this offer
Image via Aer Lingus
—
Be sure to subscribe to the Rewards Canada News email newsletter so that you don't miss out on any loyalty program news and offers! You can subscribe to the newsletter here
Posts since our last update:
Deals:
HSBC: Get up to 4.75%* total annual interest rate on new deposits ± on your HSBC High Rate Savings Account from October 17, 2022 to January 27, 2023.
Fairmont Hotels: Save up to 30% on stays at Fairmont Hotels in Canada, United States, Mexico, Barbados, Bermuda, Bahamas. Book by Mar 31, 23 for stays until Apr 30, 23. Click here for more details & to book this offer.
Scotiabank: Make money while you wait. Earn up to 4.40% interest on your MomentumPLUS Savings Accounts for 5 months. Plus earn a $300* welcome bonus with the Scotiabank Ultimate Package!
Receive $5.00 free with the code AMPLI5 when you join Ampli by Avion Rewards
Canadian Bonus Offers
N/A
Other Bonus Offers
American AAdvantage
– Earn up to 4,000 Bonus AAdvantage miles when you shop via online or in-store via AAdvantage Shopping. Valid until Nov 18, 22. More…
Best Western Rewards
– Scandinavia Earn Double Rewards points for your next stay at a Best Western Hotel in Denmark, Sweden or Norway. Bonus award on one stay only. Vaid until Nov 21, 22. More…
Cathay Pacific Asia Miles
– Earn up to 7,000 Bonus Asia Miles when you shop via online or in-store via Asia Miles Shopping. Valid until Dec 25, 22. More…
Stash Hotel Rewards
– Michigan City Double Stash Rewards Points for stays of 2+ nights at the 4411 Inn & Suites Michigan City, IN. Book by Nov 30 for stays until Dec 31, 22. More…