Here's your Rewards Canada update! Your near daily dose of loyalty program, credit card and travel news, bonuses, deals and more.
Confirmed Cobalt Multipliers in Montreal and the Philippines
Thanks to Oznej for providing us with the following confirmed Cobalt Multiplier locations in the Philippines:
Starbucks 5x points
Krispy Kreme 5x points
SM Supermarket 5x points
Belmont Hotel (across Manila airport [NAIA] Terminal 3) 2x points
And then thanks to MCG for the following 5x multipliers in Montreal:
Le Lotus Bleu
Nouilles de Lan Zhou
Qwelli (Centre Eaton)
Time Out Market Montreal
YUL Pizza (Montreal Pierre Elliott Trudeau Airport)
You can see these and all other confirmed locations from around the on our American Express Cobalt Card Confirmed Multiplier Locations page
Image via American Express
—
Delta Airlines adds free Wi-Fi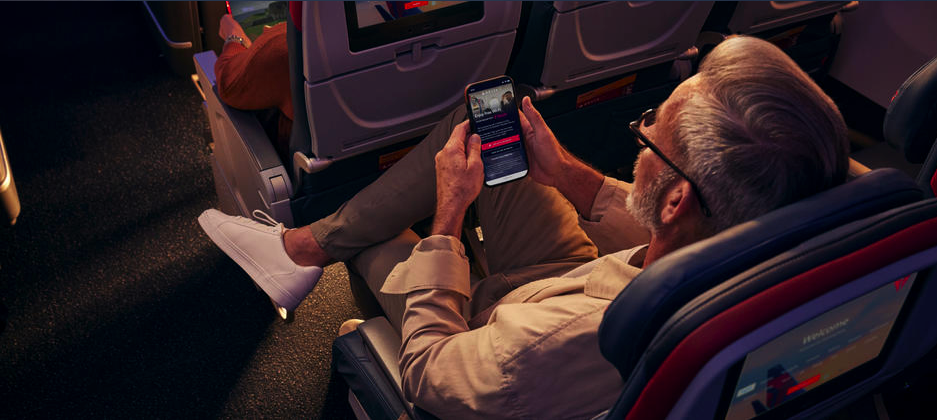 Just like Porter Airlines, Delta Airlines has announced free onboard Wi-Fi starting on February 1st. The free Wi-Fi will be available on most domestic (within the U.S.) flights and is expected to be offered on over 700 aircraft by the end of 2023. The airline also stated free Wi-Fi will be added to international and regional flights by the end of 2024. To receive free Wi-Fi you need to join the Delta SkyMiles program, which in itself is free to join.
Now the question will be, is Canada considered international for Delta (it should be, but in many cases we get lumped into the U.S.) and if not will some of their flights out of Canada have the free Wi-Fi as of February as well. If any of our readers are planning to fly Delta to the U.S. once this launches please let us know what you find onboard! (Source Delta)
Image via Delta Airlines
—
Want to learn more? Have a question? Join our Facebook group to ask the Rewards Canada community!
Be sure to subscribe to the Rewards Canada News email newsletter so that you don't miss out on any loyalty program news and offers! You can subscribe to the newsletter here
Posts since our last update:
Deals:
Accor Hotels: AAA/CAA members can receive 15% off and a $50 dining credit for stays in North America. Book now for stays until Jan 31, 23. Click here for more details & to book this offer.
Fairmont Hotels: Save up to 30% on stays at Fairmont Hotels in Canada, United States, Mexico, Barbados, Bermuda, Bahamas. Book by Mar 31, 23 for stays until Apr 30, 23. Click here for more details & to book this offer.
Receive $5.00 free with the code AMPLI5 when you join Ampli by Avion Rewards
Canadian Bonus Offers
Marriott Bonvoy
– Gatineau 1,000 Bonus Bonvoy Points per stay Thursday-Sunday at the Four Points by Sheraton Hotel & Conference Centre Gatineau-Ottawa. Book now for stays Feb 24, 23. More…
Other Bonus Offers
American AAdvantage
– Earn up to 1,000 Bonus AAdvantage miles when you shop via online or in-store via AAdvantage Shopping. Valid until Jan 19, 23. More…
Choice Privileges
– Receive up to a 25% discount when you buy Choice Privileges points. Valid until Feb 3, 23 More…
Ethiopian ShebaMiles
– 1,000 Bonus ShebaMiles when you fly Ethiopian Airlines to/from Dar es Salaam on ET826 and ET827. Book now for flights Mar 31, 23. More…
Marriott Bonvoy
– Worldwide Earn 2x Bonvoy Points for stays of 2 or more nights on Homes & Villas by Marriott Bonvoy bookings Worldwide. Book by Jan 25 for stays until Apr 30, 23. More…
– Charlotte 3,000 Bonus Bonvoy Points PER NIGHT at the AC Hotel Charlotte Ballantyne. Book now for stays Feb 13, 23. More…
– Fort Lauderdale 1,500 Bonus Bonvoy Points per stay at the Sheraton Suites Fort Lauderdale Plantation. Book now for stays Feb 28, 23. More…
– Sugar Land 2,000 Bonus Bonvoy Points for stays of 2 or more nights at the Houston Marriott Sugar Land. Valid for stays until Mar 9, 23. More…
United MileagePlus
– Elite Status Match that offers top-tier flyers of most other airlines a comparable status in the MileagePlus® program. Register by Jun 30, 23 More….
– Earn up to 1,000 Bonus MileagePlus miles when you shop via online or in-store via MileagePlus Shopping. Valid until Jan 18, 23. More…
—