Hilton has once again brought out a 100% bonus for buying their Honors points. This is the same bonus that we just saw come to a close on December 31. This time however they have not doubled the annual cap on points you can buy so the most you can buy with this promotion is 80,000 points (160,000 with the bonus). If you don't need the points right away it might be wise to hold off to buy points when they do have the cap doubled so you can buy even more points.
With a 100% bonus it means you are paying US$ 0.5 cents per point. With the ability to easily redeem at values of 0.8 cents or more you can see where buying Hilton Honors points can make sense.
The buy points offer:
Receive a 100% Bonus when you buy 5,000 or more Hilton Honors points online. Valid until Mar 7, 23 Click here to buy points
Is it worthwhile to buy points with this bonus?
It definitely can be. Let's just take one example of a night at the always pricey Hilton Whistler Resort & Spa during the high ski season of February. You can redeem 80,000 points for a one night stay here that costs a ridiculous four figures if you pay cash: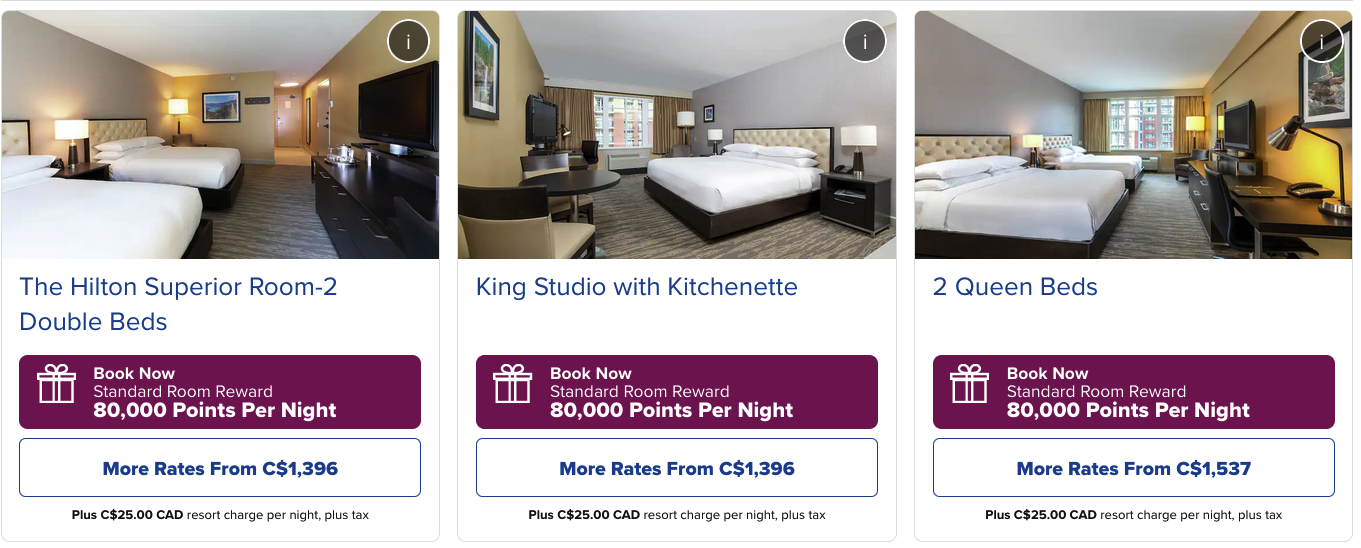 It costs US$400 to buy 80,000 points (40,000 base + 40,000 bonus):
This works out to around C$570-$580 including GST/HST that points.com charges on the point purchase transaction.
If you were to pay cash outright for the same night you are looking at C$1789.90

Thus by using the buy points promotion to redeem for a reward night here you could save over $1,200 per night on this stay! FYI you don't pay the taxes and fees including resort fees on reward nights.
And if you happen to have The Platinum Card® from American Express it means you automatically have Hilton Honors Gold Elite status which means you receive complimentary breakfast and it could lead to a free upgrade as well.
Another situation to consider buying points is if you are a few points shy of a redemption and aren't sure if you can earn enough points organically through stays to get your desired reward.
Ultimately you'll want to compare the points and paid rates at hotel(s) that you are considering to see if it is worth it to buy points. For some hotels it won't be, for others like the example above it can be.