Our American Express Cobalt Card Confirmed Multiplier Locations feature received a nice big update over the past few days thanks to Andre, Ben and ourselves. Andre provided a bunch more locations Quebec, Ontario, Atlantic Canada and Europe. Ben gave us our first non-chain locations in Sudbury and we ourselves added a few more from Calgary.
The new confirmed locations:
Here are most, but not all of the new additions to the list:
Quebec
5x points:
Dagwoods
Gerry's Delicatessen (Montreal)
Ben & Jerry's (Montreal)
Pizzeria Bros (Montreal)
Premiere Moisson
Poke Monster (Montreal)
Barbies Resto Bar Grill (Sainte-foy)
Phil Smoked Meat (Quebec City)
Sushi Plus Yitika (Montreal)
Restaurant Saigon Bangkok (Quebec City)
2x points:
Kangaride
Taxi Coop (Montreal)
Hotel PUR, Quebec, a Tribute Portfolio Hotel (Quebec City)
Hotel Quartier, Ascend Hotel Collection (Quebec City)
Atlantic Canada
5x points:
Don's Restaurant (Carbonear, NL)
Cabin Coffee (Halifax)
Flynn's Dairy Bar & Convenience (Halifax)
The Great Wall Restaurant (Halifax)
Grand Banker Bar & Grill (Lunenburg)
Sou'Wester Gift & Restaurant (Peggy's Cove)
Alberta
5x points:
Sabores Mexican Cuisine (Calgary)
V Burger (Calgary)
Ace Liquor (Calgary)
1x points:
City of Calgary (at least for pet licensing – should be all services except transit however)
Alberta Health Services Parking
Ontario
5x points:
Doghouse Sports Bar (Sudbury)
Doyle's Marketplace (including the Country Style inside) (Sudbury)
7 Star Dumpling House (Sudbury)
Ricelicous (Listed as My Thai Place (Sudbury)
Ranvee's Restaurant & Bar (Sudbury)
Knowhere Public House (They have a huge sign in their window that it is part of Amex Shop Small) (Sudbury)
Eyvan (Sudbury)
Sapporo Ichibang (Sudbury)
Oz Kafe (Ottawa)
Europe
5x points:
Delirium Village (Brussels)
Grab and Fly (Brussels Airport)
La Terrasse (Brussels)
2x points:
SNCB
SNCF
Ryanair
Best Western (Belgium)
Thanks again to our awesome community for contributing to this list for the past five years! Keep them coming to us and we'll keep adding them. You can provide any updates via the comments on the confirmed multipliers page or by emailing us at info@rewardscanada.ca
---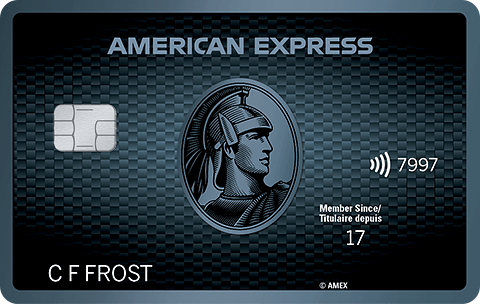 American Express Cobalt® Card
2022 Overall Top Travel Rewards Card
2022 Top Hybrid Travel Rewards Card
2022 Top Cash Back Card
This is the best overall credit card in Canada!
Monthly Fee $12.99/month of Cardmembership ($155.88 annually) Additional Cards: $0
Annual interest rate 20.99% on purchases and 21.99% on funds advances
• In your first year as a new Cobalt Cardmember, you can earn 2,500 Membership Rewards® points for each monthly billing period in which you spend $500 in net purchases on your Card. This could add up to 30,000 points in a year. That's up to $300 towards a weekend getaway or concert tickets
• Earn 5x the points on eligible eats and drinks in Canada, including groceries and food delivery
• Earn 3x the points on eligible streaming subscriptions in Canada
• Earn 2 points for every $1 spent on eligible transit & gas purchases in Canada and eligible travel purchases. That's 2X the points on purchases that get you from point A to B
• Earn 1 point for every $1 in Card purchases everywhere else. We won't tell you where to spend, we'll just reward you on your Card purchases
• Transfer points 1:1 to several frequent flyer and other loyalty programs
• Cobalt Cardmembers receive regular Perks such as bonus reward offers and access to great events
• Access Front Of The Line® Presale & Reserved Tickets to some of your favourite concerts and theatre performances and special offers and events curated for Cardmembers with American Express® Experiences
• American Express is not responsible for maintaining or monitoring the accuracy of information on this website. For full details, current product information and Terms and Conditions, click the Apply now link. Conditions Apply