There is only one no annual fee hotel credit card in Canada and that is the MBNA Best Western Mastercard®.
This card has been around for quite sometime now and has survived the
turmoil seen in our market for hotel loyalty program co-brand credit
cards. Just a few years ago we had no less than half a dozen hotel card
to choose from but that has now dwindled down to two – well actually
three if you include the business version of the Marriott Bonvoy
American Express card. Both the Best Western and Marriott cards have
definitely fit a niche in the Canadian market which have helped them
outlast all the other hotel cards we seen come and go and the Best
Western fills that no annual fee, road warrior, not looking for luxury
travel niche perfectly. In fact this card has ranked in the top three
in our annual rankings in the no annual fee travel rewards card segment so there is something to attest to here.
Overview
The MBNA Best Western Mastercard
is the only publicly available credit card in Canada that you can earn
Best Western Rewards points with. It carries no annual fee and earns
points on all purchases that can be used to redeem for free nights at
Best Western hotels, converted to airline miles or for gift cards. Best
Western is one of the largest hotel chains in the world and has a
significant presence in Canada, especially in smaller towns so the Best
Western Rewards program and this credit card is ideally suited for those
cross Canada travellers and road warriors.
Costs & Sign up Features
As previously mentioned the MBNA Best Western Mastercard has no annual fee so there is no cost associated with the primary or any supplementary cards.
The standard welcome bonus for this card is 20,000 Best Western
Rewards points which you receive on your first purchase with the card.
In reality that means you could simply make a $1 purchase and you'd
receive those points. Those 20,000 points are worth at least $160 in our
books since we value Best Western points at a minimum of 0.8 cents each
but you can definitely get more value than that depending on where and
when you redeem those points.
The interest rate on the card is 19.99% on
purchases. 22.99% on cash advances and balance transfers. These rates
are equivalent to many cards at this level.
Earning
The card earns Best Western Rewards points on all eligible purchases
and are deposited to your Best Western Rewards account a few days after
your statement posts. Earn rates are as follows:
5 BWR points for every $1 you spend at participating Best Western properties
1 BWR point for every $1 you spend on all other eligible everyday purchases
The earn rate for stays at Best Western Hotels is really nice –
essentially at least a 4% return and shows how this card is targeted
towards the loyal Best Western traveller. The rest of the spending on
this card however does leave something to be desired, 1 point per dollar
providing about a 0.8% return (yes it can go higher than that) is so-so
for a card with no annual fee but there are other no annual fee cards
that provide higher returns of at least 1%. Ideally we'd love to see
MBNA and BW raise the everyday earn rate to 2 points per dollar to be
more competitive.
Point Valuation Chart
Spending Category
Points earned per dollar spent
Approximate minimum return when redeeming for Best Western Free Night Awards*
Best Western properties
5
4%
All other spending
1
0.8%
* We value Best Western points at
a minimum of 0.8 cents each hence the valuations above – that is a
minimum though as we typically see higher value than that, in fact
we've seen redemptions in excess of 1 cent per point so you could
increase those values seen above
Redeeming
Being a hotel card means the points earned
go directly into your Best Western Rewards account. From there you can
redeem the points for free night awards at over 4,700 Best Western
Hotels worldwide, convert the points into frequent flyer miles/points
for over 13 global airlines programs including Air Canada Aeroplan,
American AAdvantage and British Airways Executive Club. Best Western
also has redemption options for Best Western travel cards as well as
gift cards from merchants like Amazon.ca and the Canadian Automobile Association.
First we'll look at the primary redemption option – free night
awards. The main premise of any hotel frequent guest program is to earn
points that you can redeem for free night stays at hotels within that
program. You can redeem your Best Western Rewards points for free night
awards at over 4,700 hotels in over 100 countries. Unlike many hotel
programs, Best Western Rewards free night award redemptions do not
follow a category chart with set values being published. Instead hotel
free night award pricing will vary at each location based on the season,
availability and prevailing cash rates. That being said we do know that
Best Western has set minimum and maximum pricing for free night awards
from 5,000 points to 70,000 points per night. The good news as well is
that a lot of their hotels tend to fall into the lower have of that
point spread. To find out how many points you may require for free night
awards simply go to Bestwestern.com and search for the hotel or region you are interested in and select
"Rewards Points" as the rate you would like to be displayed.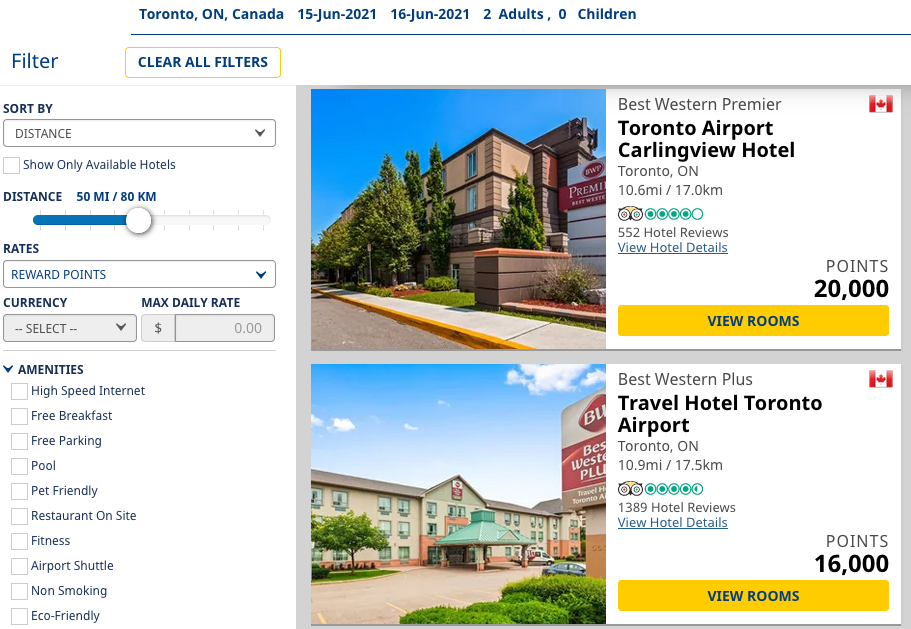 An example of searching for hotels using the Rewards Points rate
You can see that if you are lucky enough to find free reward nights
at 5,000 points you can get a lot of value out of the welcome bonus –
four nights in fact. Your best bet to achieve something like that is for
redemptions in Southeast Asia as that's where historically we have
found 5,000 point nights.
Closer to home you may get the best value out of your points at
select big city locations that charge more. For example here is a stay
at the Georgian Court Hotel in Vancouver for an August 2021 high season
stay:

From the above example you can see it is 36,000 points per night
and like many hotel programs that includes all taxes and fees so that is
all you pay. The cash rate for that same room is $377.10 which actually
comes to $443.10 with taxes and fees. So you are redeeming 36,000
points for $443.10 in value or 1.2 cents per point. That's a really good
redemption in the Best Western Rewards program. If you take your 5
points per dollar earned at Best Western that works out to a 6% return
on that spending and all your other spending at 1 point per dollar works
out to a 1.2% return. That's pretty respectable for a no fee card. As
you can see, if you are about maximizing value it simply takes a little
time and research to find those redemption options that do reward you
handsomely.
Best Western also recently launched a
Pay with Points feature. This reward feature allows you to redeem
points at check out towards the cash rate that you are paying for a stay
at select Best Western Hotels in Canada and the U.S. You have to redeem
a minimum of 5,000 points and they will give you $5 off for every 1,000
points you redeem. At the time of publishing this article these were
the Canadian hotels participating in the Pay with Points reward option: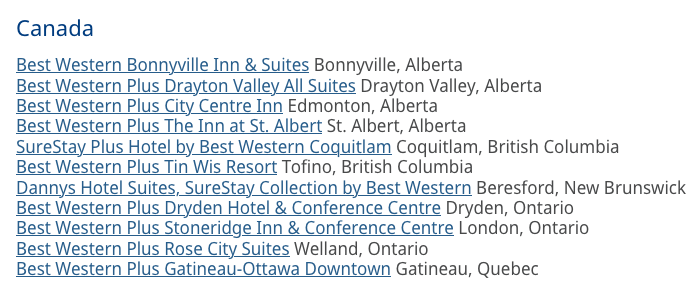 The next redemption option from the Best
Western Rewards program is the transfer option to 13 airline frequent
flyer programs. It is well known that outside of Marriott's Bonvoy
program that most other hotel programs don't have very good conversion
rates to airlines and this includes Best Western. That being said, it is
an option and is always a good one if you know you'll never use your
points for a free night stay which kind of defeats the purpose of having
this card however there is one exception. This card is a Mastercard –
that means you can use it at Costco as Costco only accepts Mastercard
and this means the MBNA Best Western Mastercard is the only card that
can earn you Aeroplan points, British Airways Avios and several other
airline currencies here. The conversion ratio for most Best Western's
airline partners is 5 to 1 with a minimum redemption of 5,000 points.
This means the 20,000 point sign up bonus is worth 4,000 Aeroplan
Points, American AAdvantage Miles, British Airways Avios etc. And since
the card is free – those are free points and miles to add to your
frequent flyer accounts. Of course on your spending this means you are
only earning 0.2 to 1 mile/point per dollar but if you are only using
one program like Aeroplan then earning those 0.2 Aeroplan points for
your Costco purchases may be worth it for you.

A small sample of the airline transfer options
The last redemption option with Best Western Rewards is redeeming
points for Best Western Travel Cards (essentially gift cards) and gift
cards from retailers like Amazon.ca
and the Canadian Automobile Association. Like most programs these last
type of redemptions provide the least amount of value. For example a
C$250 Best Western Travel card will set you back 37,500 points or a 0.67
cents per points value. That's less than our minimum 0.8 cents value
for redeeming for a hotel stay and quite a bit less than our Vancouver
example above. For Amazon.ca
gift cards or prepaid Mastercards it is even less, you have to redeem
12,000 points for every $50 in value or 0.41 cents per point.
Features and Benefits
One of the trade offs with no annual fee cards is that they
typically don't have very many features and benefits. Such is the case
with the MBNA Best Western Mastercard but it does have some. Does it
have a lot of benefits? No, but it's one key benefit is fitting to the
traveller who stays at Best Western Hotels and that is elite status. The
card provides automatic Gold Elite status with Best Western Rewards.
Now Gold status with Best Western isn't a highly sought after status but
it does give you a 10% boost in points that you earn on Best Westerns
stays plus bonus points and complimentary water on Best Western stays.
However, spend $10,000 on your MBNA Best Western Mastercard in a year
and you'll jump up to Best Western Diamond elite status, this is the
second highest level in the program. Again though not much is added here
outside of a healthy boost 30% extra points on your Best Western stays.
So if you have this card and do frequent stay at Best Western Hotels
you can earn quite a few more points by having elite status.
On the insurance side the card has OK coverage which
actually isn't too bad for a no fee card. Coverage includes travel
accident insurance,trip interruption, car rental CDW coverage, purchase
protection and extended warranty.
What is good about this card
The first thing that is good about this card is the welcome
bonus – 20,000 Best Western Rewards points can be had with a simple $1
purchase and nothing else. No annual fee. Nothing. So that's like
getting at least $160 in value or 4,000 Aeroplan points for buying one
chocolate bar.
The next good thing about this card is the earn rate at
Best Western Hotels. 5 points per dollar is a great earn rate that
provides a lot of value. As you can see if you frequent Best Western
Hotels having this card can really make sense as the points will add up
fast and those Best Western stays will be netting you on average a 4%
return but even as high as 6% as we show above.
While Best Western Elite Status isn't like the elite
statuses we see from other hotel chains it is still a nice benefit to
get from the card so that you can earn extra points on your Best Western
stays.
It's a Mastercard which means you can use it at Costco!
What is not so good about this card
The base earn rate is the biggest drawback on this card.
Earning only one Best Western Rewards points per dollar is relatively
weak. Yes we do show how it can be a 1.2% return but for the most
redemption option you'll be lucky to max out at 1%.
Not much in terms of added benefits or features. The elite
status being the only benefit being added to the card and the insurance
package is average. If insurance is key there are other no annual fee
rewards cards that do provide better insurance options.
While there are a lot of hotels to choose from for free
night awards and other rewards to use your points, overall your
redemption options are limited. If you are someone who doesn't like to
be tied into one program or that program's partners you'll be better off
with a card that has more flexible reward options.
The conversion rate to airlines is pretty abysmal but as we
mentioned for some select type of purchases and programs this card is
your only option.
Who should get this card
Best Western Rewards point collectors –
if you frequently stay at Best Western Hotels your best bet is this card
to pay for those stays with its accelerated earn plus earning those
points on other purchases as well will boost your BWR balance
handsomely.
People who want a no annual fee Mastercard in the their wallets
People who are looking for a Mastercard to
use at Costco (or other Mastercard only merchants) so they can
technically earn Aeroplan points or other airline miles/points on those
purchases
Conclusion
The MBNA Best Western Mastercard is one of the longest running co-brand cards in Canada and must be popular enough for it to
keep going like it has. We've seen numerous other hotel co-brand credit cards come
and go but not this one and that's because it fills its niche nicely.
Best Western has a great presence in Canada, has a recognized brand name
that is actually the name of their hotels (not like IHG or Choice,
whose cards failed in Canada) and thus they have an associated credit
card that works here. It does fill a bit of a niche in that it is best
suited for the Best Western traveller but it also known in the points
collectors circles as your only Mastercard option to earning select
airline points and miles and thus finds its way in the wallets of Air
Canada Aeroplan and other airline currency collectors. Ultimately, being
a no annual fee card it is actually an awesome option to have in your
wallet since there are no carrying costs – you don't have to pull it out
and use it very often to justify having it. It's there for when you
need it and that's why this card ranks higher up in the No Annual Fee Travel Rewards Credit Card category!
Latest card details: